The Frank Walker Law/PSN Daily Notebook: September 5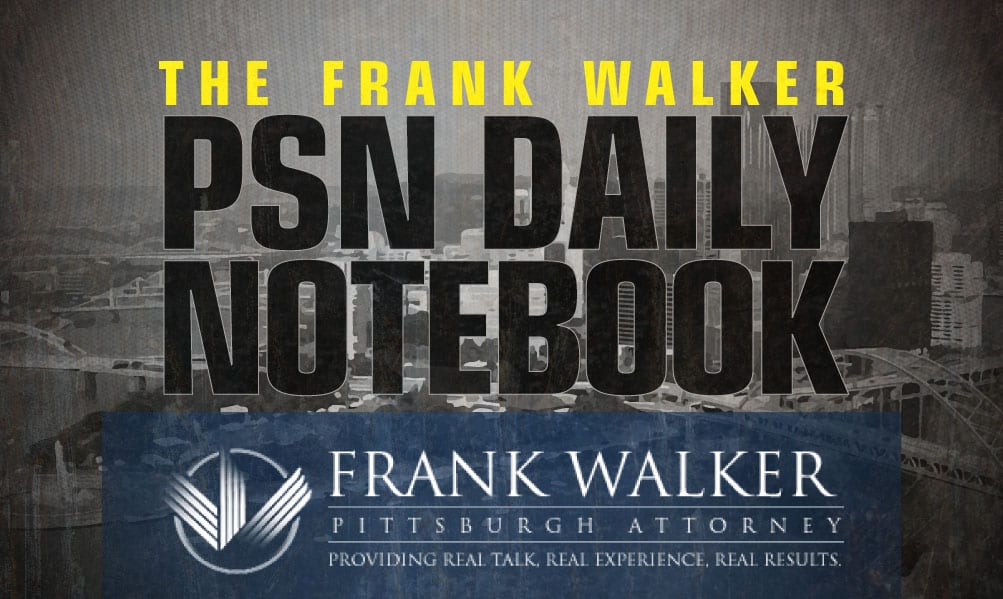 The PSN Daily Notebook is sponsored by Frank Walker, one of Pittsburgh and West Virginia's most respected criminal defense and injury lawyers. Mr. Walker has offices in Pittsburgh and Morgantown and has been named one of Top 100 National Trial Lawyers and is rated a perfect 10.0 Superb by Avvo for ethics, experience and results. To reach Mr. Walker, you can call 412-532-6805 or go to his website frankwalkerlaw.com. For real talk, real experience and real results, contact Frank Walker Law.
UPDATE (4:05 PM)-
The Chiefs have wavied wide receiver Maurice Ffrench, per source.

— Sam McDowell (@SamMcDowell11) September 5, 2020
UPDATE (2:19 PM)- 
**Pitt extends an offer today to 2022 linebacker Joshua Josephs from Kennesaw, Georgia. Jospehs (6'3", 210) received the offer from Archie Collins and also holds offers from Georgia Tech, Memphis and Virginia Tech.
UPDATE (12:53 PM)- 
**Congrats to Rochester 2022 guard Corynne Hauser for receiving an offer from Navy.
Blessed and excited to receive an offer from The United States Naval Academy! @NavyWBB @CoachTimTaylor pic.twitter.com/Egsuir7qym

— corynne hauser (@corynne_hauser) September 5, 2020
UPDATE (12:30 PM)-
After a great conversation with @CoachComuntzis , I am honored to announce that I have received my third Division 1 offer from Southeastern Louisiana University! pic.twitter.com/klKVbOR2vl

— Ryan O'Hair (@ryan_ohair) September 5, 2020
Sources: While extenuating circumstances due to COVID-19 can change things, the NCAA is still planning to play the 2021 NCAA Tournament in March and early April and not move it to later dates in the calendar.

— Jon Rothstein (@JonRothstein) September 5, 2020
UPDATE (11:27 AM)-
https://twitter.com/charlesdsmith54/status/1302241545068908544?s=21
UPDATE (9:43 AM)- 
**Nik McMillan is a 2022 wide receiver from Buffalo, New York. At this point, he doesn't hold an offer from Pitt but is getting a lot of attention from the coaches.
Appreciate the love!! ❤ @Pitt_FB @CoachTimSalem 🏉💪 @AdamCalt pic.twitter.com/G8zNocPHVU

— 2. ✞ (@NikMcMillan2) September 5, 2020
Year ✌🏾 pic.twitter.com/rJO3ukgBog

— 2. ✞ (@NikMcMillan2) December 21, 2019
UPDATE (9:35 AM)- 
Thanks @Pitt_FB for all the letters and thanks @BatesBacker for reaching out! #H2P #BLIT22BURGH pic.twitter.com/RbBqp3HUxP

— Evan Brown – 6'4" 290 lbs – 22' (@brownevan2779) September 5, 2020
UPDATE (9:29 AM)- 
**Bernard Clark and Robert Morris get a commitment from defensive end Marqwan Fluitt, from Buffalo, New York. Fluitt was named 1st Team All-State and 2A Defensive Player of the Year.
Comitted🔴🔵@RMUFootball @coachdelaneysp2 pic.twitter.com/HfwDCUOKn7

— Marqwan Fluitt (@MarqwanF) September 4, 2020
UPDATE (8:51 AM)- 
**First game of the season for IMG Academy and Pitt 2021 TE commit Jake Renda scores a TD.
6'5 TE Jake Renda sends it to the HOUSE!@Jake_Renda @IMGAFootball #H2P pic.twitter.com/VftUGLdCgD

— Who's Next (@WhosNextHS) September 5, 2020

UPDATE (8:46 AM)-
The Raiders and QB Nathan Peterman agreed on a reworked contract for one-year, $1M, which is guaranteed, per source. He was previously due $2.133M, but it was not guaranteed.

The team continues to value him as a developmental QB prospect in a year where QB depth is important.

— Field Yates (@FieldYates) September 4, 2020