The Frank Walker Law/PSN Daily Notebook: September 21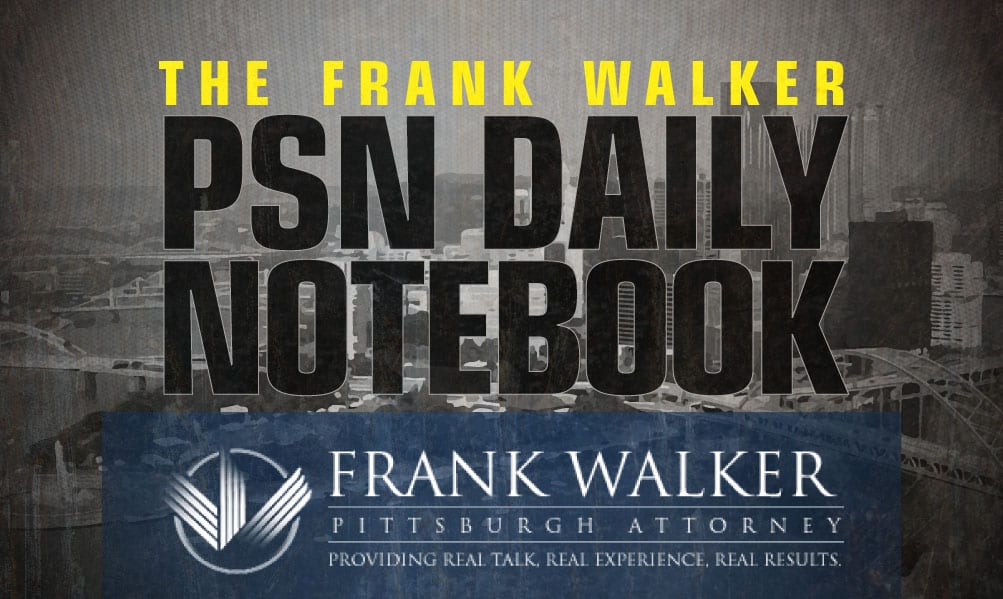 The PSN Daily Notebook is sponsored by Frank Walker, one of Pittsburgh and West Virginia's most respected criminal defense and injury lawyers. Mr. Walker has offices in Pittsburgh and Morgantown and has been named one of Top 100 National Trial Lawyers and is rated a perfect 10.0 Superb by Avvo for ethics, experience and results. To reach Mr. Walker, you can call 412-532-6805 or go to his website frankwalkerlaw.com. For real talk, real experience and real results, contact Frank Walker Law.
Update (7:52 PM)-
The Ellwood City School District will allow up to a 1,000 people to its homecoming football game Friday night despite a recommendation from its solicitor to continue following Gov. Tom Wolf's guidance on capacity limits. https://t.co/9oGE53cqnL

— New Castle News Sports (@NCNewsSports) September 21, 2020
Update (7:49 PM)-
One game from @DuqMBB 2020 schedule has been scratched. @DuqMBB was set to play Wyoming. @PghSportsNow https://t.co/XfH8hd8SFE

— mike vukovcan (@mvukovcan) September 21, 2020
Update (5:49 PM)-
QB Kenny Pickett was named one of the Manning Award Stars of the Week after his 3-TD performance in the victory over Syracuse. ⭐️#H2P • @SugarBowlNola pic.twitter.com/s48HbJCJC5

— Pitt Football (@Pitt_FB) September 21, 2020
Update (5:33 PM)-
Gov. Wolf vetoes House Bill 2787, leaving high school sports spectators in limbo #HSSN #HB2787 https://t.co/ZCWvNLsXjY

— Chris Harlan (@CHarlan_Trib) September 21, 2020
Update (3:01 PM)-
Who are the toughest ACC running backs to tackle so far this season?

➡️@Kenneth_Walker9
➡️@VeeDee_II
➡️@swaggy_t1
➡️@deon_jackson4 pic.twitter.com/2LdM9FhIQR

— CFB Film Room (@CFBFilmRoom) September 21, 2020
Update (2:59 PM)-
I think Pitt commit Nahki Johnson just murdered this dude 😤 pic.twitter.com/o5DplBK1RW

— WPIAL Insider (@WPIAL_Insider) September 21, 2020
Update (2:33 PM)-
Couple new looks at #Pitt's new alternate uniforms from the team.

Really looks almost black here, but I've been told it's all different shades of gray. pic.twitter.com/4z5X22PmUK

— Alan Saunders (@ASaunders_PGH) September 21, 2020
Update (1:49 PM)-
This week's Senior of the Week on Defense is Reese's Senior Bowl Top 250 member @R_Weaver17 from @Pitt_FB – Collected 7 tackles, 2 Sacks, and 3 TFLs in Pitt's 21-10 win over Syracuse.
😤😤😤 #H2P#TheDraftStartsInMOBILE pic.twitter.com/9uJTqZvPCp

— Reese's Senior Bowl (@seniorbowl) September 21, 2020
Update (1:27 PM)-
*Montour grad Mason Cholewa has decided to transfer from the Central Florida football program.
Thank you for everything pic.twitter.com/MkyUEBZm22

— Chilleboy🕊 (@masoncholewa) September 21, 2020
Update (12:02 PM)- 
**Former New Castle and Ohio State Star Malik Hooker will miss the remainder of the 2020 season.
Source: #Colts S Malik Hooker did, in fact, tear his Achilles and he's out for the season. A tough loss to a stout Indy D.

— Ian Rapoport (@RapSheet) September 21, 2020
Update (10:08 AM)-
Most positively graded plays in 2020 (power-five QBs):

1. Chase Brice, Duke
2. D'Eriq King, Miami
3. Malik Cunningham, Louisville
4. Kenny Pickett, Pittsburgh pic.twitter.com/Bw7kB5SHy1

— PFF College (@PFF_College) September 21, 2020
Update (10:00 AM)-
**Pitt extends an offer this morning to 2023 DB Daemon Fagan from American Heritage Plantation High School in Fort Lauderdale, Florida. Fagan (6'2″, 160) received his first offer on Sunday from Oregon. Fagan received the offer from Charlie Partridge.
American Heritage's Daemon Fagan — who made a huge play to save a touchdown earlier — makes a huge interception. pic.twitter.com/NF8zGT1178

— Adam Lichtenstein (@ABLichtenstein) September 19, 2020
Update (8:37 AM)- 
On to week 3…. let's work pic.twitter.com/M5lVKrIgxt

— Rashad Weaver (@RashadWeaver) September 21, 2020
Not Committed ❤️💙 What y'all think?👀 pic.twitter.com/sUHkW4efIW

— Kalil Camara (@Kalilcamara18) September 20, 2020
Update (7:34 AM)- 
Thank you @PITTequipment Great start to the day to see the new gear. I'm grateful. @Pitt_FB #H2P @CoachDuzzPittFB pic.twitter.com/80OqKpgPdl

— Charlie Partridge (@CoachPartridge) September 21, 2020