The Frank Walker Law/PSN Daily Notebook: April 7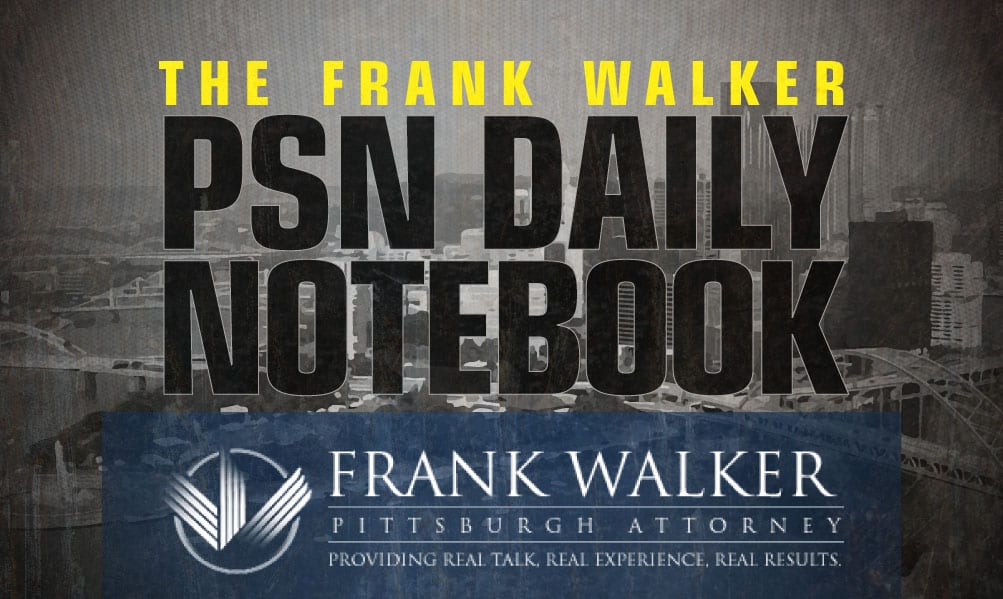 The PSN Daily Notebook is sponsored by Frank Walker, one of Pittsburgh and West Virginia's most respected criminal defense and injury lawyers. Mr. Walker has offices in Pittsburgh and Morgantown and has been named one of Top 100 National Trial Lawyers and is rated a perfect 10.0 Superb by Avvo for ethics, experience and results. To reach Mr. Walker, you can call 412-532-6805 or go to his website frankwalkerlaw.com. For real talk, real experience and real results, contact Frank Walker Law.
AROUND THE NETWORK
Pittsburgh Soccer Now: Pitt men's soccer No. 1 in the coaches poll.
Steelers Now: Cam Heyward, son of Pitt legend "Ironhead" Heyward, still refining his game.
Nittany Sports Now: Pitt-Penn State back in 2025?
WV Sports Now: Pitt adds to WVU's losing streak.
Pittsburgh Hockey Now: Pens panic?
Pittsburgh Racing Now: Lincoln Speedway results.
Update (5:30 PM)-
**Pitt extends an offer to freshman athlete Joseph Bey from San Mateo, California. This becomes Bey's second D-1 offer with the other coming from Arizona State.
Update (5:13 PM)-
The preliminary hearing for #Pitt forward John Hugley, which was scheduled for tomorrow, has been continued to May 13.

Hugley was charged in January with two felonies in relation to a car stolen near campus last summer.@PghSportsNow

— Alan Saunders (@ASaunders_PGH) April 7, 2021
Update (2:57 PM)-
Cal Poly transfer DL Ryan Boehm has picked up an offer from Robert Morris #FCS https://t.co/lG3rFljsKB

— NCAA Transfer Portal (@RivalsPortal) April 7, 2021
Update (2:36 PM)- 
**Freshman athlete Danny Niu (5'10", 170) from San Mateo, California receives an offer from Brennan Marion and Pitt. This is Niu's 2nd D-1 offer (Arizona State).

Update (10:59 AM)-
It's the final week of regular season in @ACCMSoccer.@Pitt_MSOC can clinch ACC Coastal Division regular season title on Thursday when they take on Virginia. https://t.co/Rw5ApGi7wf

— Pittsburgh Soccer Now (@pghsoccernow) April 6, 2021
Update (8:47 AM)-
Happy 67th Birthday to Tony Dorsett!

Dorsett was a workhorse for @dallascowboys & @Pitt_FB!

Super Bowl Champ
4x Pro Bowl
3x All-Pro
National Champ (1976)
Heisman Trophy Winner (1976)
3× All-American pic.twitter.com/JadPmEziKl

— CBS Sports HQ (@CBSSportsHQ) April 7, 2021