The Frank Walker Law/PSN Daily Notebook: May 17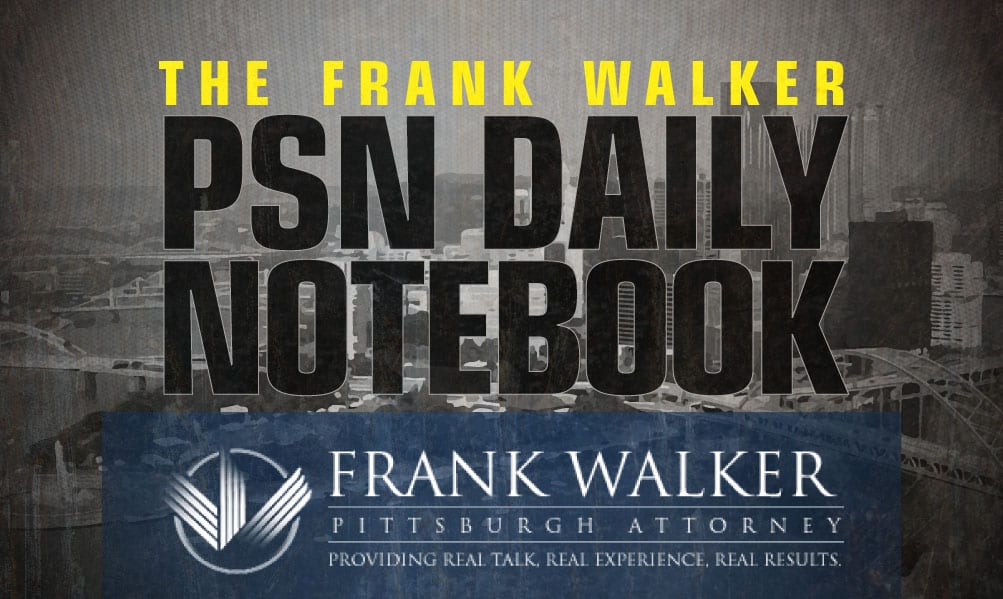 The PSN Daily Notebook is sponsored by Frank Walker, one of Pittsburgh and West Virginia's most respected criminal defense and injury lawyers. Mr. Walker has offices in Pittsburgh and Morgantown and has been named one of Top 100 National Trial Lawyers and is rated a perfect 10.0 Superb by Avvo for ethics, experience and results. To reach Mr. Walker, you can call 412-532-6805 or go to his website frankwalkerlaw.com. For real talk, real experience and real results, contact Frank Walker Law.
Update (8:02 PM)- 
**Pretty slick graphic from Pitt to 2022 running back Che Nwabuko (Manor, Texas). Nwabuko will make an official visit in June.
Home is the starting place of hope and dreams. #CNtime | #H2P pic.twitter.com/XZo6Haky5v

— Che Nwabuko 📍 (@CheNwabuko1) May 17, 2021
"I'm in my zone…" #CNtime

* 7 games in 2020

• 42 catches – 700 yards receiving
• 44 rushes – 471 rushing yards
• 1,272 all purpose yards
• 91 total touches
• 9 TDs
• 181.7 yards per game
• 13.97 yards per touch

Hudl 🔗: https://t.co/1QetSwKnQf pic.twitter.com/pSRln6taEu

— Che Nwabuko 📍 (@CheNwabuko1) December 10, 2020

Update (7:14 PM)- 
**The latest offer for Brashear 2023 4-star athlete Ta'Mere Robinson comes from Arkansas. Robinson has also been offered by Pitt, Penn State, Notre Dame, Michigan, West Virginia, Rutgers, Syracuse, Kentucky and Tennessee.
Check this out Coaches
6'2ft 200lb Safety….⭐️@210ths @Evolve2tenths @brashear_bulls @EdOBrienCFB @RivalsFriedman @Cover3_ATH @DreamShotsMedia @prospectmedia_ @_whodatt https://t.co/KsIR0UGAE4

— ᴛᴀᴅᴅᴇʀ ③ (@TaMereRobinson3) November 10, 2020

Update (3:08 PM)- 
**Anthony Stallworth is a 2022 athlete from Farrell. Last week, Stallworth picked up his first D-1 offer from Bowling Green.
Thank you for the love @Pitt_FB 🟡🔵🟡🔵🟡🔵#H2p pic.twitter.com/thbnfyMJtC

— ☄️Anthony stallworth 🏈 (@Astallworth7) May 17, 2021

Update (3:05 PM)- 
**The latest Power 5 football offer for Laurel Highlands 2023 4-star athlete Rodney Gallagher comes from Wisconsin. Gallagher also holds offers from Pitt, Penn State, West Virginia, Arizona State, Michigan , Michigan State, Ole Miss, NC State, Syracuse and Virginia Tech.
Blessed to receive a football offer from The University of Wisconsin 🙏🏼🙏🏼 @LHMustangFB @CoachKolesar @gridironjrj @210ths @Evolve2tenths pic.twitter.com/g44zKBhCdU

— Rodney Gallagher 3rd (LLC💞) (@RodneyG_3rd) May 17, 2021

Update (3:00 PM)- 
**Donovan Walker is a 2023 athlete from Aliquippa High School.
Thanks for personally inviting me to your camp @Kzovko 🟡🔵 #pitt #h2p pic.twitter.com/k5wKgjArpt

— Donovan Walker (@djwalker0) May 17, 2021
Update (2:57 PM)-
#PITT showing keeping close tabs on 2023 standout Josh Jenkins from Sto-Rox High School. #HometownHero https://t.co/2SNba4Nhdu

— Harry G. Psaros (@PittGuru) May 17, 2021
Update (2:49 PM)-
Signing your rookie contract: $4.3M

Meeting a living legend, future Hall of Famer named Aaron Donald: Priceless pic.twitter.com/6fBiKUKGTK

— Pro Football Network (@PFN365) May 17, 2021
Update (11:12 AM)-
Tavian Dunn-Martin (@nolimitTDM_11) is now receiving interest from Florida Gulf Coast.

Dunn-Martin, the Duquesne transfer is planning to complete a Zoom call with the Eagles.

— jake lieberman (@jakelieberman2) May 17, 2021

Update (11:10 AM)-
🚨 SCHEDULE UPDATE 🚨

Tuesday's home game vs. Akron has been canceled.

🔗 https://t.co/3gxXvv7dmb#H2P pic.twitter.com/XUww0ieIje

— Pitt Baseball (@Pitt_BASE) May 17, 2021
Update (10:23 AM)-
Pitt QB Kenny Pickett working Gun 3 and Jump Stop Reset throwing 10yd Out to NFL FA TE Ryan O'Malley. Accuracy and Velocity throwing eye level and outside. Balanced, rotational passer making straight throws. @TEST_Football @kennypickett10 #pittfootball @MoveTheSticks @JimNagy_SB pic.twitter.com/1w2lXbl4c8

— Tony Racioppi (@Tonyrazz03) May 17, 2021
Update (8:37 AM)-
After scoring a career-high 23 points Thursday, T.J. McConnell ties a career high today with 17 assists. https://t.co/NUShJRnXPI

— Brad Everett (@BREAL412) May 16, 2021
AROUND THE NETWORK
Pittsburgh Soccer Now: Heartbreaking loss for Pitt men's soccer as they fall a game short of the championship.
Steelers Now: Rookie minicamp has started over at UPMC Rooney Sports Complex.
Pittsburgh Hockey Now: Are the Penguins ever going to win a playoff game again?
Nittany Sports Now: Penn State going hard after the 2023 prospects this summer.
WV Sports Now: Pitt, PSU and WVU could be battling it out for the services of Asaad Brown Jr. this summer.