The Frank Walker Law/PSN Daily Notebook: October 31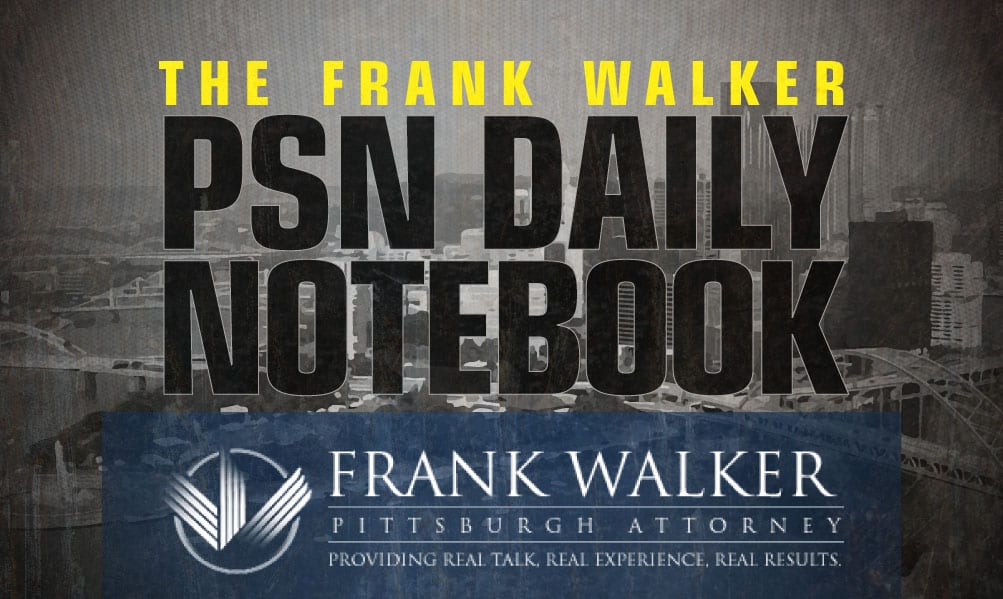 The PSN Daily Notebook is sponsored by Frank Walker, one of Pittsburgh and West Virginia's most respected criminal defense and injury lawyers. Mr. Walker has offices in Pittsburgh and Morgantown and has been named one of Top 100 National Trial Lawyers and is rated a perfect 10.0 Superb by Avvo for ethics, experience and results. To reach Mr. Walker, you can call 412-532-6805 or go to his website frankwalkerlaw.com. For real talk, real experience and real results, contact Frank Walker Law.
Update (2:04 PM)-
**Sto-Rox 2023 lineman Coby Hale, Jr. (6'7", 330) made an unofficial visit on Saturday to Robert Morris football.
https://t.co/cLGHRsJoQg week 9-0 highlights @CoachBBlair_ @Chise89 @coachkemp11 @aaron_guillard @coachtaylor412

— Coby hale jr (@coby_hale78) October 24, 2021
Update (1:41 PM)-
#Pitt hosting wing Darren Buchanan (@dbuchananjr2) out of Washington D.C. this weekend. Watching more film, reminds me of former #Pitt standout Nasir Robinson. Tough, strong defender, great in transition, improving jump shot, versatile. #H2P 🏀 pic.twitter.com/u6VHtX4gYK

— Harry G. Psaros (@PittGuru) October 31, 2021

Update (1:22 PM)- 
**A couple WPIAL players made an unofficial visit to West Virginia yesterday: Brashear 2023 DE Kameron Cheatom and Upper St. Clair 2022 athlete Ethan Heister.
Had another great time down Morgantown yesterday 🔵🟡 #TrustTheClimb pic.twitter.com/vDrv0mpqFZ

— ② WOPP (@KameronCheatom_) October 31, 2021
Big thank you to @WVUfootball and the coaching staff for having me come out today on a visit!🔵🟡 can't wait to come back! @TuckerDonati @CoachRyanNehlen @CVance43 pic.twitter.com/QB0e74HsvJ

— Ethan Hiester (@EthanMHiester) October 31, 2021

Update (1:13 PM)-
Updated ESPN FPI odds to win the ACC …

Pitt: 42.5% (68.9% Coastal)
Wake Forest: 19.7%
NC State: 19.4%
Miami: 6.6% (14.1% Coastal)
Virginia: 5.5% (14.4% Coastal)
Clemson: 5.3%

— Johnny McGonigal (@jmcgonigal9) October 31, 2021
Update (9:24 AM)-
**Steel Valley 2022 running back Nijhay Burt received an offer on Saturday from Duquesne. Burt (6'0″, 170) was the WPIAL's leading rusher this season (1600+ yards) and his Steel Valley team clinched the Allegheny Conference Title with a 28-7 win over No. 2 ranked Serra Catholic.
AROUND THE NETWORK
Pittsburgh Soccer Now: No. 12 Pitt men's soccer rolls over No. 15 VT
Steelers Now: How to bet Steelers vs. Browns
Pittsburgh Baseball Now: Gold glove predictions and analysis; can the Pirates take home some postseason honors?
Nittany Sports Now: Full coverage from Columbus of Penn State's 33-24 loss at Ohio State.
Penn State Comeback Bid Falters, Lions Lose 33-24 at Ohio State
Watch: Penn State HC James Franklin's Press Conference after Ohio State Loss
West Virginia Sports Now: Full coverage from Morgantown of West Virginia's 38-31 win over No. 22 Iowa State.
Receivers Ford-Wheaton, Wright Lead the Way as WVU Upsets Iowa State
WVU Postgame Show: What Finally Clicked for Jarret Doege, West Virginia Offense in Win Over Iowa State?