The Frank Walker Law/PSN Daily Notebook: January 4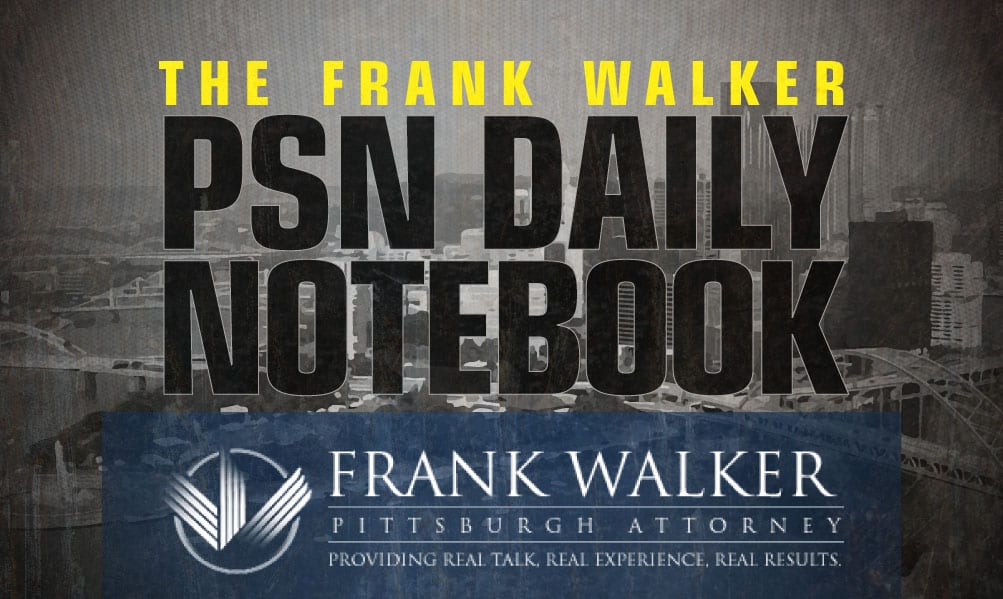 The PSN Daily Notebook is sponsored by Frank Walker, one of Pittsburgh and West Virginia's most respected criminal defense and injury lawyers. Mr. Walker has offices in Pittsburgh and Morgantown and has been named one of Top 100 National Trial Lawyers and is rated a perfect 10.0 Superb by Avvo for ethics, experience and results. To reach Mr. Walker, you can call 412-532-6805 or go to his website frankwalkerlaw.com. For real talk, real experience and real results, contact Frank Walker Law.
AROUND THE NETWORK
Steelers Now: Steelers Clinch NFL Record 18th Consecutive Non-Losing Season
Pittsburgh Hockey Now: Kingerski: Anyone Else Wondering How Good The Penguins Can Be? 
Pittsburgh Baseball Now: Oh yeah, we're in a lock out. How January Will be Crucial for CBA Negotiations.
WVU Sports Now:  Bock: The Texas Loss Could Be The Best Thing To Happen To WVU
Nittany Sports Now: How Penn State's Backups Performed in the Outback Bowl
Update (8:20 PM)- 
Congrats to Class of 2018 Wildcat @TJ_Banks85 on committing to Akron! @wpialsportsnews @AJWPIAL @WPIAL_Insider https://t.co/gvmDjwcJqP

— East Allegheny Football (@AlleghenyEast) January 4, 2022
Update (3:22 PM)- 
The offers from big-time teams keep pouring in for Brashear's TaMere Robinson. The Class of 2023 athlete has also added offers from Cincinnati, UConn, Miami, Ole Miss, South Carolina, Texas, Vanderbilt, Virginia Tech and Wisconsin since the start of the football season.
Blessed and excited to receive an offer from The University of Southern California 🔴🟡 @CoachBOdom @LincolnRiley @RivalsFriedman @BrianDohn247 @210ths @Evolve2tenths @_Drew_55 pic.twitter.com/t1KzX4umPF

— ᴛᴀᴅᴅᴇʀ ③ (@TaMereRobinson3) January 4, 2022
Update (1:48 PM)-
The Beaver County branch of the @NAACP added its voice to those opposing a PIAA rule that could force the small-school Aliquippa football team to face even larger opponents in Class 5A next season.https://t.co/AyGpJpKNag

— Tribune-ReviewSports (@TribSports) January 4, 2022
Update (12:56 PM)- 
**Pitt will not have to face Western Michigan quarterback Kaleb Eleby next season. Eleby passed for 337 yards and 3 Touchdowns this season against Pitt.
#WMU quarterback Kaleb Eleby to enter the NFL draft. He had 6,084 pass yards and 45 touchdowns in three seasons with the Broncos. https://t.co/OXUZsI2iqJ

— Adam Rittenberg (@ESPNRittenberg) January 4, 2022

Update (11:14 AM)-
2022 Oak Hill (VA) Academy four-star guard @Jmintz10 will take an official to @XavierMBB later this month pic.twitter.com/8WtazysBVR

— Adam Zagoria (@AdamZagoria) January 4, 2022