The Frank Walker Law/PSN Daily Notebook: February 15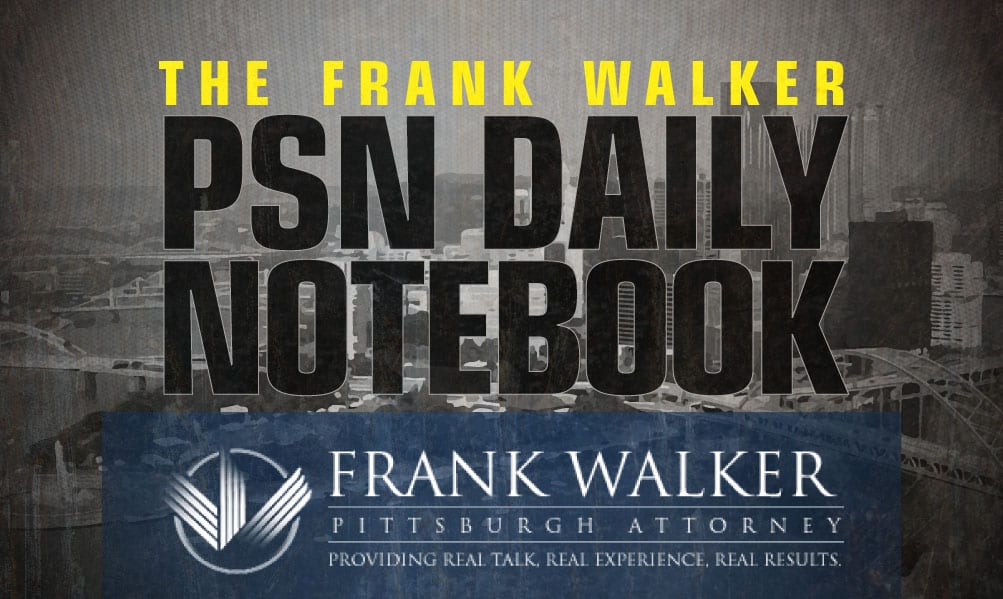 The PSN Daily Notebook is sponsored by Frank Walker, one of Pittsburgh and West Virginia's most respected criminal defense and injury lawyers. Mr. Walker has offices in Pittsburgh and Morgantown and has been named one of Top 100 National Trial Lawyers and is rated a perfect 10.0 Superb by Avvo for ethics, experience and results. To reach Mr. Walker, you can call 412-532-6805 or go to his website frankwalkerlaw.com. For real talk, real experience and real results, contact Frank Walker Law.
Update (7:54 PM)- 
**Another offer for Thomas Jefferson 2023 defensive end Jordan Mayer.
I am very thankful to receive an offer from @UBFootball @Stansfield_Matt @Coach_BBailey @210ths @Evolve2tenths @wpialsportsnews @PaFootballNews @PghSportsNow @TJHSJaguars pic.twitter.com/p020yF1WoB

— Jordan Mayer (@Jordanmayer33) February 16, 2022
Update (6:48 PM)-
Rumor of possible suspensions for actions post game against Akron student section https://t.co/lBbFPVkQek

— Jordan Majewski (@jorcubsdan) February 15, 2022
Update (6:43 PM)-
The 2022 Heisman winner is most likely amongst these teams per Vegas Insider 🚨 pic.twitter.com/vsmpFg71zC

— Saturday Gameday (@SaturdayGameday) February 15, 2022
Update (11:45 AM)-
**Central Michigan offers a second member of the Aliquippa 2022 football team, with this one going to 2024 athlete Brandon Banks. This becomes the 2nd D-1 offer for Banks with the offer coming from Eastern Michigan.
Full Sophomore Defensive highlights❗️

4 Interceptions (1 pick 6)
42 tackles
24 PBU's
4 punt Return TDShttps://t.co/OzJmxQi3Hr pic.twitter.com/hyma21N9lb

— Brandon Banks (@b_banks6) December 10, 2021
Update (11:30 AM)-
**Aliquippa 2023 defensive back Donovan Walker received an offer today from Central Michigan. Walker has also received offers from Eastern Michigan and Albany.
Defensive highlights ‼️ Finished the season with 80 tackles ‼️ 8 INT 3 returned for touchdowns ‼️ 13 PBU'S ‼️ 2 FF ‼️https://t.co/y6rAOAPWqx

Offensive highlights ‼️ 15 catches 203 yards ‼️ 3 TDS https://t.co/C3TUDAxpL9 pic.twitter.com/5EoCo8pZmW

— Donovan Walker (@DonovanWalkerr) December 10, 2021
Update (9:06 AM)-
March Madness bracket predictions 3.0: Projecting the Field of 68 for 2022 NCAA Tournament https://t.co/2MP7sKnznK

— Bill Bender (@BillBender92) February 15, 2022

Update (9:02 AM)-
A Shaler high school hockey player is suspended indefinitely pending a hearing following an altercation with fans in the stands during a game Thursday against Latrobe at Alpha Ice Complex in Harmar Township. https://t.co/AmY8dKHd3O

— Tribune-ReviewSports (@TribSports) February 15, 2022
Update (7:42 AM)-
**Penn Hills 2023 cornerback/defensive back Raion Strader received an offer Monday night from Miami (Ohio). Strader (6'0″, 170) also holds offers from Duquesne and Toledo.
Work !! pic.twitter.com/Ow1lyog5uC

— RaionStrader (@RaionStrader) December 28, 2021
Update (7:31 AM)-
With yesterday's #SuperBowl victory, @AaronDonald97 joins Tom Flynn (SB21 w/NYG) as the only two former Indians with #SuperBowl victories as players. Coincidentally, both played their college ball with @Pitt_FB. #IndiansNation #H2P pic.twitter.com/pLxnmbuoQ8

— PENN HILLS INDIANS FOOTBALL (@phqbclub) February 14, 2022
Around the Network
Steelers Now: State of the Steelers: 2022 Salary Cap Situation
Pittsburgh Hockey Now: Penguins 3 Options: What to Do With Kasperi Kapanen?
Pittsburgh Baseball Now: The DH is coming to the national league. This goes out to pitchers who rake.
WVU Sports Now: Inconsistency Strikes West Virginia Once More as Kansas State Closes Game, 78-73
Nittany Sports Now: A Look at Every Penn Stater Who Won At Least One Super Bowl
Pittsburgh Soccer Now: Hounds Roar Back to Defeat Villanova 3-2 in Preseason Opener