The Frank Walker Law/PSN Daily Notebook- May 18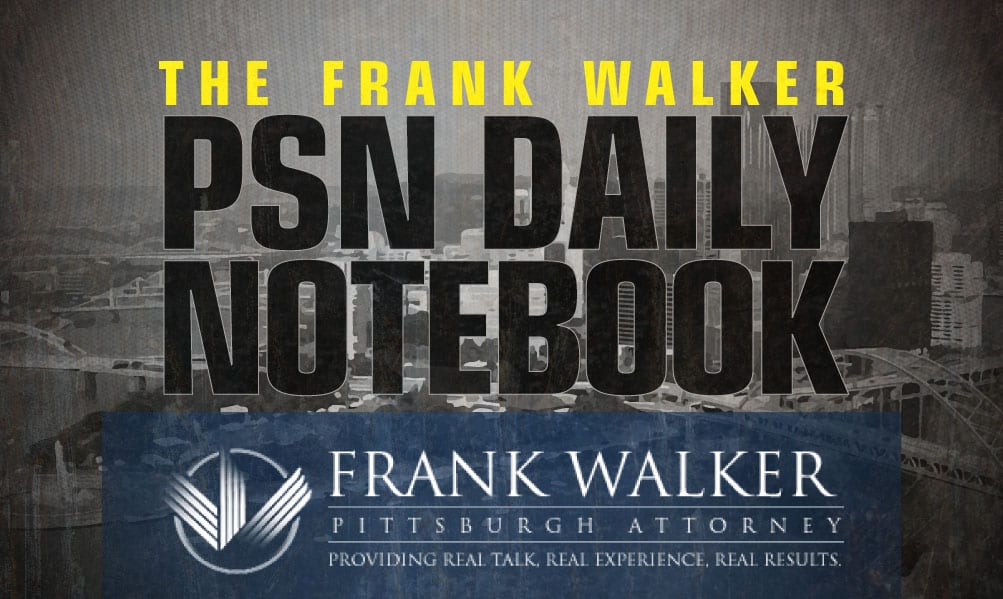 The PSN Daily Notebook is sponsored by Frank Walker, one of Pittsburgh and West Virginia's most respected criminal defense and injury lawyers. Mr. Walker has offices in Pittsburgh and Morgantown and has been named one of Top 100 National Trial Lawyers and is rated a perfect 10.0 Superb by Avvo for ethics, experience and results. To reach Mr. Walker, you can call 412-532-6805 or go to his website frankwalkerlaw.com. For real talk, real experience and real results, contact Frank Walker Law.
Update (7:38 PM)- 
**Pitt extends an offer today to 2023 3-star OT Charlie Symonds from Watertown, Connecticut. Symonds (6'8", 280) received the offer from Dave Borbely and holds other offers Kentucky, Stanford, Boston College, California, UConn, Duke, Maryland, Michigan State, NC State, Syracuse, UCLA, Vanderbilt, Virginia and Wake Forest.
Check out my full junior season highlights! Thank you to all my coaches, teammates, and family for making this season so great! @TaftFootballCT https://t.co/ZWeH9faagd

— Charlie Symonds (@CharlieSymonds4) November 23, 2021

Update (4:24 PM)-
**Andre Powell and Pitt extend an offer to 2024 4-star defensive end Dylan Stewart from Washington DC. Stewart is a consensus 4-star recruit and rated by 247 Sports as the No. 134 overall sophomore in the country. Stewart (6'4″, 220) holds offers from Alabama, Bowling Green, Cincinnati, Florida State, Georgia, Georgia Tech, Indiana, Maryland, Michigan, Michigan State, Notre Dame, North Carolina, NC State, Ohio State, Ole Miss, Penn State, Rutgers, Tennessee, Texas A&M, USC, Vanderbilt, Wake Forest and Washington.
Setting the edge!!! pic.twitter.com/sW49EsaYTO

— Dylan Stewart (@Dylan1Stewart_) April 12, 2022
Update (2:00 PM)-
Love our guys, they are getting after it! #H2P pic.twitter.com/Uau6i2OTRy

— Frank Cignetti Jr. (@FrankCignetti) May 18, 2022

Update (1:40 PM)- 
**Pitt extends an offer today to 2025 athlete Taevion Swint from Osceola High School in Kissimmee, Florida. Swint (5'10", 175) has also been offered by Florida, Florida State, Michigan, Minnesota, Ole Miss and West Virginia. Swint received the offer from Tim Salem.
🤫……. Spring Football pic.twitter.com/qkTUBLlTHJ

— TaevionSwint (@TaevionSwint) April 28, 2022

Update (1:14 PM)-
Pittsburgh transfer OL Michael Statham committed to Charlotte https://t.co/PKdY7MHP3h

— FarrellPortal (@farrellportal) May 18, 2022
Update (12:50 PM)-
**2024 three-star quarterback Alex Erby from Steelton-Highspire High School in Harrisburg, Pa. picked up an offer from Pitt. Erby (6-foot-2, 205 pounds) also has offers from Duke, Louisville, Maryland, Minnesota and Nebraska.
Beyond Blessed to receive a Full Scholarship from The UniversityOf PITT!🔵🟡#H2P@FrankCignetti @AndrewErby @damehova9 @RyanSnyderOn3 @CoachDuzzPittFB @EdOBrienCFB @CoachJayUConn pic.twitter.com/3px0UWDPQp

— 3⭐️ Alex Erby (@ErbyAlex) May 18, 2022
Update (12:15 PM)- 
**Tiquan Underwood extended 2024 wide receiver Elijah Jones from St. Joe's Prep in Philadelphia, Pa. his first Power Five offer today. Jones (6-foot-2, 185 pounds) also holds an offer from Temple.
Blessed to receive an offer from University of Pittsburgh!! #H2P 💛💙 @Pitt_FB @T_Roken @ryne011 @TiUnderwood pic.twitter.com/1xg14nCfl1

— Elijah Jones (@elijah14jones) May 18, 2022
Update (10:00 AM)- 
**A new D-1 offer comes in this morning for Shenango 2023 OL Kyle Lenhart. Previously, Lenhart picked up offers from Navy, Lehigh, Fordham, Duquesne, Marshall and Dartmouth.
I'm honored to receive an offer from Lafayette! Thank you @Coach_Noll @CoachKBaumann @Coach__Trox pic.twitter.com/eaT0myWawR

— Kyle Lenhart (@kylelenhart53) May 18, 2022
Junior Season Highlights '23 6'4'' 270https://t.co/Ev0U5brEoI@PAPrepsRivals @KeystoneRecruit @Cover3_ATH @Mark61Ross @PaFootballNews

— Kyle Lenhart (@kylelenhart53) November 20, 2021
Update (8:43 AM)-
**Some pretty impressive camp video from Pitt 2023 wide receiver commitment Zion Fowler and Pitt 2024 defensive tackle Jahsear Whittington.
Thank you rivals for taking the time out to invite me for the camp in Philly this past weekend ♥️great experience @RivalsFriedman @RivalsCamp @CoachOFlaherty
@LamarMcKnight_ @Coach_GetWright @CoachRichHansen @coachnazoliver @jjnesh @CoachFannan @Cody_High pic.twitter.com/7plnJc2JAS

— Zion Fowler ✞ (@CantGuardZion) May 18, 2022
Dominate!!! @RivalsFriedman @adamgorney @Rivals #H2P pic.twitter.com/ba7uMlWTPC

— 4⭐️ Jahsear whittington (@jahwhitt) May 18, 2022
Around the Network
Steelers Now: Versatile George Pickens Ready to Play Wherever Steelers Need Him
Pittsburgh Hockey Now: Rust: 'I'm Not Looking to Rob Anyone' With Next Contract
Pittsburgh Baseball Now: Examining Why Bryan Reynolds Has Been Off to a Slow Start
WVU Sports Now: Breaking: West Virginia Receives Commitment From 2024 DL Richard James
Nittany Sports Now: Penn State Scored 14, Yes 14 Runs in 9th for 19-6 Win Over Pitt