The Frank Walker Law/PSN Daily Notebook- September 7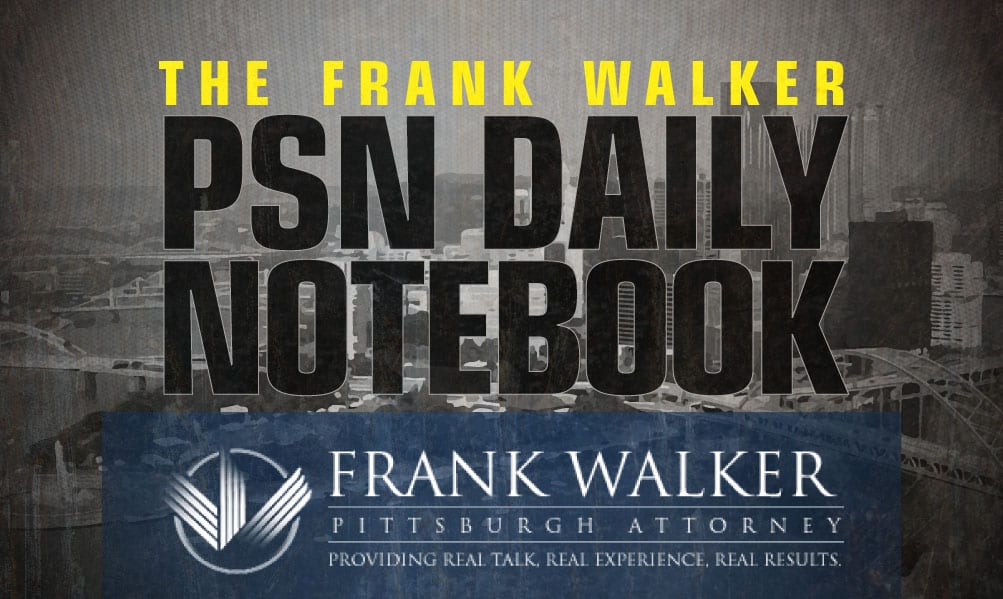 The PSN Daily Notebook is sponsored by Frank Walker, one of Pittsburgh and West Virginia's most respected criminal defense and injury lawyers. Mr. Walker has offices in Pittsburgh and Morgantown and has been named one of Top 100 National Trial Lawyers and is rated a perfect 10.0 Superb by Avvo for ethics, experience and results. To reach Mr. Walker, you can call 412-532-6805 or go to his website frankwalkerlaw.com. For real talk, real experience and real results, contact Frank Walker Law.
Update (2:01 PM)-
Our 2022 Non-Conference Schedule 🗓️

Full Release: https://t.co/DXfaakmNpx
Season Ticket Info: https://t.co/1yImYPtxoX#GoDukes pic.twitter.com/kJEzHmCokz

— Duquesne Women's Basketball (@DuqWBB) September 7, 2022
Update (10:49 AM)-
Larry Fitzgerald joins ESPN's Monday Night Countdown for 5-7 appearances in 2022. https://t.co/BW547cDTtc

— ProFootballTalk (@ProFootballTalk) September 7, 2022

Update (10:05 AM)-
One more:

In Georgia's blowout win over Oregon, the UGA passing game got 72.7% of its yardage after the game. 300+ yards. https://t.co/SX4HLslh6t

— Chris Peak (@PantherLair) September 7, 2022
Update (8:39 AM)-
**Elijah Kinsler is a 2024 3-star defensive end from Bergen Catholic in Oradell, New Jersey. Kinsler holds an offer from Pitt along with Syracuse, Akron and UConn. Kinsler received his offer from Tim Salem and Pitt back in May and is the first cousin of former Pitt basketball great Ashton Gibbs.
Appreciate all the love Pitt!!! #H2P @CoachDuzzPittFB @Pitt_FB pic.twitter.com/gYejXT2XyE

— Elijah Kinsler (@KinslerElijah) September 7, 2022
Update (8:27 AM)-
**Luca Puccinelli is a 2024 3-star TE from Benedictine High School in Richmond, Virgina. Puccinelli (6'7″, 220) holds offers from Virginia Tech, South Carolina, Maryland, Duke, East Carolina, UConn, Liberty and Old Dominion.
Wow!! Thank you PITT! H2P!! @CoachDuzzPittFB @CoachBorbs @CoachTimSalem @CoachAPowell @CoachPartridge @coachstacc @AdamCalt #H2P pic.twitter.com/0Kel352oBZ

— Luca Puccinelli (@LucaPooch22) September 7, 2022
Check out my sophmore year highlights! Dear football, I'll see you in 2022!!https://t.co/WRcbFcbP8t

— Luca Puccinelli (@LucaPooch22) November 21, 2021
Update (7:55 AM)-
"Tennessee's good, but I'm going to take the Panthers."

—@CoachNeuheisel on @Pitt_FB pic.twitter.com/hoXH4t5aKq

— CBS Sports Network (@CBSSportsNet) September 7, 2022
Update (7:46 AM)-
**Last night, Tiquan Underwood and Pitt extended an offer to 2024 wide receiver Terrance Moore, Jr. from Tampa Catholic in Tampa, Florida. Moore (6'3″, 190) holds other offers from West Virginia, South Florida, Central Florida, Auburn, Florida Atlantic, Florida International, Toledo, Bowling Green and Central Michigan.
Check out my highlights- https://t.co/fmpRcVGjJK @TC_Football @TCCrusader @dmlawrence28 @CoachMcClain73 @JerisMcIntyre

— 𝙏𝙚𝙧𝙧𝙖𝙣𝙘𝙚 "𝙏𝙅 " 𝙈𝙤𝙤𝙧𝙚 𝙅𝙧 (@tjmoore305) May 21, 2022
Around The Network
Pittsburgh Hockey Now: Who Are Penguins Counting on to Have 'Bounce-back' Seasons?
Steelers Now: Steelers Plan Weekend-Long Celebration for 50th Anniversary of Immaculate Reception
Pittsburgh Baseball Now: Chase De Jong Embracing New Role — And Excelling (+)
WVU Sports Now: CJ Donaldson Named Big 12 Newcomer of the Week
Nittany Sports Now: Penn State QB Sean Clifford Named Co-Offensive Player of the Week