The Frank Walker Law/PSN Daily Notebook- December 1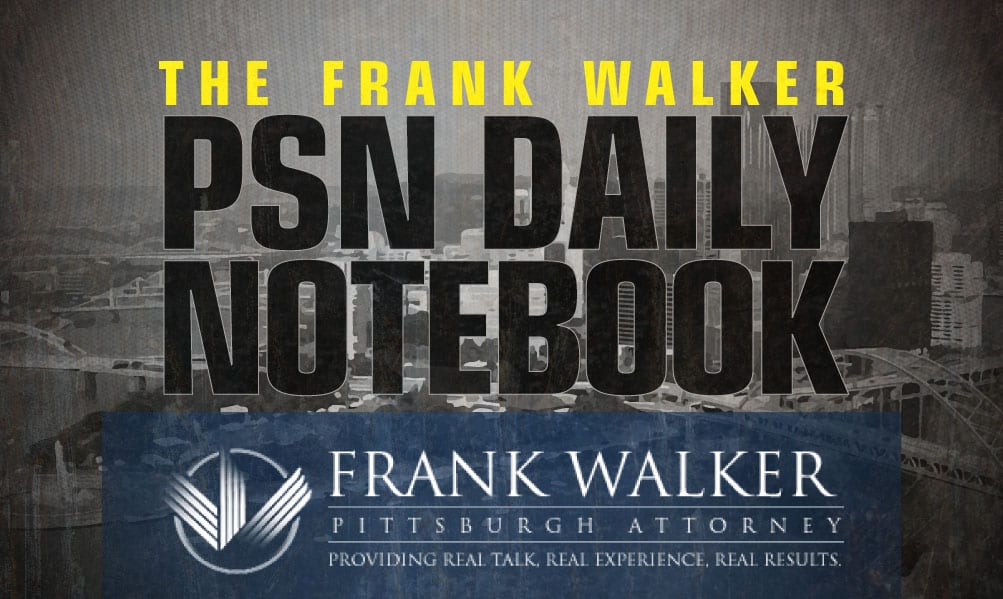 The PSN Daily Notebook is sponsored by Frank Walker, one of Pittsburgh and West Virginia's most respected criminal defense and injury lawyers. Mr. Walker has offices in Pittsburgh and Morgantown and has been named one of Top 100 National Trial Lawyers and is rated a perfect 10.0 Superb by Avvo for ethics, experience and results. To reach Mr. Walker, you can call 412-532-6805 or go to his website frankwalkerlaw.com. For real talk, real experience and real results, contact Frank Walker Law.
Update (4:42 PM)-
Let's get to it pic.twitter.com/xgW6nSkSov

— Pitt Basketball (@Pitt_MBB) December 1, 2022
Update (4:40 PM)-
For the Fourth Time in Pitt History… 📈

1,000-Yard Rusher + 1,000-Yard Receiver

2000: Kevan Barlow + Antonio Bryant
2009: Dion Lewis + Jon Baldwin
2014: James Conner + Tyler Boyd
2022: @IAbanikanda + @JWayne_5 #H2P » #WeNotMe pic.twitter.com/84xyrmp4Hu

— Pitt Football (@Pitt_FB) December 1, 2022
Update (3:21 PM)-
Brennan Armstrong is the next big name out of the ACC to enter the portal, and @EricMacLain expects many more to follow this offseason. pic.twitter.com/hHA9TPhxbO

— Cuse Sports Talk (@CuseSportsTalk_) December 1, 2022
Update (2:37 PM)-
Former @Pitt_FB linebacker back in the transfer portal https://t.co/QycgaPUCKN

— Pittsburgh Sports Now (@PghSportsNow) December 1, 2022
Update (1:10 PM)-
First 1,000 yard WR in the books… The student has become the teacher 🧘🏽‍♂️ Love coaching my guys it's up from here. We're D!ff3rėnt! #H2P #WHG 🧇 pic.twitter.com/G13JY5fJR9

— Tiquan Underwood (@TiUnderwood) December 1, 2022
Update (11:28 AM)-
𝗢𝗙𝗙𝗜𝗖𝗜𝗔𝗟 𝗔𝗡𝗡𝗢𝗨𝗡𝗖𝗘𝗠𝗘𝗡𝗧: The College Football Playoff will expand to 12 teams beginning in the 2024-25 season!

Details » https://t.co/O4ZiAOQ4HZ#CFBPlayoff 🏈🏆 pic.twitter.com/5ZTVGXTZbo

— College Football Playoff (@CFBPlayoff) December 1, 2022
Update (9:22 AM)-
**A couple days after receiving an offer from Pitt, Steel Valley defensive back Cruce Brookins receives an offer from Syracuse. Brookins is currently committed to Kent State and also has offers from West Virginia, Cincinnati and Akron.
Pitt Extends Offer to 2023 3-Star Steel Valley DB/ATH Cruce Brookins
Update (9:00 AM)-
**Pitt football has extended an offer to 2024 4-star offensive tackle Styles Prescod from Hamilton Southeastern High School in Fishers, Indiana. Prescod (6'6″, 280-pounds) has an offer list that includes Cincinnati, Indiana, Iowa, Iowa State, Louisville, Purdue, West Virginia, Toledo, Western Michigan, Miami (Ohio), Kent State and Ball State. Prescod received the offer from Dave Borbely.
Update (8:30 AM)-
**3-star cornerback Brice Pollock, who just de-committed from Pitt, has announced an upcoming official visit. The talented cornerback from Georgia, will be making a visit to Mississippi State.
2023 3-Star CB Brice Pollock Talks to PSN About De-Committing from Pitt