The Frank Walker Law/PSN Daily Notebook- December 17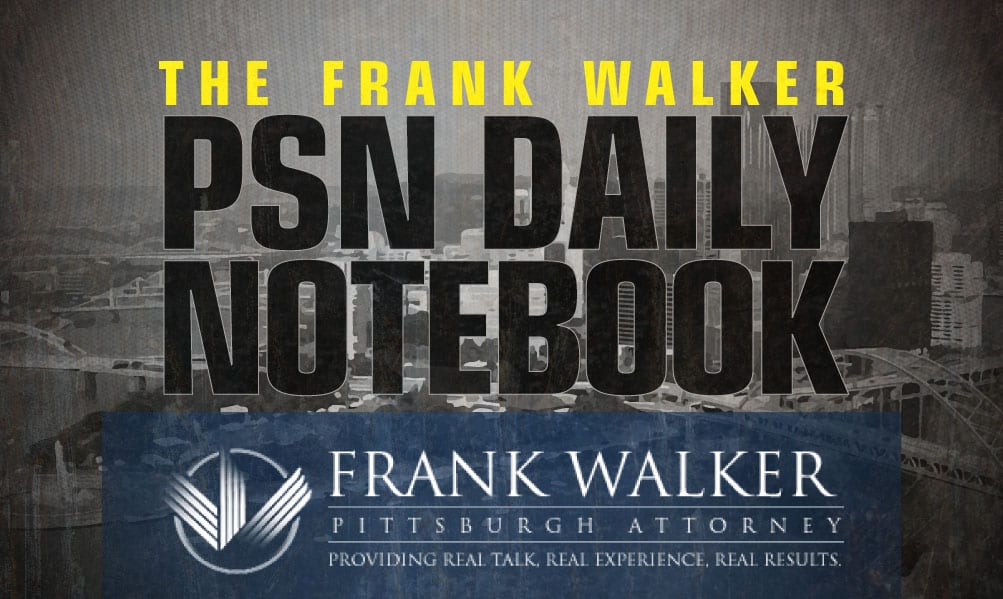 The PSN Daily Notebook is sponsored by Frank Walker, one of Pittsburgh and West Virginia's most respected criminal defense and injury lawyers. Mr. Walker has offices in Pittsburgh and Morgantown and has been named one of Top 100 National Trial Lawyers and is rated a perfect 10.0 Superb by Avvo for ethics, experience and results. To reach Mr. Walker, you can call 412-532-6805 or go to his website frankwalkerlaw.com. For real talk, real experience and real results, contact Frank Walker Law.
Update (1:43 PM)- 
**Duquesne football receives a commitment from Franklin Regional 2023 tight Nate Chiarizio, who received an offer from the Dukes just 4 days ago.
Next 4 @DuqFB @HunterGeisel15 @CoachFarisonDUQ @CoachSchmittDU @FSQ_Sports @WestmorelandSN pic.twitter.com/IBBroUXBm4

— Nate Chiarizio (@NateChiarizio) December 17, 2022
Update (10:20 AM)-
**Pitt becomes the second program (Louisville) to extend an offer to sophomore wide receiver Kyle Washington from Chaminade Madonna High School in Miami, Florida.
Highest point🆙 @TheCribSouthFLA @larryblustein @Rivals @247recruiting pic.twitter.com/v1hBTKTm0i

— kyle Washington (@5g0live_) December 6, 2022
Update (10:05 AM)-
**Randy Bates and Pitt extend an offer to a highly ranked sophomore, 4-star wide receiver Dorian Brew from Northmont High School in Clayton, Ohio. 247 Sports has Brew ranked as the No. 1 sophomore player in Ohio and one of the Top 60 sophomores in the nation. Along with Pitt, Brew (6'2″, 185-pounds) holds offers from Kentucky, Toledo, Bowling Green and UMass.
Sophomore year highlights…Back to the grind…🚇 https://t.co/F9tFIS4Iow pic.twitter.com/0LD9safRKP

— Dorian Brew (@BrewDorian15) October 30, 2022