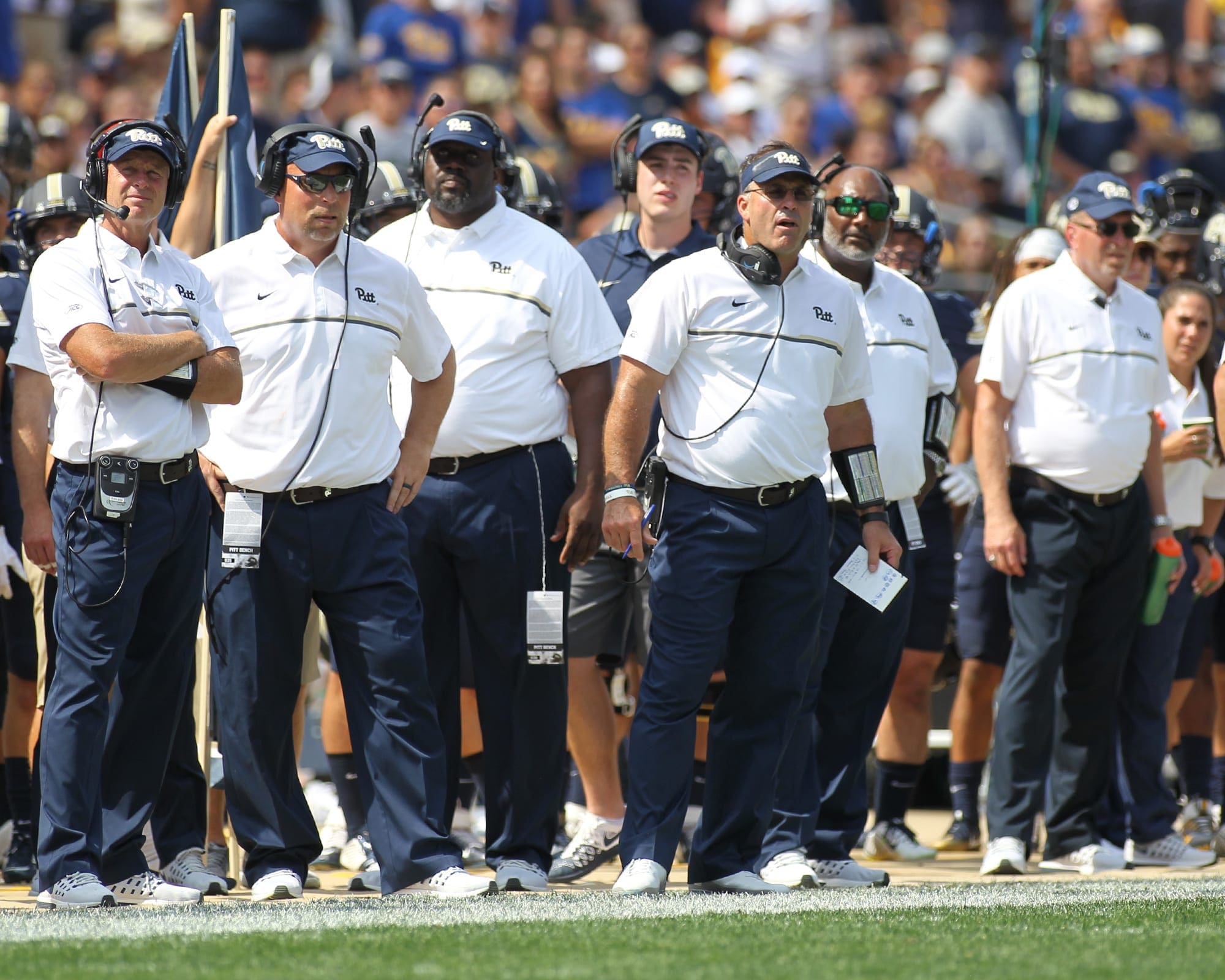 You can't blame Pat Narduzzi for being unclear on all the details. Through the fog of euphoria over coaching Pitt to its biggest upset win since 2007, I'm sure a lot of those plays ran together at Death Valley. After all, Clemson ran 95 from scrimmage.
But in his words, the 4th & 1 stop his defense turned in against Clemson to get the ball back and lead to a game winning drive thanks to a Chris Blewitt field goal was "one of the greatest stops ever."
So after 48 hours to reflect, I went to Narduzzi's Monday press conference to see if he had been able to sort out some of the details of that now famous four-down stand turned in by the Panthers' much maligned defense which set up the game winning drive en route to the 43-42 stunner.
And the answer was: Well, kinda.
"I've watched so much Duke tape I kinda forgot. I remember the third and fourth downs. But I forget the first and second."
Well, maybe we can help coach along. And he can help us. Because really, that's a stand that deserves to be celebrated and savored by all Pitt fans for a while.
So here's the anatomy of Pitt's defensive stand that helped put college football on its ear.
—-
1st & 10: Clemson had just picked up 7 yards on a 3rd and 2 pass to Mike Williams. More from him later.
They were sitting on the Pitt 44 with 2:25 left and a 42-40 lead. On 1st & 10, Clemson tried a run to the right side of the line. Tiger QB Deshaun Watson handed the ball to Wayne Gallman. Shortly before the ball was snapped, Pitt defensive lineman Shakir Soto shifted slightly from over the left guard into the gap between him and the center. Yet at the snap he darted back to the left shoulder of the guard anyway. And as the line flowed right, this gave Soto a clear path to Gallman.
He and Matt Galambos, who screeched in through a gap from his linebacker position, helped Soto with the tackle. Gallman had to be resigned to the play as his line couldn't move Jeremiah Taleni or Anthony Edwards along the middle and left end of the Panthers line. Bam Bradley also did a good job of filling a potential lane late. And the result of the play was a loss of one yard as five different players worked in concert to move the line of scrimmage backwards on Clemson's first snap.
2nd & 11: Watson works from the shotgun at the Pitt 45. Trips are to the left. Williams is to the right being guarded by Avonte Maddox with a tight end in the slot. Maddox is about 5 yards off the ball.
The snap comes with 1:50 left on the clock. Pitt tries to confuse Watson by dropping both defensive ends and blitzing two men up the middle.
Watson simply locks in on Williams and completes a pass to the junior WR for the 15th (and shockingly, final) time. Williams turned and faced Watson to catch the ball at the 40. And he backed up into both Maddox and Reggie Mitchell. Williams is brought to the turf after gaining the final ten of his 202 yards. But he couldn't gain back that one crucial yard lost on first down which would prove to be pivotal.
3rd & 1: As the ball is being spotted at the Pitt 35, the ESPN broadcasters (and yours truly) are screaming at Narduzzi to call his second time out. He doesn't. Clemson coach Dabo Swinney elects to wind the clock down as far as he can before calling a timeout himself with 1:03 remaining.
Even though Pitt ended up winning, this probably still wasn't a wise choice. But based on the end result … whatever.
Out of the timeout, with only three feet needed moving forward, Clemson elects to pitch the ball back to Gallman four yards behind the line of scrimmage. He had a blocker in H-back Garrett Williams who appeared to have have Reggie Mitchell blocked as Gallman had a hole on the right side of the line.
But whereas Pitt relied on great teamwork on the previous two plays, junior defensive lineman Allen Edwards made a superior individual play to plow through 6'5" 260 pound tight end Jordan Leggett, and up end Gallman before he could cut to the gap around the right edge. He dropped Gallman for no gain.
"We had two defenses in the huddle. We had two groups based on what kind of personnel they came out in. They came out in big people. So we came out in big people. And Allen Edwards made a heckuva play. You talk about a guy who keeps getting better," exclaimed Narduzzi. "The more reps he gets the better he is. And he made a gigantic play. If they get the first down there, it's over."
4th & 1: So with :58 seconds left, Pitt finally burns its second timeout. Clemson could've punted. Let me rephrase, should've punted. Maybe a pooch from Watson, perhaps? But they elected to go for the first down.
"It was risk on their part, but they were trying to end the game. I can't blame Dabo. He's a great coach. And he was trying to do what we always try to do: End the game with the offense on the field," explained Narduzzi.
Going for it is one thing. Debateable. But defendable. The play call from Clemson was moronic. Williams on a run pass option? No. A QB sneak? No. A straight dive hand off? No.
How about an out to Williams one more time? "I'm glad it wasn't a quick out," said Narduzzi.
Right. Because that would've made, you know, sense. "I didn't think they'd come out in two tight ends," added Narduzzi.
Not only did they have two tight ends. They had two up-backs off-set hoping to lead the way to the left for Gallman (who wound up with just 36 yards on 18 carries), after failing to run right effectively twice in the sequence.
The other direction wouldn't work either.
Again, with the ball at the 35, and the line to gain the 34, Gallman lines up at the 42! And he gets a pitch from Watson. But Taleni made the play go badly from the get go.
He lined up between Clemson's LG and LT. The center, Jay Guillmero, left Taleni to scrape off the defensive tackle Mike Herndon and try to get to the second level. That left Taleni alone with sophomore Taylor Hearn, as the tackle tried to open a hole on the edge. And Taleni ate up Hearn. His penetration forced Gallman to slow up. And he and Galambos combined to make the game saving tackle. For Galambos, it was his 12th tackle to lead the team.
Also credit Soto for collapsing with speed on the back side after he shot between the right guard and right tackle. Plus, both Quintin Wirginis (who was somehow free of injury after being bent like a pretzel) and Ejuan Price held the edge so Gallman couldn't stretch the run outside. And even Terrish Webb filled a gap quite nicely.
Narduzzi gushed about Taleni. "The guy has become a star here the last few weeks."
Forty six seconds later, Chris Blewitt was kicking a field goal that will be remembered for years in Oakland. It was made possible by a goal line stand, without a goal line. But one that was every bit as important.
By the way, we just mentioned eleven guys contributing over four different plays. Think that's what's meant by "team defense?"