Seneca Valley, Woodlands Hills Have Plenty At Stake in Non-Conference Matchup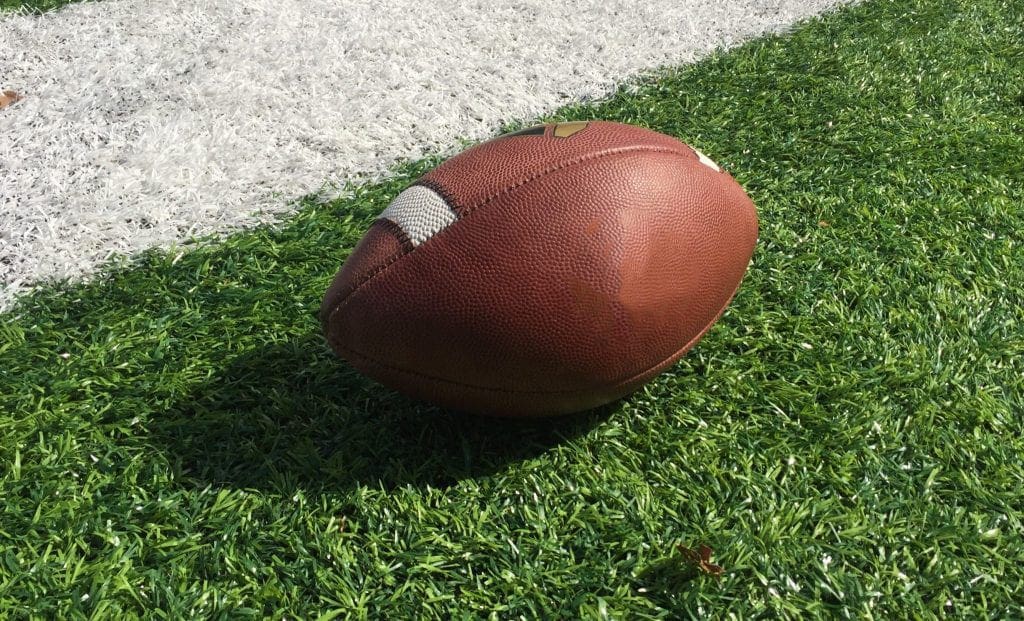 Our 2018 coverage of high school football is sponsored by Dunkin' Donuts of Pittsburgh. We thank Dunkin' for their commitment to high school sports in Western Pennsylvania and to Pittsburgh Sports Now.
Seneca Valley and Woodland Hills' seasons have taken different routes to get to this week seven non-conference matchup, but the game could be just what both teams are looking for.
Seneca Valley (5-2, 4-2 in WPIAL 6A Quad County Conference) enters the week tied for third place behind North Allegheny and Pine Richland. The Raiders two losses have come against North Allegheny and Central Catholic, and will play Pine Richland next week.
Woodland Hills (2-5, 1-4 in WPIAL Class 5A Allegheny Eight Conference), on the other hand, sits in seventh place in the section but has two winnable games remaining in Moon and Chartiers Valley.
Both teams will be looking to use the game to build momentum before finishing out the conference schedule and a playoff spot (for Seneca) or the possibility of sneaking into the post season (Woodland Hills).
Let's do something a little different here, and breakdown the offense and defense for both teams and highlight some of the players to keep an eye on.
Quarterback
• The quarterback matchup will be one to watch as both teams have been getting strong play this season from the position. Woodland Hills' Gavin Gurreri-Judson transferred to the school in the 11th hour from Waverly (NY) and has brought an athleticism to the team both as a passer and a runner. Gurreri-Judson spent the majority of his time in the shot gun for Waverly, and has been adjusting to taking snaps under center.
"He was a pleasant surprise to have him show up on the doorstep and given us a different option with throwing the ball," said Woodland Hills coach Tim Bostard. "But getting his footwork ready to go was a little rough at first, but he has a very strong arm, very intelligent kid. He's starting to get everything together and hopefully things gel real quick.
The senior has completed 35 of 87 pass attempts for 539 yards with five touchdowns and five interceptions.
·It was fun to talk with Seneca Valley coach Ron Butschle about his quarterback Gabe Lawson, who he described as a luxury Chevy.
This is a step up from Honda he was in his first year and a big difference from the Cadillac Seneca had in 2016. Then quarterback Jack Cook led the Raiders to the WPIAL Championship game, which the team lost to Central Catholic, but Cook was the engine finishing the season with 133 completions for 1,884 yards and 16 touchdowns.
Lawson was on that team as a freshman, but was given the keys last season as a sophomore. He was good, but not great (79-125 1,066 yards 12 touchdowns and 10 interceptions), and has taken a large step forward into his junior season.
"He didn't play quarterback until ninth grade," said Butschle, who was the offensive coordinator in 2016. "He hasn't even touched his potential yet. We've been able to do some different things different reads and kinds of plays that we were able to do with Jack Cook.
"When Gabe came in as a sophomore, I didn't know how to handle a Honda, I thought I was still driving a Cadillac. But he's progressed. He's got room to grow. He's grown this year, but he's very gifted athletically, he does a lot of things with his legs and has made some really good throws. We try to keep it simple, but we are adding more to his plate each week."
Skill positions
Woodland Hills has two big playmakers in tight end Josh Rawlings (Temple, Toledo, Akron, Howard offers) and receiver Davion Rochelle (Temple, Howard offers), both of whom are averaging over 13 yards per catch for the Wolverines.
"At the beginning of the year, Josh had some cramping issues, and we found out we were playing him too many plays," said Bostard. "We found out we were playing him close to 90 plays a half, when most players don't play that many in a game. So we tuned him back a little bit. He's a big, strong, physical tight end who can give us another option in the passing game."
"Davion is a young pup coming into his own. He's a fantastic athlete, he can get the ball at any point in the air. His athletic ability is absolutely phenomenal."
·Seneca Valley is about as balanced as you can be on offense, with 936 passing yards (735 from Lawson) and 760 rushing yards. Josh McLean is pacing the offense with 20 receptions and 346 yards to go with 38 rushing yards and six touchdowns. Luke Smith also has 20 receptions for 235 yards and four touchdowns.
"We're lucky to have some of these skill guys. Luke and Josh are really talented receivers," said Buschle.
The Raiders running back, Matt Stanger, is a converted quarterback and is a big, bruising running back who is averaging just under three yards per carry.
"He runs really hard. He's still learning good vision and to see cutbacks, but he's made some runs, he had one against Central that was phenomenal, he busted out of the pile because his legs never stop churning."
"We try not to calculate who will get the ball, but we've been able to spread it around. And it's fun when you're making plays on offense. We have some guys who can catch it and run it."
Defense
Again, the record isn't what they had hoped for, but Woodland Hills has been getting better as the season has gone on. The Wolverines lost their first four games of the season by a combined score of 97-41, but are 2-1 in the past three games and have posted two shutouts.
Cornerback Mike Coleman (Kent State, 43rd ranked player in state) is the leader on the defense along with fellow defensive back Davion Rochelle and defensive end Josh Rawlings.
"Mike started off the year with a twinged hamstring, missed a couple of games, and unfortunately missed last week with a shoulder, so hopefully he's available this week. He's a terrific kid on both sides of the ball. On defense, he's the heart and soul. He can cover, he can come downhill and hit you, and he can run," said Bostard.
"Josh is a tall, rangy defensive end who can get after it, and Davion is still learning the secondary, but is a great athlete."
·Aliquippa, Clairton, Burgettstown, Jeannette. That's the list of teams giving up less points per game than Seneca Valley (7.1 points per game). The Raiders have three shutouts this season and have allowed more than 14 points only once.
"Last year, we had eight guys on the field, both sides of the ball, who have never played on a Friday night. But this year, the difference is the experience. We can disguise coverages a little more, or run some stunts and blitzes that we couldn't do last year. Last year we'd be lucky to line up right sometimes."
The defense is anchored by linebackers Saige Ley (Nevada offer) and Jake Stebbins (Cornell commit).
"Saige is a physical specimen," said Buschle. "We changed his position slightly this year. He's doing some different things. He's doing a really good job of taking care of his assignments, and we've given him the luxury of being one of our pass rushers. He is tough to block on the edge. He creates a lot of havoc and makes the quarterback step up in the pocket into the rush."
"Jake is as steady and reliable as advertised. He's very intelligent, he's the quarterback of the defense."