The Frank Walker Law/PSN Daily Notebook: February 27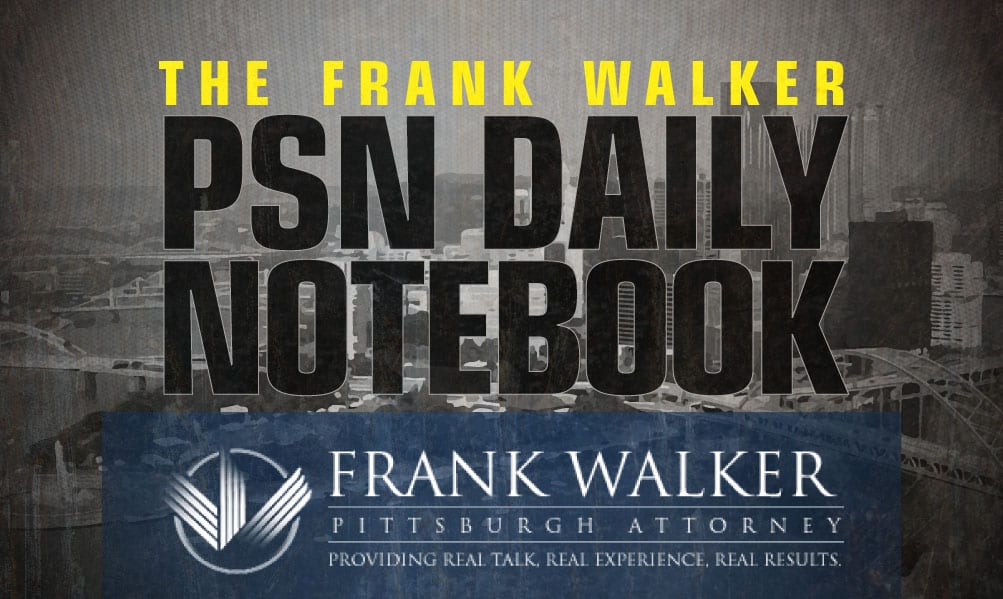 The PSN Daily Notebook is sponsored by Frank Walker, one of Pittsburgh and West Virginia's most respected criminal defense and injury lawyers. Mr. Walker has offices in Pittsburgh and Morgantown and has been named one of Top 100 National Trial Lawyers and is rated a perfect 10.0 Superb by Avvo for ethics, experience and results. To reach Mr. Walker, you can call 412-532-6805 or go to his website frankwalkerlaw.com. For real talk, real experience and real results, contact Frank Walker Law.
Update (5:39 PM)-
**Pitt extends another offer to a freshman, as this one goes to wide receiver Jason Robinson II from Long Beach, California, although he's announced that he's moving to MacArthur High School in Texas. Richardson received the offer from Brennan Marion and it was his first D-1 offer.  Following Pitt extending an offer, Robinson received one from Arizona State two hours later. Yesterday, Marion and Pitt were the first program to offer Texas freshman Hunter Moddon.
2024 WR and Cali up and coming national recruit from Los Alamitos @ActionJason7 told us earlier today that he's officially transferring and relocating to Texas. Jason Robinson II will be attending MacArthur High in Texas. 📈 pic.twitter.com/msH0fTNhkC

— Football Recruit. (@FootballRecruit) February 27, 2021
Update (2:02 PM)-
⚒️ Pitt Iron Works ⚒️

Pitt strength and conditioning coach Mike Stacchiotti recaps his first year and takes you behind the scenes from the Aaron Donald Football Performance Center.#H2P pic.twitter.com/cmgcih9yJC

— Pitt Football (@Pitt_FB) February 27, 2021
Update (11:30 AM-
Not settling for just one win.

🆚: No. 9️⃣ Florida State
⏰: 8️⃣ PM
📍: Tallahassee, FL
🏟: Dick Howser Stadium
📺: @accnetwork
💻: https://t.co/lUJ38m1QnH
📊: https://t.co/sO2gMXDrz9
#H2P pic.twitter.com/E83192WUrk

— Pitt Baseball (@Pitt_BASE) February 27, 2021

Update (9:52 AM)-
GameDay in February pic.twitter.com/jLy9w3h5em

— RMU Equipment Staff (@RMUEquipment) February 27, 2021
Update (8:11 AM)-
As @Pitt_MSOC embark on the Spring season today, here's one last look at their impressive Fall campaign as @JohnKrysinsky wrote, they still have work to do. https://t.co/PDVC0FnNEq

— Pittsburgh Soccer Now (@pghsoccernow) February 27, 2021