The Frank Walker Law/PSN Daily Notebook: March 16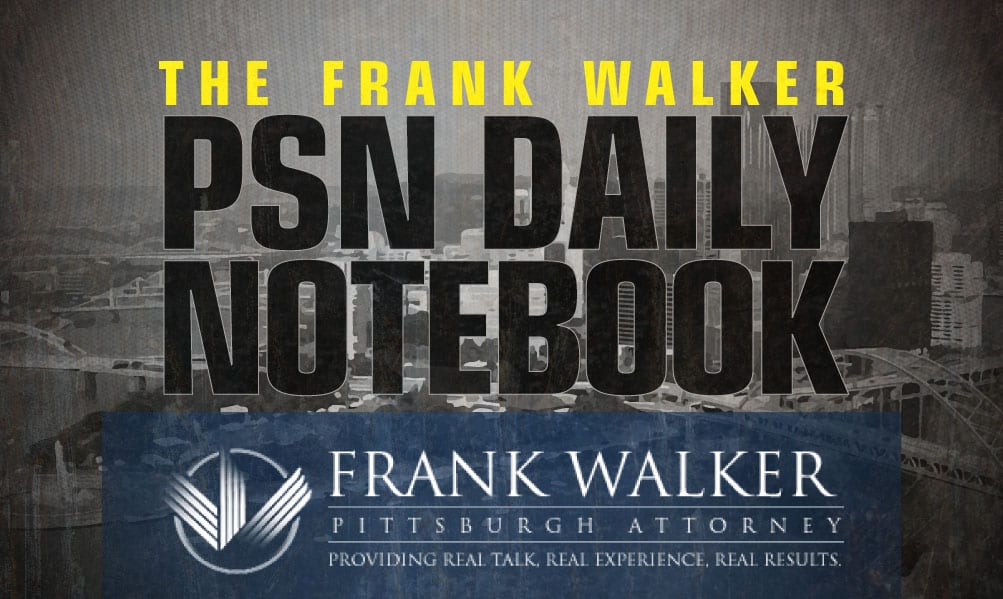 The PSN Daily Notebook is sponsored by Frank Walker, one of Pittsburgh and West Virginia's most respected criminal defense and injury lawyers. Mr. Walker has offices in Pittsburgh and Morgantown and has been named one of Top 100 National Trial Lawyers and is rated a perfect 10.0 Superb by Avvo for ethics, experience and results. To reach Mr. Walker, you can call 412-532-6805 or go to his website frankwalkerlaw.com. For real talk, real experience and real results, contact Frank Walker Law.
Update (9:06 PM)-
**Tonight, Charlie Partridge shows interest in a player that he'd like to coach one day as he extends an offer to 2022 3-star DE Malachi Madison from Cedar Grove High School in Ellenwood, Georgia. Madison (6'3″, 275 lbs.) also holds offers from Colorado, Iowa State, Minnesota, Mississippi State, NC State, Penn State, Central Florida, Virginia Tech and West Virginia.
Update (8:49 PM)-
We appreciate you @BrennanMarion4 bringing your @TMPMafia7v7 Family on a tour of @Pitt_FB #Norcal 🏁 🐐 All love Cuhh pic.twitter.com/hZ8IWgmtKL

— 5 ⭐ Coach T TMP 🏁 🐐 (@CoachTTMP) March 17, 2021

Update (6:09 PM)-
**Freshman athlete Zaquan Patterson from Chaminade-Madonna Prep in Miami Garden, Florida picks up an offer from Pitt. This becomes Patterson's third offer with the other two coming from Miami and Syracuse.
Update (4:51 PM)- 
**Belle Vernon 2024 athlete Quinton Martin has a big afternoon as he receives two Power Five offers- West Virginia and Virginia Tech. Back in November, Martin received his first offer which came from Pitt.

Update (3:49 PM)-
🚨 𝗦𝗖𝗛𝗘𝗗𝗨𝗟𝗘 𝗖𝗛𝗔𝗡𝗚𝗘

Our series at Virginia has been moved back a day due to expected 🌧️.

Game 1️⃣ – Sat. – 1 p.m.
Game 2️⃣ – Sun. – 1 p.m.
Game 3️⃣ – Mon. – 2 p.m.#H2P

— Pitt Baseball (@Pitt_BASE) March 16, 2021

Update (3:46 PM)-
Moved up ⬆️ one spot to No. 7️⃣ in the latest @UnitedCoaches poll.#H2P pic.twitter.com/i2J1AI8e9V

— Pitt Men's Soccer (@Pitt_MSOC) March 16, 2021

Update (2:51 PM)-
Going to Grad school 🤓 pic.twitter.com/Ni2dKI3Ahr

— Todd Sibley Jr. (@T_Sib23) March 16, 2021
Update (10:18 AM)-
Duquesne is receiving 6⃣ votes in the first spring @WeAreAFCA Top 25 📈#GoDukeshttps://t.co/xdi6k8E2u0

— Duquesne Football (@DuqFB) March 16, 2021
Update (9:30 AM)- 
**Freshman quarterback Carson Suesue (6'4", 180 lbs) from De La Salle High School in Concord, California receives an offer from Brennan Marion and Pitt. Suesue also holds early offers from Arizona State, Florida Atlantic, Hawaii, Tennessee, Utah, Utah State and William & Mary.
Trust The Process ! @2Ddavis @morisuesue @BrandonHuffman @ttherzog #TeamSuesue #MLUYFI #MaluFitness #PALA #Level🆙 #AIGA #CamCamp #OFFA pic.twitter.com/F0kwYLzcZl

— Carson Su'esu'e (@CarsonSuesue1) June 18, 2020
Update (7:40 AM)-
**Pitt continues their recruiting in California as they offer 2023 quarterback Nicholaus Iamaleava Jr. from Warren High School in Downey, California. Iamaleava (6′-5″, 195 lbs.) also holds offers from UCLA, Arizona, Arizona State, BYU, Florida State, Michigan State, Oregon State, Texas A&M, Utah and Washington State.
Downey (Calif.) Warren 2023 QB Nico Iamaleava at @Pylon7on7 https://t.co/XMQwFreCgK @nico_iamaleava8 pic.twitter.com/HKQktuu40b

— Brandon Huffman (@BrandonHuffman) February 20, 2021
Update (7:15 AM)-
**2022 Perry 4-star defensive end Tyreese Fearbry (6′-5″, 210) picks up an SEC offer from Missouri. This latest offer goes along with other ones from Pitt, Arizona State, Auburn, Boston College, Cincinnati, Kentucky, Michigan State, Penn State, South Carolina, Syracuse, Western Michigan and West Virginia.
Update (6:57 AM)-
**Robert Morris extends an offer Monday night to 2022 shooting guard RJ Greene (6′-5″, 185) from Iona Prep School in New York. Greene also holds offers from Hofstra, Bryant and St. Francis Brooklyn.
Iona Prep's RJ Greene was terrific in tonight's defeat to Stepinac. Nobody finishes better on the baseline than the junior star. Watch this dunk @IonaPrepBBall @IonaPrepSports pic.twitter.com/DuutryuFh4

— Kevin Devaney Jr. (@KDJmedia1) March 13, 2021