The Frank Walker Law/PSN Daily Notebook: April 17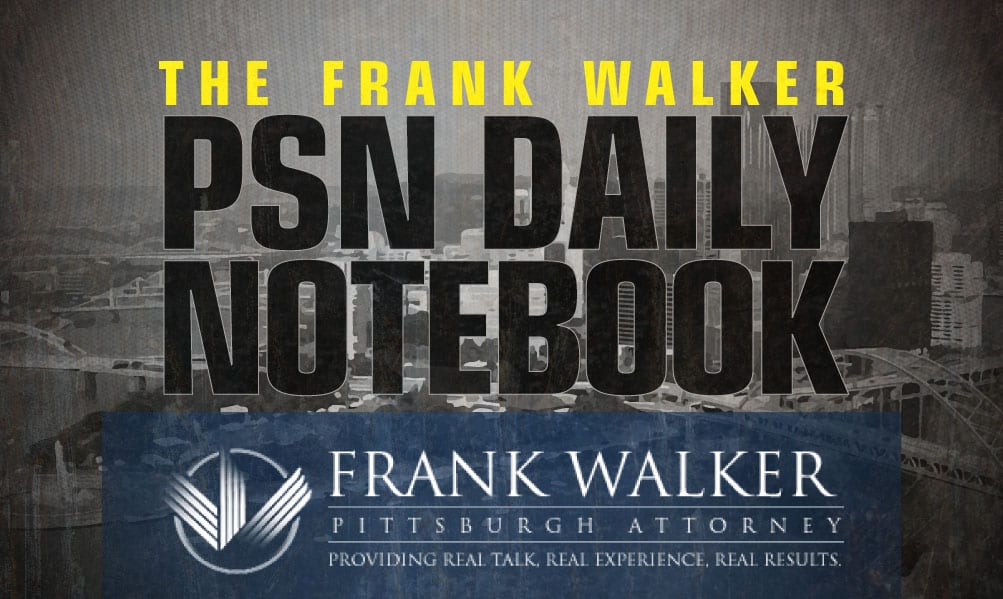 The PSN Daily Notebook is sponsored by Frank Walker, one of Pittsburgh and West Virginia's most respected criminal defense and injury lawyers. Mr. Walker has offices in Pittsburgh and Morgantown and has been named one of Top 100 National Trial Lawyers and is rated a perfect 10.0 Superb by Avvo for ethics, experience and results. To reach Mr. Walker, you can call 412-532-6805 or go to his website frankwalkerlaw.com. For real talk, real experience and real results, contact Frank Walker Law.
Update (7:51 PM)-
#NEW I just confirmed that Gateway's athletic director, Don Holl emailed every HS head football coach in the state, asking them to support Eric Kasperowicz and NOT apply for the job opening at Pine-Richland.

— Jillian Hartmann WPXI (@JillianWPXI) April 17, 2021
Update (2:18 PM)- 
**Thomas Jefferson 2022 OL/DL Nick Bryan is in attendance for today's Marshall Spring Game.
Really loving this vibe today!⚪🦬🟢 @RecruitTheHerd @HerdNation @HerdFB pic.twitter.com/KL8LCu32ld

— Nick Bryan (@NickBry46357328) April 17, 2021

Update (2:05 PM)- 
**Congrats to North Hills 2022 athlete Robert Dickerson for picking up his first D-1 offer.
After a great talk with @davidweeks34 I am extremely blessed to announce my first football offer to Fordham University 🤍 pic.twitter.com/GQ7y5JFQYw

— 𝑅𝑂𝐵𝐸𝑅𝑇 𝐷𝐼𝐶𝐾𝐸𝑅𝑆𝑂𝑁 🖖🏽 (@RobDickerson16) April 17, 2021
Junior Year Highlights ❗️❕https://t.co/iFnbn4fSyg pic.twitter.com/dBDuLD0Ns8

— 𝑅𝑂𝐵𝐸𝑅𝑇 𝐷𝐼𝐶𝐾𝐸𝑅𝑆𝑂𝑁 🖖🏽 (@RobDickerson16) October 28, 2020

Update (9:58 AM)-
The ACC order for 2020, for total compensation for football coaches, via @usatodaysports pic.twitter.com/pqbdgU3bgC

— Joe Giglio (@giglio_OG) April 17, 2021

Update (9:20 AM)-
VMI can earn an automatic berth to the FCS Playoffs with a win against The Citadel today. VMI's QB is a local kid, Mt. Lebanon grad Seth Morgan. The redshirt freshman has completed an FCS-best 77% of his passes. #WPIAL

— Brad Everett (@BREAL412) April 17, 2021

Update (8:03 AM)-
#BREAKING: The attorney for the man who claimed NFL superstar Aaron Donald assaulted his client is now publicly apologizing. New details: https://t.co/C1pyBgX4Xw pic.twitter.com/ZAm5O2OrYl

— WPXI (@WPXI) April 17, 2021

Update (7:49 AM)-
**Pitt extended an offer Friday night to 8th grade wide receiver Jadyn Hudson from California, this was Hudson's first D-1 offer. Hudson received the offer from Brennan Marion.
I wanna give a shout out to @Pylon7on7 for hosting a great 7on7 event and letting me run with the 18u for the first time the energy was amazing in the building!!!!!! Got my first 18u touchdown too 🤘🏾💪🏾🙌🏾 @MLUYFI @CoachBriscoeWR @2Ddavis @BrandonHuffman @247Sports @NPShowcases pic.twitter.com/U9S70Ipir5

— Jadyn Hudson (@JadynHudson2) February 22, 2021
Thank you @one9 for hosting a great tournament. Here are some of my highlights from this past weekend.@2Ddavis @morisuesue @CoachBriscoeWR @BrandonHuffman @247Sports @NPShowcases #MLUYFI pic.twitter.com/pX6QhIRdAL

— Jadyn Hudson (@JadynHudson2) March 4, 2021
Jadyan Hudson showing why he's one of the top 8th graders out @JadynHudson2 @247Sports @BrandonHuffman @247recruiting @Rivals @KeanonLowe @DuckFootball @coach_cristobal @coach_frost pic.twitter.com/KdRYs5PmuW

— True2TheGrind (@edargan4) March 15, 2021