The Frank Walker Law/PSN Daily Notebook: April 24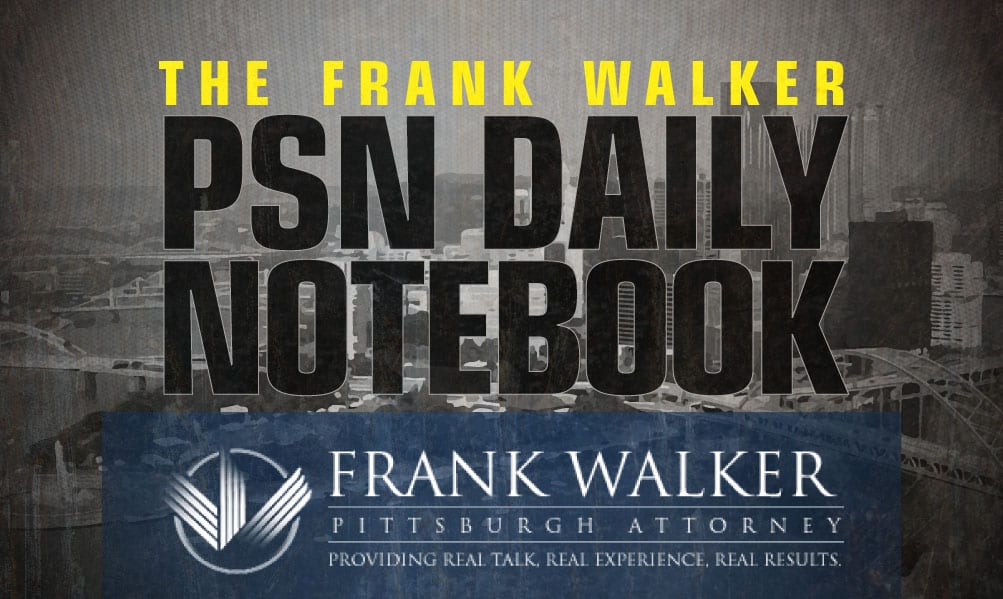 The PSN Daily Notebook is sponsored by Frank Walker, one of Pittsburgh and West Virginia's most respected criminal defense and injury lawyers. Mr. Walker has offices in Pittsburgh and Morgantown and has been named one of Top 100 National Trial Lawyers and is rated a perfect 10.0 Superb by Avvo for ethics, experience and results. To reach Mr. Walker, you can call 412-532-6805 or go to his website frankwalkerlaw.com. For real talk, real experience and real results, contact Frank Walker Law.
Update (8:08 PM)-
One good year can change your life! Can't thank @Pitt_FB enough for the opportunity to play this past season! pic.twitter.com/ACF9fnzr0j

— DJ (@_DjTurner1) April 25, 2021
Update (5:39 PM)-
Ak'Bar Shabazz is a PWO for #Pitt. Don't be shocked if he earns a 'ship. Big, physical DB from the Peach State. #H2P https://t.co/zB9HOHGtlT

— Harry G. Psaros (@PittGuru) April 24, 2021
Update (4:20 PM)- 
**David Tubek is a 2022 6'8" forward from the local AAU Wildcat Select Program. Tubek holds offers from Akron and Youngstown State.
2022 (SSD) G/F David Tubek has received an offer from Robert Morris. @davidtubek https://t.co/ruOXNw6BMC https://t.co/3YjDiFTwTI

— Verbal Commits (@VerbalCommits) April 24, 2021
Update (3:58 PM)- 
**2022 New Jersey athlete Peter Schuh will be attending a Pitt football camp this summer.
Thank you for the invite!!🔥@BrennanMarion4 @Pitt_FB @coachcsanders @CoachMarangi @SJRFB @NJPrideGold @CoachFrankOL @coachchurch23 pic.twitter.com/GyAm87WeTq

— Peter Schuh (@PeterSchuh49) April 24, 2021
Junior Season Highlights https://t.co/Xxmosxk2Ca @SJRFB @CoachMarangi @footballcoachal @21tdubs

— Peter Schuh (@PeterSchuh49) December 11, 2020

Update (2:58 PM)- 
**Andy Toole and Robert Morris extend an offer to 2022 6'7" forward Kalu Anya from Governor's Academy in Worcester, Massachusetts. Anya also has an offer from Siena.
Update (10:18 AM)- 
**West Allegheny 2023 athlete Nodin Tracy was another Western Pennsylvania athlete in State College Friday night.
Great experience down Beaver Stadium last night!!💙🤍 @coachjfranklin @CoachTerryPSU @Evolve2tenths #WeAre pic.twitter.com/MCJVBpD1Qd

— Nodin Tracy 🃏 (@nodin_tracy) April 24, 2021

Update (9:26 AM)-
The boys had a great time at @PennStateFball @Lamontpayne18 @TaMereRobinson3 @nodin_tracy @RashanMurray @FearbryTyreese @KameronCheatom_ @tavione__ @RobDickerson16 @junior_4bug @Dandre__5 @JacksonJr04 @210ths @PghSportsNow @JaquanBrisker @jjporter_1 pic.twitter.com/FFI0xiD1Fi

— Evolve (@Evolve2tenths) April 24, 2021
Update (9:09 AM)-
The Mighty Michigan branch of #Pitt Nation on its way to the 'burgh. Drive safe. #H2P https://t.co/zmp7UixcAe

— Harry G. Psaros (@PittGuru) April 24, 2021
Update (8:41 AM)- 
**Two really big Western Pennsylvania recruits were in State College last night for Penn State's Blue/White Game: Perry 2022 4-star DE Tyreese Fearbry and Brashear 2023 4-star athlete Ta'Mere Robinson.
Tapped in wit @TaMereRobinson3 @Kj_hamler #WEARE🦁 pic.twitter.com/HcEn9rg6lN

— Tyreese Fearbry (@FearbryTyreese) April 24, 2021