The Frank Walker Law/PSN Daily Notebook: May 30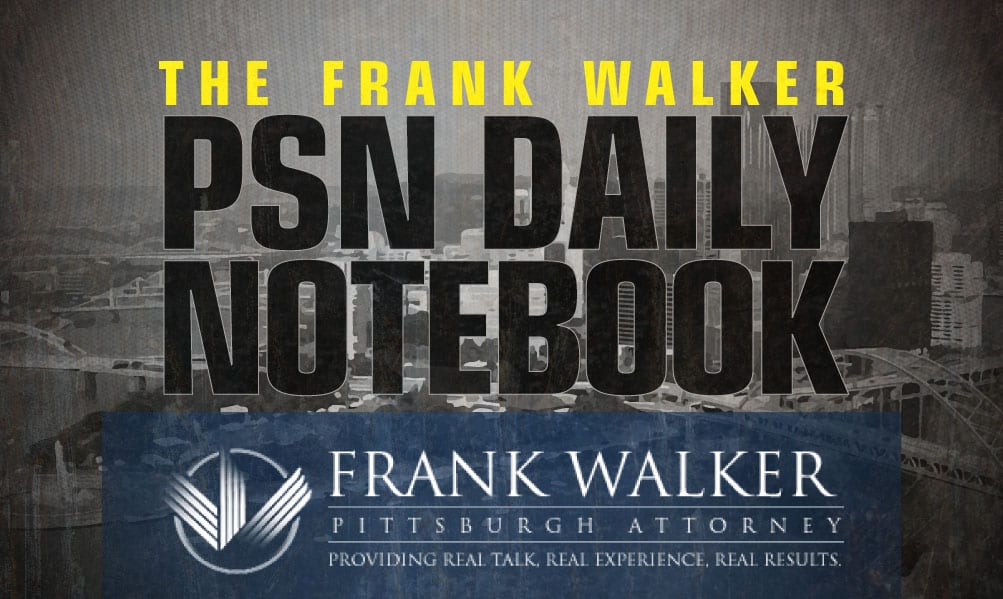 The PSN Daily Notebook is sponsored by Frank Walker, one of Pittsburgh and West Virginia's most respected criminal defense and injury lawyers. Mr. Walker has offices in Pittsburgh and Morgantown and has been named one of Top 100 National Trial Lawyers and is rated a perfect 10.0 Superb by Avvo for ethics, experience and results. To reach Mr. Walker, you can call 412-532-6805 or go to his website frankwalkerlaw.com. For real talk, real experience and real results, contact Frank Walker Law.
Update (8:18 PM)-
Thank you to everyone who has reached out via phone, text, email Twitter, Facebook, etc. My family & I are very appreciative of the support. It is impossible to return all the messages. I know the @RMUMHockey & @RMUWHockey student athletes & alumns appreciate the support too. TY

— Derek Schooley (@derekschooley) May 30, 2021
Update (8:13 PM)- 
**Thomas Richardson III is a 2022 quarterback from Cleveland, Ohio.
School. Train. Sleep. Repeat. 🙏🏾💯#BeReadyInJune #CampSeason #HardWork #Dedication @Elite11 @DilfersDimes @TheOpening @247Sports @AllenTrieu @Rivals @RivalsCamp @FOX8FNTD @Mark__Porter @BradMaendler @OhioD1R1HSFB @MSR_Ohio pic.twitter.com/AAJtA3RevP

— Thomas Richardson III (@trichardson232) May 31, 2021
🚨🎥🎬 Turn me up!! https://t.co/cTEshNpnJh

— Thomas Richardson III (@trichardson232) October 5, 2020

Update (7:01 PM)-
To: @NCAACWS Selection Committee

Subject: Pitt's Resume

The numbers don't lie, we belong in the NCAA Tournament!#H2P pic.twitter.com/FiVRk7RpLP

— Pitt Baseball (@Pitt_BASE) May 30, 2021
Update (5:21 PM)- 
**Laurel Highlands Rodney Gallagher has arranged a dual unofficial visit to the West Virginia football and basketball programs.
I will take a unofficial visit to West Virginia for basketball and football on June 12th🟡🔵 @WVUfootball @WVUhoops

— Rodney Gallagher 3rd (LLC💞) (@RodneyG_3rd) May 30, 2021
Update (10:01 AM)-
Nora Johns ran the 300 hurdles for the first time this spring, and the Quaker Valley sophomore can remember the thoughts running through her head at the time. #WPIAL #HSSN @quakervalley @norajohns_10https://t.co/hV0Ckjtp5n

— TribLive HSSN (@TribLiveHSSN) May 30, 2021
Update (9:55 AM)- 
**Laurel Highlands 2023 4-star athlete Rodney Gallagher holds both football and basketball offers from Penn State.
I will be taking a unofficial visit to Penn State on June 24th🦁🦁🔵⚪️ @PennStateFball

— Rodney Gallagher 3rd (LLC💞) (@RodneyG_3rd) May 30, 2021

Update (9:40 AM)-
Just another day on the track for Amy Allen at the PIAA Championships….FOUR medals. Well deserved Amy! pic.twitter.com/hAvGSbO0xE

— South Fayette Sports (@sflionssports) May 29, 2021
Update (8:02 AM)-
Incredibly grateful for all the coaches mentioned in this article. Every single one has helped shape me as a coach in one way or another. It's a blessing to be a part of the @Pitt_MBB family! #H2P https://t.co/JD5vCfYBXM

— Michael Lecak (@lecak_24) May 29, 2021
No one worked harder. @milli_smoove 💪📈#ZooEra l #H2P pic.twitter.com/cFuNID2Qqh

— Pitt Basketball (@Pitt_MBB) May 29, 2021
Update (8:00 AM)-
🚨 ALL 130 CFB TEAMS RANKED

1. Alabama
4. Georgia
6. Texas A&M
7. Florida
10. LSUhttps://t.co/95nqzLjvhF

— PFF College (@PFF_College) May 29, 2021