The Frank Walker Law/PSN Daily Notebook: June 2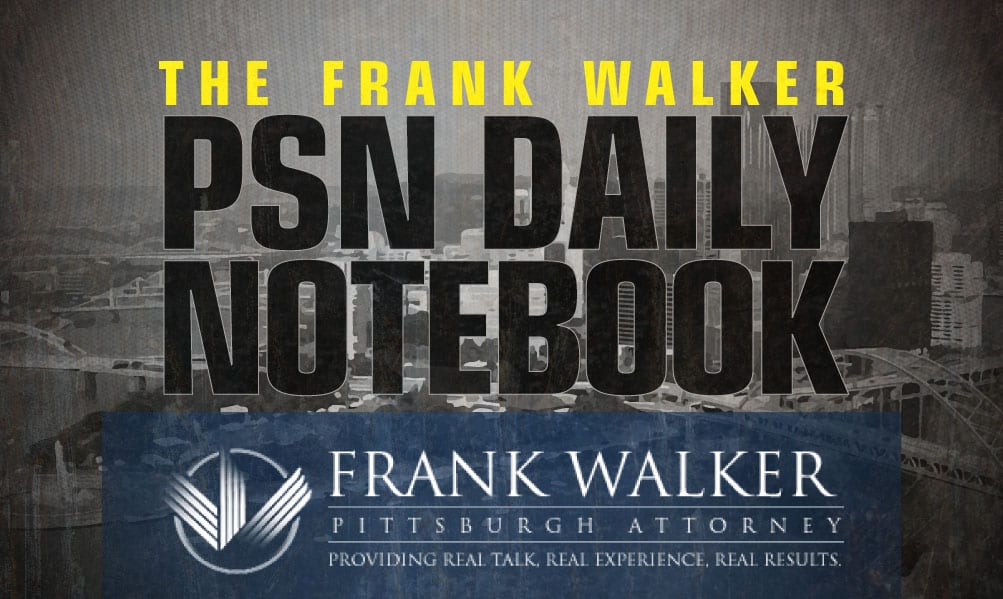 The PSN Daily Notebook is sponsored by Frank Walker, one of Pittsburgh and West Virginia's most respected criminal defense and injury lawyers. Mr. Walker has offices in Pittsburgh and Morgantown and has been named one of Top 100 National Trial Lawyers and is rated a perfect 10.0 Superb by Avvo for ethics, experience and results. To reach Mr. Walker, you can call 412-532-6805 or go to his website frankwalkerlaw.com. For real talk, real experience and real results, contact Frank Walker Law.
Update (9:47 PM)- 
**The Duquesne Dukes get a visit today from Thomas Jefferson  2022 OL/DL Nick Bryan.
Had a great time visiting Duquesne this evening. Thank you @DuqFB and @CoachFarisonDUQ 🔴🔵 pic.twitter.com/oQI8CGlxN4

— Nick Bryan (@NickBry46357328) June 3, 2021

Update (9:25 PM)-
Big News: Today the PIAA overruled the WPIAL and made Brad Birch eligible to play the upcoming season at Gateway. Also worth noting that he is also eligible for post season because he transferred prior to the 10th grade year

— WPIAL Football Zone 🏈 (@AJWPIAL) June 2, 2021
Update (5:45 PM)- 
**Robert Morris extends an offer to JUCO shooting guard Zariquie Nutter (6'5", 185) from Clarendon College (Texas). Nutter went to high school at The Patrick School in Newark, New Jersey.
Update (3:55 PM)- 
**James Lilley is a 2022 tight end/defensive end from Chambersburg, Pennsylvania.
Amazing camp today at West Virginia University learned a lot from great coaching and competed against some great players @CoachTTrickett @WVUfootball pic.twitter.com/VlUe0cgFEj

— James Lilley (@james_Lille) June 1, 2021
Update (12:30 PM)- 
**Brashear 2023 RB Shawn Solomon was in attendance for last nights 'Hometown Throwdown' at Pitt.
The sleeper. Has all the tools as a RB https://t.co/nsO5llnyOw

— Evolve (@Evolve2tenths) June 2, 2021
Update (9:35 AM)-
✊🏾✊🏾 H2P https://t.co/W5KMm444PM

— Tyler Boyd (@boutdat_23) June 2, 2021
Update (9:19 AM)-
I have been informed that 2022 offensive line prospect Teague Andersen from Lehi HS in Lehi, UT will visit #Pitt June 9th. Big (6-ft-5 inch, 285 lbs), mobile OL. Brother of current Panther Trey Andersen. @PghSportsNow @OLCoachAndersen #UtahtoPITT 🔵🟡 pic.twitter.com/kOwnXTWmwf

— Harry G. Psaros (@PittGuru) June 1, 2021
Towering wide receiver Sean Wilson from Christ the King HS in Middle Village, NY visiting #Pitt June 6th. https://t.co/JtFagNsvBc

— Harry G. Psaros (@PittGuru) June 1, 2021