The Frank Walker Law/PSN Daily Notebook: June 7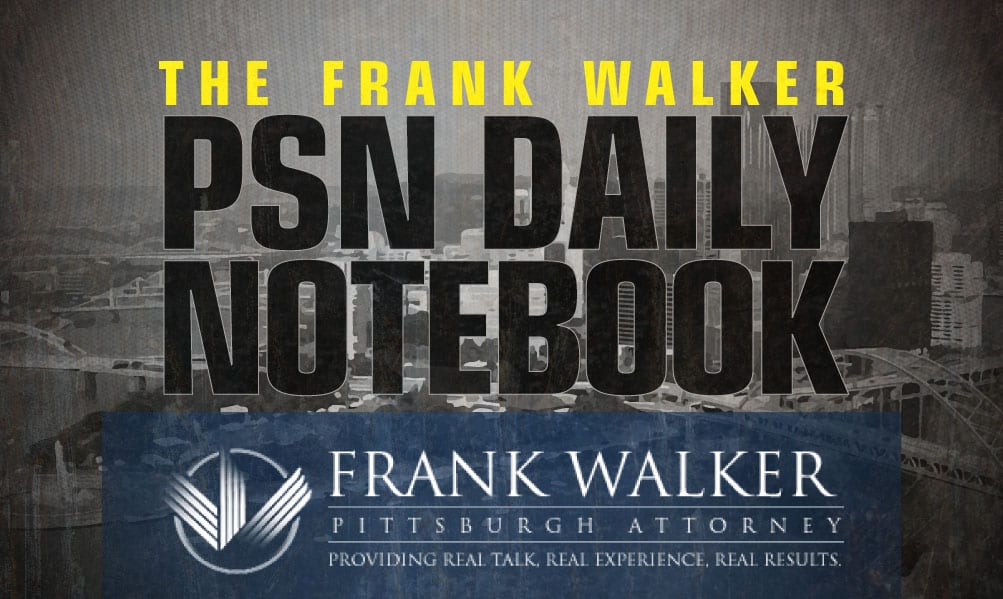 The PSN Daily Notebook is sponsored by Frank Walker, one of Pittsburgh and West Virginia's most respected criminal defense and injury lawyers. Mr. Walker has offices in Pittsburgh and Morgantown and has been named one of Top 100 National Trial Lawyers and is rated a perfect 10.0 Superb by Avvo for ethics, experience and results. To reach Mr. Walker, you can call 412-532-6805 or go to his website frankwalkerlaw.com. For real talk, real experience and real results, contact Frank Walker Law.
Update (10:04 PM)- 
**2023 3-star cornerback Dwight Bootle II from Miami Palmetto High School in Miami, Florida. Bootle received the offer from Ryan Manalac and also holds Power Five offers from Syracuse and Washington State.
https://t.co/ms0Se5tNSe
Spring Football Highlights
Dwight Bootle II
Class of '23 Defensive Back

— Dwight Bootle II (@BootleIi) May 22, 2021
Update (9:48 PM)- 
**Another offer today from Pitt to a player in Florida. 2023 wide receiver Nathaniel Joseph from Edison High School in Miami, Florida. Joseph holds offers from Florida, Florida State, LSU, Miami, Notre Dame, Oregon, Penn State, Texas, Texas A&M and West Virginia.
Update (9:15 PM)- 
**Today, Pitt extends an offer to 2023 4-star wide receiver Jalen Brown from Gulliver Prep in Miami. Florida. Brown holds close to 30 offers including from programs like Auburn, Florida, Florida State, Georgia, LSU, Miami, Michigan, Notre Dame, Penn State, Texas, Texas A&M and West Virginia. 247 Sports rates Brown as one of the Top 30 players in the Class of 2023.
https://t.co/SomQBwxL6Q @FootballHotbed @larryblustein @Rivals @247Sports @fanit_now @Footballville

— Jalen Brown (@Smooth5ive_) November 23, 2020
Update (8:16 PM)- 
**After being named OL MVP at the Michigan Wolverine prospect camp, Moon 2022 lineman Trent Fraley earns an offer from Marshall.
Extremely blessed and grateful that I received an offer from Marshall University!! #WeAreMarshall #GoHerd @CoachEMorrissey @CoachHuff @HerdFB pic.twitter.com/x1PtFON2sY

— Trent Fraley (@fraley_trent) June 7, 2021

Update (8:01 PM)-
**The second D-1 offer of the day for Penn Hills 2022 athlete Jaden Dugger.
Blessed to receive another Division I offer from Duqusne University @CoachFarisonDUQ @Coach_LeDonne @CoachBT02 @210ths pic.twitter.com/llkGxgeZI5

— Jaden Dugger (@JadenDugger) June 7, 2021

Update (5:05 PM)-
2024 Aldine MacArthur WR Jason Robinson Jr is a prospect that's made a lot of waves this offseason

He recently moved in to the state of Texas and has taken the camp circuit by storm. He already holds offers from Pitt and Arizona State. Rising prospect to know pic.twitter.com/CTTeCfnrMS

— Tim Verghese (@TimVerghese) June 7, 2021
Update (4:34 PM)- 
**A big day for Thomas Jefferson 2023 tight end Jordan Mayer as he receives an offer from Duquesne, which becomes his first D-1 offer.
I'm honored and beyond blessed to have received my first official Division 1 offer from Duquesne! @DuqFB @CoachFarisonDUQ @CoachColemanDL pic.twitter.com/bwozkdjdQF

— Jordan Mayer (@Jordanmayer33) June 7, 2021

Update (4:30 PM)- 
**Penn Hills 2022 WR/DB Jaden Dugger receives an offer today from Toledo.
Check Out My Junior Season Highlights ‼️https://t.co/VuUeTpWDOV

— Jaden Dugger (@JadenDugger) November 3, 2020
After a great visit and workout excited to announce that I recieved a Division I offer from The University of Toledo 🚀 @CoachCandle @RickyCicconeUT @vkehres pic.twitter.com/qFi4rbOFeE

— Jaden Dugger (@JadenDugger) June 7, 2021

Update (4:17 PM)- 
** While recruiting in Florida today, Charlie Partridge extended an offer to 2025 defensive end Armondo Blount (6'3", 230) from Dillard High School in Fort Lauderdale, Florida. Blount also has offers from Florida State and Miami.

Update (2:52 PM)-
Pitt just offered 6'11 2022 four star center Shawn Phillips, his coach told @PghSportsNow.

Phillips is the No. 83 player in the nation according to 247. Holds offers from a long list of schools including Indiana, OSU, Illinois. Visited Illinois yesterday. pic.twitter.com/urwnQLMA4C

— George Michalowski (@MichalowskiCBB) June 7, 2021
Update (2:45 PM)-
Brackets and schedules for the 2021 @paradisejam have been announced! 🏝☀️

11/25 – Texas A&M
11/26 – Northwestern
11/27 – South Dakota

📰 https://t.co/5QR0NQykEJ#H2P // #GoBeyond pic.twitter.com/tGnt5FryIv

— Pitt Basketball (@Pitt_WBB) June 7, 2021
Update (2:36 PM)-
2022 6'4 guard Khalil Farmer (@KhalilFarmer5) tells me that he is receiving interest from Elon, Holy Cross, La Salle, Fairfield, Princeton, Robert Morris, Lehigh, and Boston U.

— jake lieberman (@jakelieberman2) June 7, 2021

Update (12:33 PM)-
A few @Pitt_FB coaches are in Florida recruiting today. Finally back out on the road. pic.twitter.com/crIIw1t9Ux

— Pittsburgh Sports Now (@PghSportsNow) June 7, 2021

Update (12:32 PM)-
Me and @DarrienLewis8 at the @Pitt_FB camp, thankful for the opportunity to compete and showcase my abilities in front of so many college coaches @CoachMcGregor @KMHKnows @DenocD @Coach_Manalac @CoachAPowell @PghSportsNow @mvukovcan pic.twitter.com/XL6UiYnZG4

— Luke Hackett (@LukeHackett13) June 7, 2021
Update (11:06 AM)-
Great job by these young men coming out to Pittsburgh and representing themselves, their high schools and New York City football. #NYCFootball pic.twitter.com/vyfNJ7GjOP

— K.J. Stroud (@KJSTROUD10) June 7, 2021
Proud you both, thanks @Pitt_FB for the hospitality.

Thanks @CoachTimSalem & @BrennanMarion4 for coaching these two extremely hard. #Playmakers #H2P pic.twitter.com/cM5bpqL9Z3

— K.J. Stroud (@KJSTROUD10) June 7, 2021
Update (11:02 AM)-
Nate Santos plans to wear No. 5 for Pitt.

— George Michalowski (@MichalowskiCBB) June 7, 2021
Update (9:05 AM)-
Pitt guard Jamarius Burton confirmed to me he'll be wearing #11 this year. pic.twitter.com/IHgXnhqtEH

— George Michalowski (@MichalowskiCBB) June 7, 2021
Update (8:26 AM)- 
**What a neat way to open up our Daily Notebook and quite a birthday present for local hockey player Carson Verszyla from Pine-Richland. On Sunday during a 3-on-3 Summer League Game at the RMU Island Sports Center, Verszyla scored a goal for his Team Sasquatches that became a national story.
Check out this unbelievable goal that was eventually voted the #1 on SportsCenters Top 10 Plays of the Night Segment Sunday Night.
By the way, today is Carson's 13th Birthday.
Filthy goal of the night @NHL @Buccigross @SportsCenter #SCTop10 My 12 year old son, Carson, going Michigan Spin o Rama pic.twitter.com/VPDaKlYAHj

— Jeff Verszyla (@Verz) June 6, 2021
Not only did Carson make the list #SCTop10 @SportsCenter

His play checked in at number one!!!#Excited and #Humbled pic.twitter.com/DvouPYSVwk

— Jeff Verszyla (@Verz) June 7, 2021