The Frank Walker Law/PSN Daily Notebook- June 8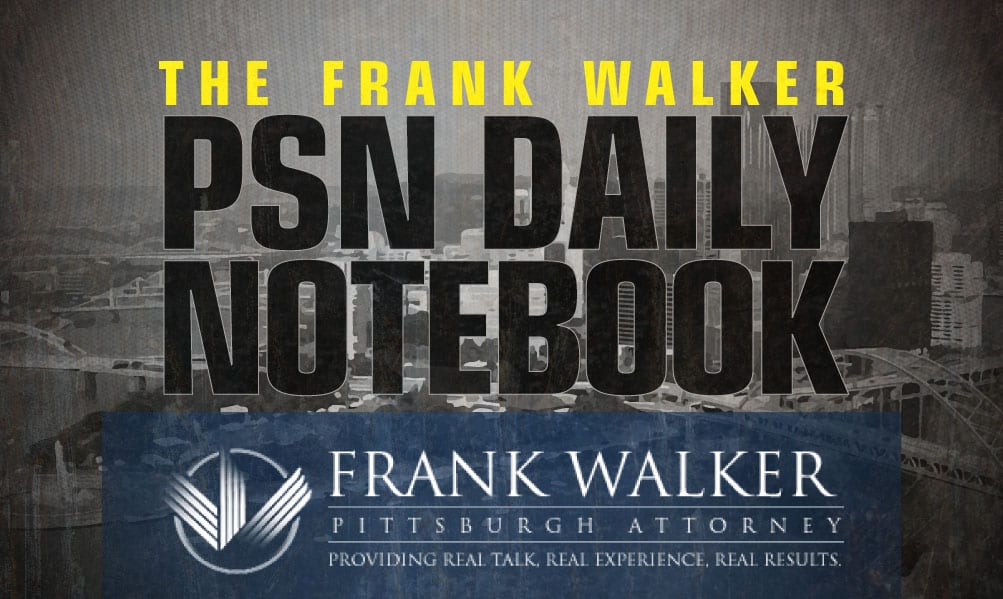 The PSN Daily Notebook is sponsored by Frank Walker, one of Pittsburgh and West Virginia's most respected criminal defense and injury lawyers. Mr. Walker has offices in Pittsburgh and Morgantown and has been named one of Top 100 National Trial Lawyers and is rated a perfect 10.0 Superb by Avvo for ethics, experience and results. To reach Mr. Walker, you can call 412-532-6805 or go to his website frankwalkerlaw.com. For real talk, real experience and real results, contact Frank Walker Law.
Update (8:46 PM)-
**Pitt women's basketball extends an offer to 2024 forward Blanca Thomas from Charlotte, North Carolina.
Thankful to receive an offer from @Pitt_WBB. A big thank you to the coaching staff! @Pitt_CoachWhite @PITT_CoachP @LADYATTACKELITE @TheOneRC pic.twitter.com/2I19HuiJ3k

— Blanca Thomas (@blancathomas34) June 8, 2021

Update (4:32 PM)-
.@BriannaKiesel03 is back in the Pete like she never left.

First practice as Coach BK ✅#H2P // #GoBeyond pic.twitter.com/z7feEjIHhK

— Pitt Basketball (@Pitt_WBB) June 8, 2021
Update (1:19 PM)-
Had a great time at Pitt this past weekend here's a few clips. showed Pennsylvania New York got ballers too can't wait to come back #H2P @KJSTROUD10 @CoachEugene10 @BrennanMarion4 @CoachTimSalem @BrianDohn247 @ShawnB_247 @alexgleitman pic.twitter.com/Xg5ZpAbBot

— 𝓢𝓦✞ ² (@Iamseanwilson_) June 8, 2021
Update (1:09 PM)- 
**Freshman defensive lineman Eddy Pierre-Louis picked up an offer from Cory Sanders and Pitt. Pierre-Louis (6'3", 320) is from Tampa, Florida and holds other offers from Florida State, Georgia, Miami, Penn State, Syracuse, Central Florida and West Virginia.

Update (12:57 PM)- 
**Pitt becomes the first program to offer 2024 wide receiver Chalil Cummings from Bradford High School in Starke, Florida. Cummings is the 6th player from Florida in the last 24 hours to receive a Pitt offer.

Update (12:11 PM)-
NC State transfer DL Dante Johnson has picked up an offer from Duquesne #FCS https://t.co/v3SHBgn2Wo

— NCAA Transfer Portal (@RivalsPortal) June 8, 2021
Update (12:04 PM)- 
**Pitt extends an offer today to 2024 wide receiver  Earl Kulp (6'2", 175) from St. Thomas Aquinas in Fort Lauderdale, Florida. Kulp holds offers from Miami, South Carolina, Ole Miss, Michigan, Penn State and Colorado.
Red zone 1v1 @STA_Football @DauntaPeterson pic.twitter.com/pfHx9GLrnX

— Earl Kulp (@earl_kulp) September 7, 2020

Update (7:25 AM)- 
**2022 3-star cornerback  Ryland Gandy, who made an official visit to Pitt over the weekend, was at Auburn for an unofficial visit on Monday. The native of Buford, Georgia is someone the Panthers would very much like to add to their Class of 2022.
I had a great unofficial visit today at Auburn. Thank you to the Auburn staff for the very welcoming hospitality! @CoachDerekMason @ZacEtheridge4 @coach_b_lewis30 @RyanTrichel @DarrenUscherAU pic.twitter.com/4PAHnT7ccN

— Ryland Gandy (@iamrdg10) June 8, 2021