The Frank Walker Law/PSN Daily Notebook: June 21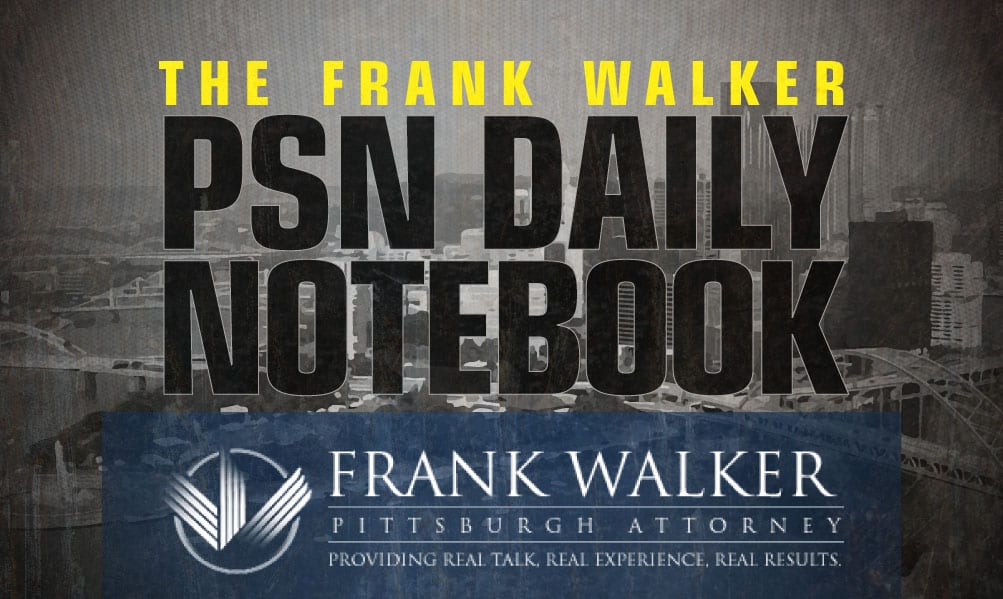 The PSN Daily Notebook is sponsored by Frank Walker, one of Pittsburgh and West Virginia's most respected criminal defense and injury lawyers. Mr. Walker has offices in Pittsburgh and Morgantown and has been named one of Top 100 National Trial Lawyers and is rated a perfect 10.0 Superb by Avvo for ethics, experience and results. To reach Mr. Walker, you can call 412-532-6805 or go to his website frankwalkerlaw.com. For real talk, real experience and real results, contact Frank Walker Law.
Update (5:38 PM)- 
**Tyler Williams also has offers from Appalachian State, Oakland, Hofstra, Toledo, Rider, Miami (OH), Cleveland State and Bryant.
Brush Highschool 2023 6'8 PF Tyler Williams picks up a Division 1 offer from Robert Morris University @VerbalCommits @BrushAthletics @indyheatgymrats @PrepHoopsOH @inthegymhoops_ @endless_motor@NEO_Spotlight pic.twitter.com/7NBJyGatbk

— chet mason (@ChetMason32) June 21, 2021
Update (5:06 PM)-
**A second offer today from the Pitt basketball team as they offer 2022 3-star power forward Christian Fermin (6'9″, 200) from Pocono Summit, Pennsylvania. Fermin holds offers from VCU, Temple, Penn State, St. Joseph's, St. John's, St. Bonaventure, LaSalle, Siena and Hofstra. Fermin made an unofficial visit to Pitt one week ago (June 14). PSN's George Michalowski spoke to Fermin following his unofficial visit to Pitt and was the first to mention him as a under the radar prospect.
Update (4:55 PM)-
**The Pitt men's basketball team extends an offer this afternoon to 2023 4-star small forward Justin Edwards from Imhotep Charter School in Philadelphia. 247 Sports ranks Edwards as one of the Top 60 players in the Class of 2023. Edwards (6'7′, 160) holds offers from UConn, DePaul, Miami, Oklahoma State, Penn State, Rutgers, Seton Hall, St. John's, Tennessee and Virginia Tech.
Update (3:42 PM)-
**2022 4-star recruit Mason Taylor made an official visit to Pitt and is the top tight end on their recruiting board. However, things just got difficult for them to land him as, while on an unofficial visit, Taylor earns an offer from Alabama.
AGTG!! After a great conversation with Coach Saban, I'm extremely blessed to receive an offer from The University of Alabama!! #Rolltide @CoachHarriott @CoachSvoboda @Andrew_Ivins @Rivalsfbcamps @STA_Football @AlabamaFTBL pic.twitter.com/qMySyPOzR5

— Mason Taylor (@MasonTaylor52) June 21, 2021

Update (3:36 Pm)-
**Congrats to Obama Academy 2022 athlete Rashan Murray for earning his first D-1 offer.
After a Great Visit/Workout I'm EXTREMELY Blessed to have Earned my 1st Division 1 OFFER From The University of Akron @CoachFeeney_AK @Coach_Cicione @CoachWilsonAKZ @CoachKlineAlex @210ths @Evolve2tenths @CoachP_eterson @damehova9 #TrustGod #AGTG #ZipSet 🦘🦘🦘 pic.twitter.com/OBuVSxR33u

— 𝐑𝐚𝐬𝐡𝐚𝐧 𝐌𝐮𝐫𝐫𝐚𝐲 ² (@RashanMurray) June 21, 2021
A Few Top Plays from my Junior Szn 🔥⭐️ @210ths @DreamShotsMedia @damehova9 @Evolve2tenths @prospectmedia_ #TrustGod pic.twitter.com/eyRUbWVrqB

— 𝐑𝐚𝐬𝐡𝐚𝐧 𝐌𝐮𝐫𝐫𝐚𝐲 ² (@RashanMurray) November 10, 2020

Update (3:30 PM)- 
**Following an unofficial visit over the weekend to Michigan, Brashear 2023 4-star athlete Ta'Mere Robinson will travel to Ohio State on Tuesday.
I will be at ⭕️hio State tomorrow ❗️ #GoBuckeyes

— ᴛᴀᴅᴅᴇʀ ③ (@TaMereRobinson3) June 21, 2021
Update (2:26 PM)- 
**Chartiers Valley 2023 CB Lamont Payne will be at Penn State tomorrow. The talented defensive back holds offers from Pitt, Penn State, West Virginia, Rutgers and Kent State.
I will be taking an unofficial visit to Penn State tomorrow #Weare @RivalsSnyder @247recruiting @CoachTerryPSU @210ths

— Lamont Payne🏴‍☠️🦋 (@Lamontpayne18) June 21, 2021
Update (2:07 PM)- 
**First Love Christian Academy 2022 3-star forward Fray Nguimbi received an offer today from Clemson. Nguimbi (6'9", 200) also holds offers from Alabama, Dayton, Georgia Tech, Illinois, Iowa State, Pitt, Rutgers, St. John's and South Florida.
'22 Fray Nguimbi (@NguimbiFray) has just been offered by Clemson. @ClemsonMBB @Firstlove_hoops

— Alex Karamanos (@TheCircuitAlex) June 21, 2021

Update (1:42 PM)- 
**After making an unofficial visit to Amy over the weekend, Serra 2022 defensive back Pharoh Fisher will travel to Annapolis tomorrow to visit Navy.
Unofficial visit to Navy tomorrow⚓️@TheMidReport @NavyFB @NavyCoachYo @PghSportsNow

— Pharoh Fisher (@fisher_pharoh) June 21, 2021

Update (1:37 PM)-
@Pitt_MBB 2023 target picks up NC State offer https://t.co/zemM70cDQD

— Pittsburgh Sports Now (@PghSportsNow) June 21, 2021
Update (1:29 Pm)-
Was talking with a Marshall coach about Nwabuko yesterday during camp and they didn't beat around the bush. They said if Marshall gets this kid, he'll break C-USA records for the Herd. His top five is Marshall, Michigan, Purdue, Pitt and Liberty. https://t.co/GWUqBjl6gZ

— Tom Bragg (@TomBraggSports) June 21, 2021