The Frank Walker Law/PSN Daily Notebook: June 10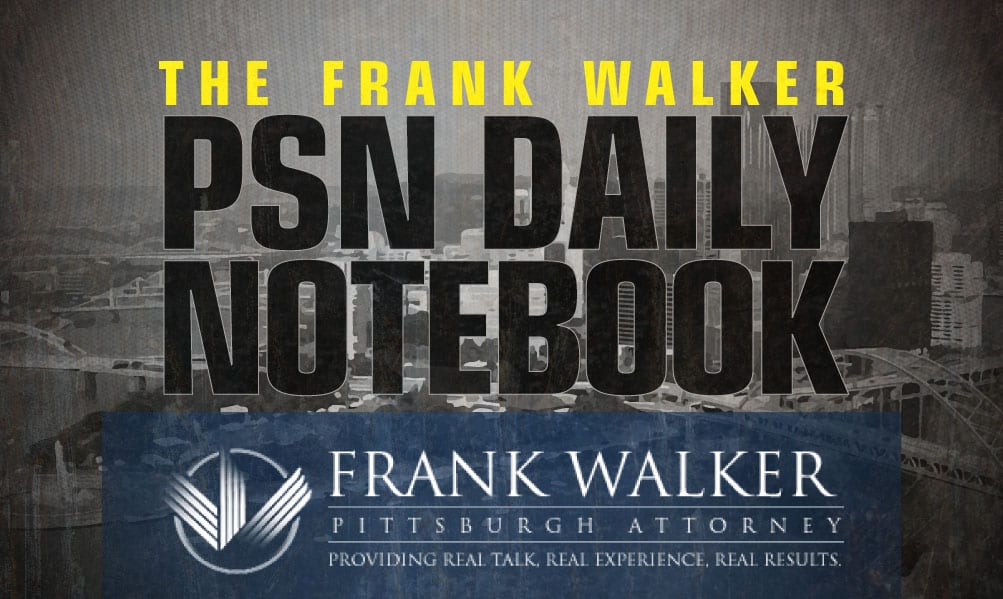 The PSN Daily Notebook is sponsored by Frank Walker, one of Pittsburgh and West Virginia's most respected criminal defense and injury lawyers. Mr. Walker has offices in Pittsburgh and Morgantown and has been named one of Top 100 National Trial Lawyers and is rated a perfect 10.0 Superb by Avvo for ethics, experience and results. To reach Mr. Walker, you can call 412-532-6805 or go to his website frankwalkerlaw.com. For real talk, real experience and real results, contact Frank Walker Law.
Update (7:45 PM)-
Buffalo Bills DB Damar Hamlin celebrates with campers at a youth football camp hosted by Cincinnati Bengals WR Tyler Boyd on Saturday in Pittsburgh. @HamlinIsland @Pitt_FB @BuffaloBills #H2P pic.twitter.com/tKdwRJmxtE

— Jeff Gamza (@jgamza) July 10, 2021
Update (7:25 PM)- 
**Congrats to Gateway 2022 3-star athlete Patrick Body for making a commitment today to Cincinnati.
Respect my decision… I'm home❤️‼️ #412to513 #committed pic.twitter.com/5vaI0lfKFB

— Patrick Body Jr.🎬 (@25era_) July 10, 2021

Update (12:02 PM)-
NC State, Kansas, Indiana, Tulsa, Pitt, Georgia, Mississippi State, Oklahoma State all front and center watching 2022 SG MJ Rice. #3SSB

— Jason Jordan (@JasonJordanSI) July 9, 2021
Update (9:10 AM)-
Pitt QB Kenny Pickett working Gun Play Action 3 and Jump Stop Reset throwing frontside 18yd Dig on a rope with consistent sequence, NFL accuracy and velocity. No doubt teams will have a 1-3 round grade this year. @TEST_Football @JimNagy_SB @kennypickett10 @Pitt_FB #qb #pitt pic.twitter.com/OgzI9jXbWm

— Tony Racioppi (@Tonyrazz03) July 10, 2021
Pitt QB Kenny Pickett working Gun 5 Quick and Reset throwing Alert Big Skinny Post vs Cov 4. Small step, shoulder tilt and closed, eyes and follow through disciplined on target. Elite arm talent and mechanics. @TEST_Football @kennypickett10 @JimNagy_SB @Pitt_FB #pitt #qb pic.twitter.com/42YurRO9Lf

— Tony Racioppi (@Tonyrazz03) July 10, 2021
Update (9:08 AM)-
North Allegheny's Cole Young singled, walked three times, scored two runs and stole a base in tonight's High School All-American Game at Coors Field. Next week, Young will participate in the Perfect Game National Showcase at Tropicana Field in St. Petersburg, Fla. @ColeYoung23

— Brad Everett (@BREAL412) July 10, 2021
Update (9:02 AM)-
For these guys, the big time play, is a regular play! Check out my top #ACC WRs!

Who did I miss?? pic.twitter.com/wXFwHsCFjK

— Eric Mac Lain (@EricMacLain) July 9, 2021