The Frank Walker Law/PSN Daily Notebook: July 16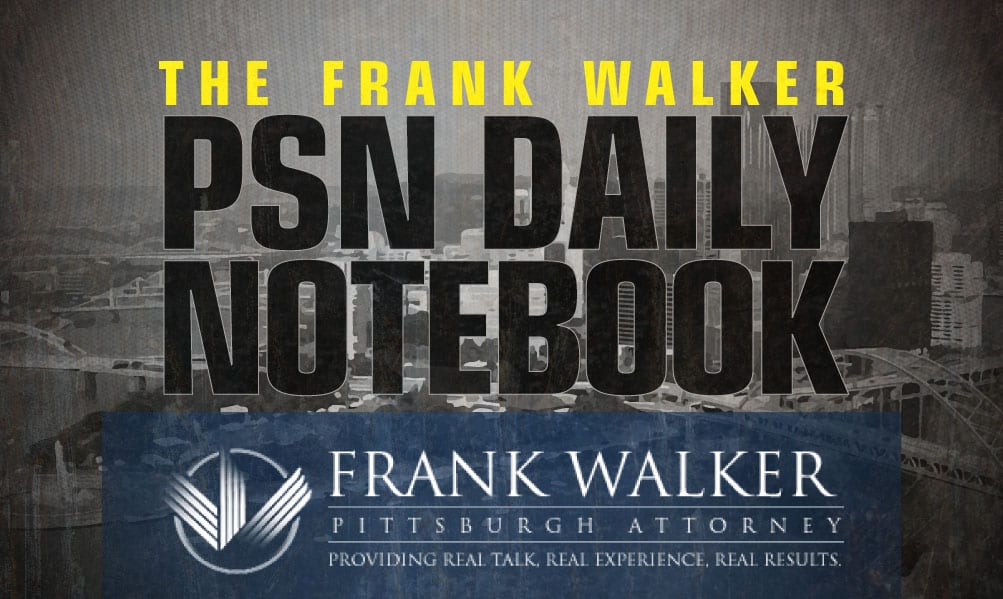 The PSN Daily Notebook is sponsored by Frank Walker, one of Pittsburgh and West Virginia's most respected criminal defense and injury lawyers. Mr. Walker has offices in Pittsburgh and Morgantown and has been named one of Top 100 National Trial Lawyers and is rated a perfect 10.0 Superb by Avvo for ethics, experience and results. To reach Mr. Walker, you can call 412-532-6805 or go to his website frankwalkerlaw.com. For real talk, real experience and real results, contact Frank Walker Law.
Update (3:22 PM)-
**The Pitt women's basketball program extends an offer today to 2024 forward Adrena Gordon from Archbishop Hoban High School in Akron, Ohio.
#GymRatsInvitional #ShortandSweet @AllOHGirlsBBall U17 EYBL. #Adrena2024 pic.twitter.com/F80penLDsa

— Adrena Gordon (@adrena_gordon) May 18, 2021
@AllOHGirlsBBall 17U EYBL went 4-1 at the #MidwestShowdown and that's a wrap for Spring! Next up July! #BattleoftheBest #NikeTOC #NikeNationals #Adrena2024 #WeReady! @NikeGirlsEYBL pic.twitter.com/4Z7bOcppkM

— Adrena Gordon (@adrena_gordon) June 2, 2021
Update (2:36 PM)-
The @PFN365 Preseason ACC All-Conference teams are now live!

🐯 4 first-team
🦅 4 first-team
🐺 3 first-team
🌀 3 first-team

Check out the rest right here…#CollegeFootball | #ACCKickoff https://t.co/FPk51t35V4

— Oliver Hodgkinson (@ojhodgkinson) July 16, 2021
Update (2:01 PM)-
Pittsburgh commit Judah Mintz (@Jmintz10) is a dog on both sides of the ball. Mintz finished with 16 PTS and 3 REB. Great free throw shooter as he went 8–11 from the line. He disrupted the opponents main ball handlers all game. @teamdurant_AAU @osbang4 @Dwayne_Wise @Pitt_MBB

— Alex Karamanos (@TheCircuitAlex) July 16, 2021
Update (2:00 PM)-
For @NH_Lightning vs @BradBealElite 🍑🍑
Baylor 2x
Bama 2x
Kentucky 2x
St. John's 2x
UConn
Seton Hall
Arkansas
Mizzou
UNC 2x
Michigan St 2x
Michigan
Oklahoma
St.Louis
Pitt
Nova
Rutgers
Iowa
St. Bonaventure
Lafayette pic.twitter.com/ATULVqaXRa

— 𝒜𝓃𝒹𝓇ℯ𝓌 𝒮𝓁𝒶𝓉ℯ𝓇 (@Andrew__Slater) July 16, 2021
Update (12:48 PM)- 
**A new D-1 offer this afternoon for Thomas Jefferson 2023 tight end/defensive end Jordan Mayer comes from Bowling Green.
Thank you for the offer @CoachLoefflerBG @CoachCampenni @BG_Football pic.twitter.com/DjFKDAKAaF

— Jordan Mayer (@Jordanmayer33) July 16, 2021
Update (10:24 AM)-
Major @Pitt_MBB target https://t.co/zGKyGWKAUY

— mike vukovcan (@mvukovcan) July 16, 2021
Update (9:00 AM)-
**Another offer from the Pitt women's basketball program as this one goes to 2024 combo guard Gabrielle Reynolds from Holland, Michigan and MBA Basketball (AAU). Reynolds received the offer from Terri Mitchell.
Great session today with Jorddan Myrick!! pic.twitter.com/7aAJw05ZMl

— Gabrielle Reynolds (@2_gabbyreynolds) June 21, 2021
Last session before #hoosierheat tournament with my @M_B_A_Bball '24 squad pic.twitter.com/ODeW64fI6r

— Gabrielle Reynolds (@2_gabbyreynolds) July 6, 2021
Update (8:40 AM)- 
**Some high praise for Pitt quarterback Kenny Pickett from Jim Nagy, the director of the Senior Bowl, who is also a 18 year NFL Scout.
Ripping through tape on 2022 draft QBs. More you watch other guys, more you appreciate how instinctive @Pitt_FB Kenny Pickett plays the position. Dude sees and feels the game differently. More love for him inside NFL circles than media.#TheDraftStartsInMobile #BestOfTheBest pic.twitter.com/CNAXRAtb1k

— Jim Nagy (@JimNagy_SB) July 15, 2021

Update (8:29 AM)-
**The Pitt women's program extended an offer Thursday night to talented wing Nyla Brooks from Accokeek, Maryland, Brooks just completed the 8th grade is a member of the 16U EYBL Boo Williams program. Brooks also holds offers from Virginia, Wake Forest, Mississippi State and West Virginia.
Work! pic.twitter.com/Fa6bEpEVho

— 2025 Nyla Brooks (@ball_7b) May 31, 2021
Update (8:14 AM)-
**North Catholic 2023 guard Dacia Lewandowski picked up an offer last night from Western Carolina. The 5'11" point guard, who is also a member of the WPA Bruins AAA program, also holds offers from Oakland, Manhattan, Navy, Akron, Toledo and Marshall. Lewandowski also gets it done in the classroom, where she has a 4.43 GPA.
@fiala_eve returns the favor to @dacialew30 for ☄️☄️☄️
Love how tight this group is. Exactly how players should act on the bench- ENCOURAGE YOUR TEAMMATES!@InsiderExposure @InsiderExposure @coachkent02 @PAFutureStars @Twism44 @bruins2023

Good win vs Example Sports 🐻🐻🐻 pic.twitter.com/eARq6vDjqH

— Batson Basketball (@BatsonBBall) July 7, 2021