The Frank Walker Law/PSN Daily Notebook: July 26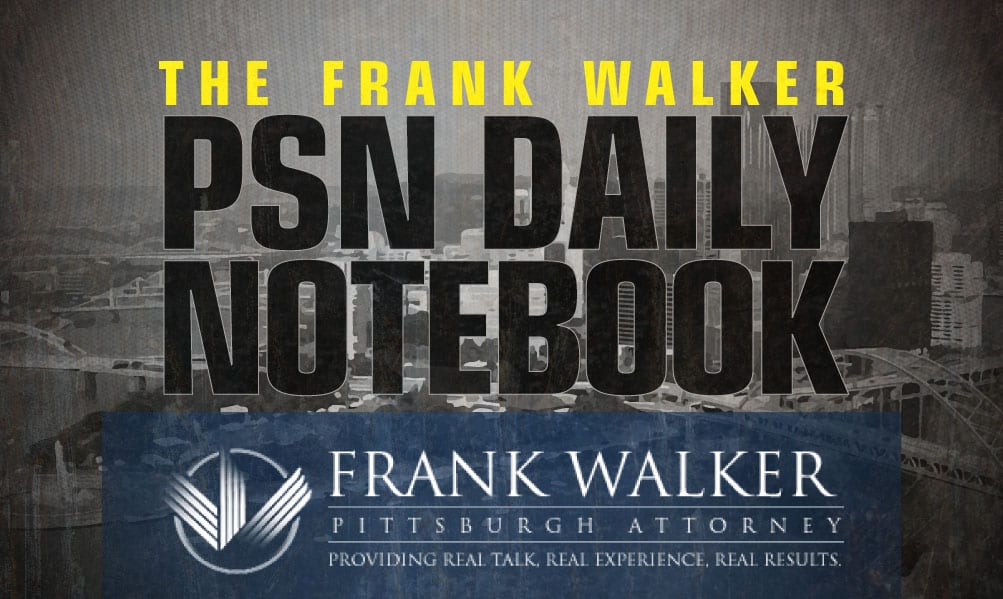 The PSN Daily Notebook is sponsored by Frank Walker, one of Pittsburgh and West Virginia's most respected criminal defense and injury lawyers. Mr. Walker has offices in Pittsburgh and Morgantown and has been named one of Top 100 National Trial Lawyers and is rated a perfect 10.0 Superb by Avvo for ethics, experience and results. To reach Mr. Walker, you can call 412-532-6805 or go to his website frankwalkerlaw.com. For real talk, real experience and real results, contact Frank Walker Law.
AROUND THE NETWORK
Steelers Now: McKeesport native Jesse James is heading to Chicago.
WV Sports Now: WVU to the ACC?
Nittany Sports Now: PSU losing a commitment … to the Pittsburgh Pirates.
Pittsburgh Hockey Now: Penguins draft recap and analysis.
Pittsburgh Racing Now: Brent Marks declares his allegiance to the Pennsylvania Posse after win at Williams Grove.
Update (6:47 PM)-
Thank you @ejbrueggman_ @CoachBorbs @BatesBacker for the great visit today! Really enjoyed my visit and can't wait to come back and catch a game! #H2P pic.twitter.com/RjokCuk5zS

— Ethan Teague 2023 (@3ig_E) July 26, 2021
#H2P SERIOUSLY I REALLY ENJOYED THIS UNOFFICIAL VISIT! looking forward to coming back. @markup_next @CoachPartridge @Coach_Manalac @CoachDuzzPittFB @ARCHIECOLLINS22 @coachcsanders @_cgallagher pic.twitter.com/y2cithAhNn

— Dwight Bootle II (@BootleIi) July 26, 2021

Update (5:05 PM)-
BREAKING: Memphis is finalizing a trade to send Jonas Valanciunas and 2021 Nos. 17 and 51 picks to New Orleans for Steven Adams, Eric Bledsoe, 2021 picks Nos. 10 and 40 and a protected 2022 first-round pick via the Lakers, sources tell ESPN.

— Adrian Wojnarowski (@wojespn) July 26, 2021
Update (4:57 PM)-
Appreciate the wideouts coming out to the farm. #H2P pic.twitter.com/yizl67dBMK

— Coach Marion (@BrennanMarion4) July 25, 2021
Update (4:52 PM)-
Guthrie is the prototypical lineman Coach Borbs likes to add to the roster. A towering (6-ft-8 inches) physical lineman with solid footwork. #H2P 🟡🔵 https://t.co/x9cdmzySAG

— Harry G. Psaros (@PittGuru) July 26, 2021
Update (12:35 PM)-
GOOD MORNING. The mock draft is fully updated with three days to go: https://t.co/TD9c4suBrN

— Jeremy Woo (@JeremyWoo) July 26, 2021

Update (11:04 AM)-
ACC preseason media poll

Atlantic
1-Clemson (146 1at place votes)
2-NC State (1)
3-Boston College
4-FSU
5-Wake Forest
6-Louisville
7-Syracuse

Coastal
1-UNC (109)
2-Miami (28)
3-Virginia Tech (3)
4-Pitt (1)
5-Virginia (2)
6-Georgia Tech (4)
7-Duke

— Brett McMurphy (@Brett_McMurphy) July 26, 2021
Update (8:36 AM)-
**A player in the Class of 2023 with an offer from the Panthers will be in town today. Miami, Florida defensive back Dwight Bootle II will be visiting Pitt today. Bootle (5'11", 165) holds offers from Pitt, Michigan, Ole Miss, Washington State, Western Kentucky, Florida Atlantic, Marshall, Indiana, Rhode Island and Syracuse.
4th of July Work!! pic.twitter.com/AxTVRcxtZK

— Dwight Bootle II (@BootleIi) July 4, 2021
Blessed and Extremely Thankful to be named The Gatorade MVP of the '23 Defensive Backs at FBU and receive an invite to the National Combine .@Mansell247 @Andrew_Ivins @GabyUrrutia247 @FBUcamp @stevequinnFBU @ErikRichardsUSA pic.twitter.com/aM9g7kjNQH

— Dwight Bootle II (@BootleIi) July 11, 2021
Update (8:20 AM)-
**2023 OL/DT Ethan Teague will make an unofficial visit today to Pitt. Teague is from Chaminade Julienne High School in Dayton, Ohio.
— Ethan Teague 2023 (@3ig_E) June 16, 2021
Ethan Teague C/O 2023
6'5" 295 lbs OT 3.35 GPA
Chaminade-Julienne HS
Dayton Ohio
Head Coach Marcus Colvinhttps://t.co/PcxtHF5gIh

— Ethan Teague 2023 (@3ig_E) November 22, 2020
Update (8:14 AM)-
**Pitt will be receiving an unofficial visit to day from 2023 offensive linebacker Andrew Guthrie (6'8″, 280) from Washington Courthouse, Ohio.
Andrew is a RAW 2023 OT prospect who is 6'8 270lbs he will be a name to know very excited to see his future unwind. He has time to get faster and stronger! Hard work beats talent when talent fails to work hard. @drewguthrie10 (workout by @Hopefitness_) #DJRS #OFFERHIM pic.twitter.com/YvIWmo7x8G

— Darren Junior Recruiting Source (@DJRSwework) December 15, 2020
6'8 270lbs OT 3.5GPA. #DJRS https://t.co/tsysgEasSj

— Andrew Guthrie (@drewguthrie10) December 14, 2020