The Frank Walker Law/PSN Daily Notebook: July 24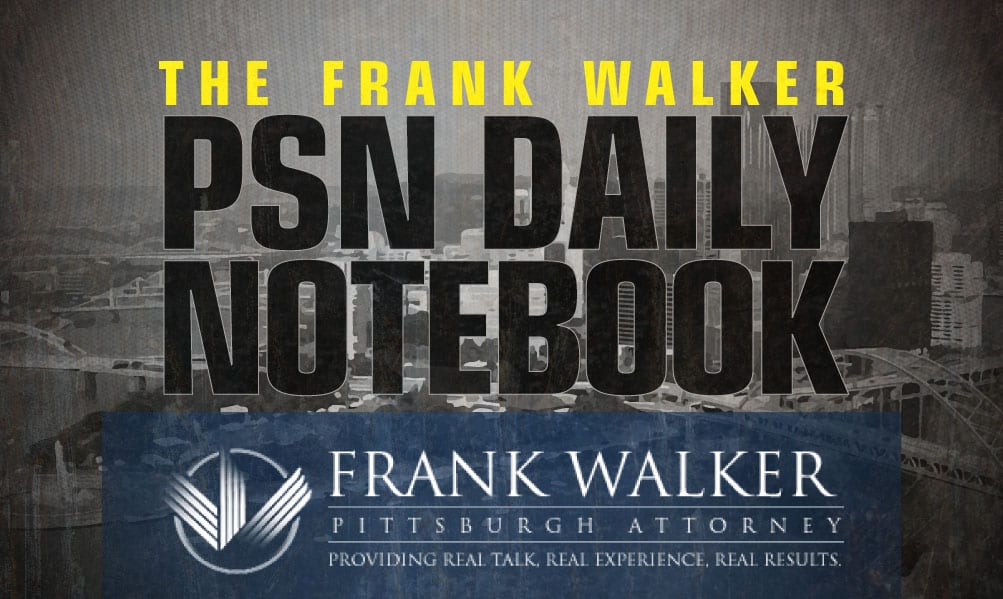 The PSN Daily Notebook is sponsored by Frank Walker, one of Pittsburgh and West Virginia's most respected criminal defense and injury lawyers. Mr. Walker has offices in Pittsburgh and Morgantown and has been named one of Top 100 National Trial Lawyers and is rated a perfect 10.0 Superb by Avvo for ethics, experience and results. To reach Mr. Walker, you can call 412-532-6805 or go to his website frankwalkerlaw.com. For real talk, real experience and real results, contact Frank Walker Law.
Update (9:26 PM)-
2022 (NJ) F Dominick Barlow has received an offer from Kansas. https://t.co/7RHkJzzSMY https://t.co/JG88o8oBtB

— Verbal Commits (@VerbalCommits) July 25, 2021
Update (3:11 PM)-
🍑@teamwhynot 16s vs CP3:
2 of the best 16U backcourts…
UConn
Pitt
NC St
Kentucky
Cincinnati
Michigan
Stanford
Kansas
Villanova
Arizona
UCLA
Arkansas
Dayton
Charlotte
Nebraska
Ohio
Louisville pic.twitter.com/MOOz5Zu6eL

— 𝒜𝓃𝒹𝓇ℯ𝓌 𝒮𝓁𝒶𝓉ℯ𝓇 (@Andrew__Slater) July 24, 2021
Update (3:00 PM)-
🍑 @DrivenationEYBL 16s vs @TTOBasketball had
Nova
Pitt
Michigan
UCLA
UConn
Troy
Minnesota
Penn St
Howard
Stanford
Brown
Oklahoma
Virginia Tech
Seton Hall
Oregon
Miss St
Georgetown
Yale
Texas St
LaSalle
Louisville
Auburn pic.twitter.com/pglgb5SImU

— 𝒜𝓃𝒹𝓇ℯ𝓌 𝒮𝓁𝒶𝓉ℯ𝓇 (@Andrew__Slater) July 24, 2021
Update (7:54 AM)- 
**The Pitt baseball program gets a 2023 commitment from RHP Ryan O'Rourke from Seton Hill Prep in Morristown, New Jersey.
I am proud to announce my commitment to the University of Pittsburgh! I would like to thank my family, friends, teammates, and coaches for all their support. #H2P 🔵🟡 @Pitt_BASE @LockedInBasebal @LIBEXPOS pic.twitter.com/A3whUDIZKO

— Ryan O'Rourke (@Ryanorourke___) July 23, 2021
2023 RHP Ryan O'Rourke (Seton Hall Prep) is a definite follow. 82-83 (84) from a high-3/4 slot. Ripped off a couple hard, late biting CB's at 70-72 w/ up to 2600 rpm. pic.twitter.com/Ph3oD1nKEF

— 𝐏𝐁𝐑 𝐍𝐞𝐰 𝐉𝐞𝐫𝐬𝐞𝐲 (@PBRNewJersey) June 19, 2021