The Frank Walker Law/PSN Daily Notebook: August 23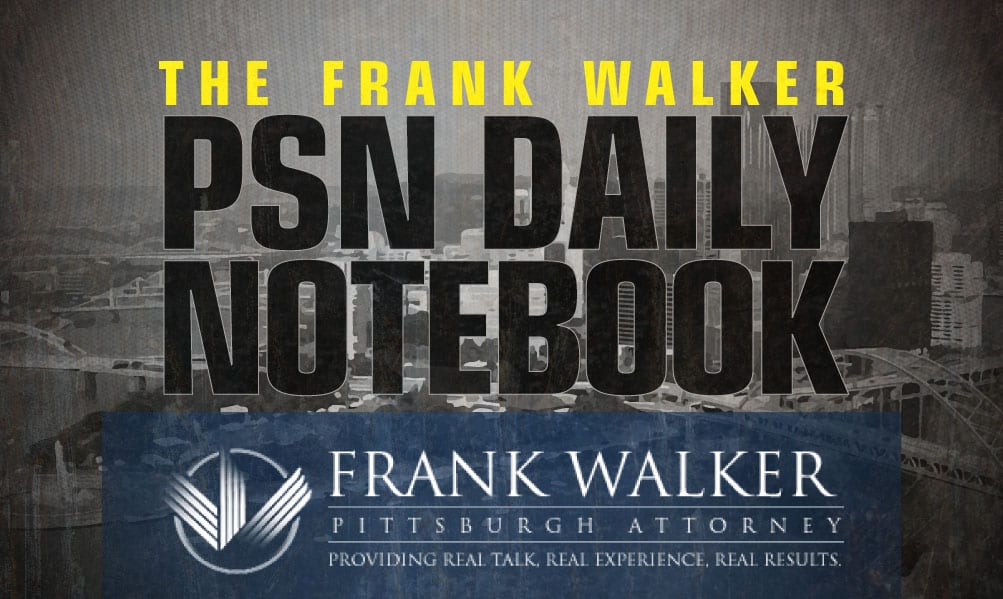 The PSN Daily Notebook is sponsored by Frank Walker, one of Pittsburgh and West Virginia's most respected criminal defense and injury lawyers. Mr. Walker has offices in Pittsburgh and Morgantown and has been named one of Top 100 National Trial Lawyers and is rated a perfect 10.0 Superb by Avvo for ethics, experience and results. To reach Mr. Walker, you can call 412-532-6805 or go to his website frankwalkerlaw.com. For real talk, real experience and real results, contact Frank Walker Law.
Update (6:18 PM)-
The #WPIAL board approves Gonzalez, will hold an eligibility hearing for Tshiebwe. #HSSN https://t.co/BiPGkRMJG0

— Chris Harlan (@CHarlan_Trib) August 23, 2021
Update (5:14 PM)-
Mt. Lebanon's Ashleigh Connor commits to St. Louis https://t.co/rlcwUubqCy @MtLebanonSports #HSSN

— TribLive HSSN (@TribLiveHSSN) August 23, 2021
Update (5:08 PM)-
Correction on dates. At WPIAL board of directors meeting. Looking like 5 WPIAL football championships will be at Heinz Field over two days. Nov. 26-27. Two games Friday at 2 and 5. Three on Saturday at noon, 3 and 6
Class 6A will not be at Heinz. Will be week earlier.

— Mike White (@mwhiteburgh) August 23, 2021
Update (1:02 PM)-
Pitt Panthers 📈 in @NFL Preseason

Damar Hamlin » @BuffaloBills
• 3 tackles, 2 TFL, 1 sack, FR

DJ Turner » @Raiders
• 9 catches, 62 yards

Jimmy Morrissey + Nathan Peterman
• Led @Raiders to 2-0 record

Rashad Weaver » @Titans
• 3 tackles, 2 TFL, 1.5 sacks#H2P pic.twitter.com/FVE1Juuhz6

— Pitt Football (@Pitt_FB) August 23, 2021
Update (12:05 PM)-
My ACC preseason defensive tackle rankings:

1. Bryan Bresee, Clemson
2. Calijah Kancey, Pitt
3. Nesta Jade Silvera, Miami
4. Raymond Vohasek, UNC
5. McKinley Williams, Cuse

— ACC Content (@ACContent__) August 22, 2021
Update (12:02 PM)-
Pitt fans, check out No. 5 https://t.co/eLr5iUDhgS

— George Michalowski (@MichalowskiCBB) August 23, 2021
Update (8:54 AM)-
Great job @ZacharyMWeiss!

Duquense women were picked to finish 10th in A-10 this year, but something tells me they'll be playing with a chip on their shoulders this season. #PittsburghSoccer https://t.co/aV5MGhSk2p

— John Krysinsky (@JohnKrysinsky) August 23, 2021
Update (8:17 AM)-
THREE (1) 🌠. pic.twitter.com/NsUlbNtWZe

— 𝐃𝐚𝐦𝐚𝐫 𝐇𝐚𝐦𝐥𝐢𝐧 (@HamlinIsland) August 23, 2021
Around the Network
Steelers Now: Zach Banner couldn't be happier with the O-Line play
Pittsburgh Sports Now: Pitt Women's Soccer wins it in OT 3-2
WVU Sports Now: Darius Stills Makes His NFL Debut
Pittsburgh Soccer Now: Riverhounds Blowout Atlanta FC 4-1
Pittsburgh Racing Now: Newgarden wins Indycar race at WWT Raceway
Pittsburgh Baseball Now: Making sense of the Polanco waiver situation.
Pittsburgh Hockey Now: Dan Kingerski gives us what's happening in the NHL