The Frank Walker Law/PSN Daily Notebook: November 18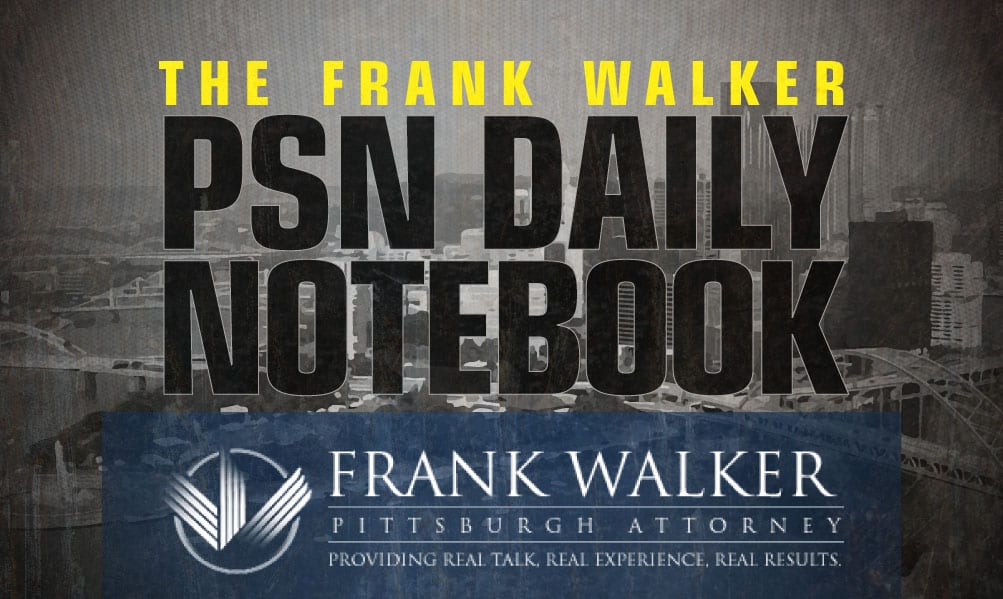 The PSN Daily Notebook is sponsored by Frank Walker, one of Pittsburgh and West Virginia's most respected criminal defense and injury lawyers. Mr. Walker has offices in Pittsburgh and Morgantown and has been named one of Top 100 National Trial Lawyers and is rated a perfect 10.0 Superb by Avvo for ethics, experience and results. To reach Mr. Walker, you can call 412-532-6805 or go to his website frankwalkerlaw.com. For real talk, real experience and real results, contact Frank Walker Law.
Update (9:51 PM)-
A career-high 2⃣3⃣ points from senior Esther Castedo (@esthercastedo6) helped RMU lock up its first win of the Horizon League campaign Thursday! 🔥#BobbyMo | 🔵🏀🔴 | #HoopTownshiphttps://t.co/eZ2W5aZA8p

— RMU Basketball (@RMUWBasketball) November 19, 2021
Update (9:22 PM)-
**Tonight, Archie Collins and Pitt extend an offer to 2024 offensive tackle Ben Roebuck (6'7″, 320) from St. Edward High School in Lakewood, Ohio. Roebuck also holds offers from Boston College, Rutgers and Toledo.
Weeks 3-7 Highlights, First 5 Varsity Starts. https://t.co/jvo9TfytC3

— Ben (@Benroebuck75) October 3, 2021
Update (6:26 PM)-
.@CoachDuzzPittFB on QB Kenny Pickett's major pro potential. pic.twitter.com/lqzy5aYGir

— Jim Rome (@jimrome) November 18, 2021
Update (10:45 AM)- 
#Tennessee offers 2022 Top 50 Judah Mintz'22 @Jmintz10 of @teamdurant_AAU & Oak Hill Academy @OHACoachSmith , according to TeamDurant Director Dwayne Wise #VFL 🍊 pic.twitter.com/oH1XtZueb9

— 𝒜𝓃𝒹𝓇ℯ𝓌 𝒮𝓁𝒶𝓉ℯ𝓇 (@Andrew__Slater) November 18, 2021
Around the Network 
Steelers Now: Cam Heyward's always doing great things for the community
Pittsburgh Soccer Now: First round by for Pitt men's soccer team
Pittsburgh Hockey Now: Judging the Penguins 3 Roster Needs
Pittsburgh Baseball Now: Get ready for another work stoppage
WVU Sports Now: The Mountaineers just got hammered by the loss of two 4-star commitments. They're now scrambling to replace them by upping the offers.
Nittany Sports Now: The ex-Gateway star will probably be in the NFL next season