The Frank Walker Law/PSN Daily Notebook: January 6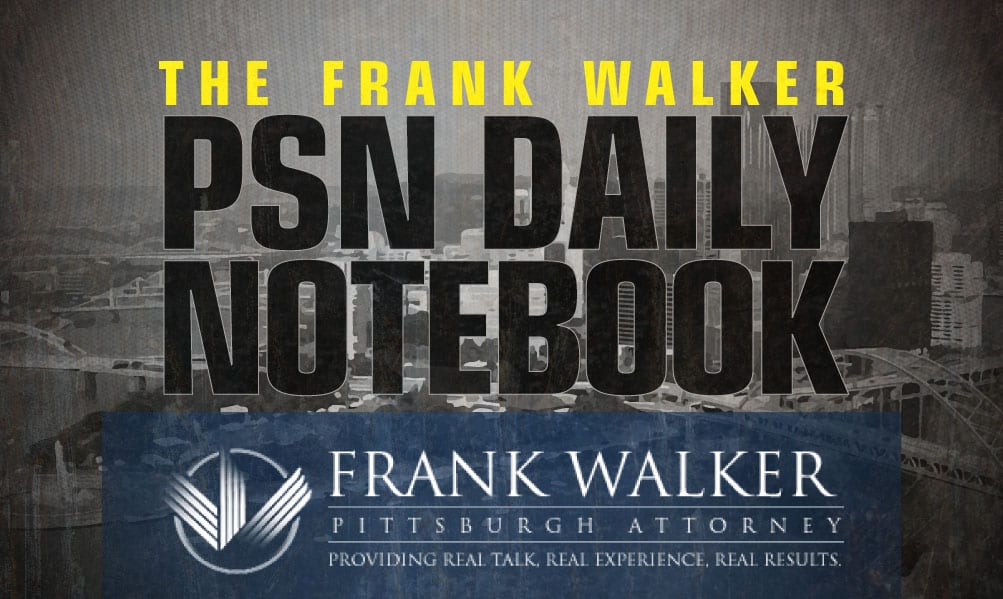 The PSN Daily Notebook is sponsored by Frank Walker, one of Pittsburgh and West Virginia's most respected criminal defense and injury lawyers. Mr. Walker has offices in Pittsburgh and Morgantown and has been named one of Top 100 National Trial Lawyers and is rated a perfect 10.0 Superb by Avvo for ethics, experience and results. To reach Mr. Walker, you can call 412-532-6805 or go to his website frankwalkerlaw.com. For real talk, real experience and real results, contact Frank Walker Law.
Update (9:01 PM)-
Most receiving yards over the last two seasons:

1. Jordan Addison – 2,255
2. Jahan Dotson – 2,066
3. John Metchie – 2,058
4. Jaquarii Roberson – 2,004 pic.twitter.com/bTBwKn7mBR

— PFF College Football (@PFF_College) January 7, 2022
Update (6:10 PM)- 
**Pitt quarterback Kenny Pickett is back in New Jersey preparing for the upcoming NFL Draft.
NFL Draft Prep QB Kenny Pickett working 5 Quick throwing 10-12yd Access Speed Out with anticipation, accuracy and velocity. We turn on last crossover to make balanced, straight throws with consistent sequence. @TEST_Football @kennypickett10 #nfldraft #qb pic.twitter.com/NLyS4vzoMy

— Tony Racioppi (@Tonyrazz03) January 6, 2022
NFL Draft Prep QB Kenny Pickett of Pitt working 7 step and Reset with Dovetail throwing 18-20yd Speed Cut Dig with Accuracy and Velocity layering ball with shoulder tilt over 2nd level. @TEST_Football @kennypickett10 @JimNagy_SB @danorlovsky7 @MelKiperESPN @McShay13 #nfldraft pic.twitter.com/BfwSjQ048X

— Tony Racioppi (@Tonyrazz03) January 6, 2022

Update (10:16 AM)- 
**North Hills 2022 athlete Robert Dickerson has picked up a PWO opportunity from Toledo.
MY RECRUITMENT IS 100% OPEN
Senior year regular season tape
Defensive film starts at 5:57
8 games 7tds 752 all purpose yards on 50 touches 16 tackles https://t.co/HzxlUvLO3P
Junior year tape
7 games 9tds 1k all purpose yards on 67 touches 13 tackles https://t.co/c4qdgGOfN2 pic.twitter.com/nX9FnpbVXh

— 𝑅𝑂𝐵𝐸𝑅𝑇 𝐷𝐼𝐶𝐾𝐸𝑅𝑆𝑂𝑁 🖖🏽 (@RobDickerson16) November 5, 2021
Update (8:03 AM)-
**Pitt football extends an offer to 2023 defensive tackle/tight end Wayne Peart from Chaminade-Madonna High School in Hollywood, Florida. Peart received the offer from Charlie Partridge and this was his first D-1 offer.
Full junior season highlight🔥 ⁦@Nadeboyz⁩ ⁦@larryblustein⁩ ⁦@TheCribSouthFLA⁩ https://t.co/sTn2940r9d

— Wayne Peart (@WaynePeart1) December 27, 2021
Around the Network
Steelers Now: Lamar Jackson Among Five Ravens Out With Injuries Wednesday
Pittsburgh Hockey Now: NINE! Crosby, Rust & Rodrigues Surge Past Blues In Third Period Comeback, 5-3
Pittsburgh Baseball Now: Pirates Shuffle Minor League Coaches
WVU Sports Now: Sean Ryan's Departure Leaves Behind Barebones WR Room For West Virginia 
Nittany Sports Now: Penn State Gets Big Road Win Over Northwestern 74-70