The Frank Walker/PSN Daily Notebook: January 14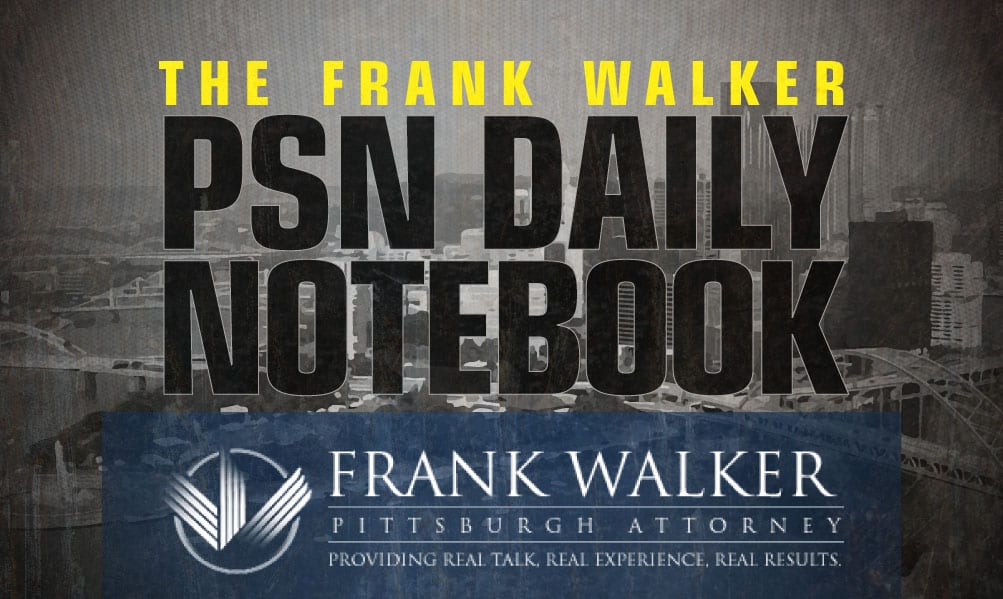 The PSN Daily Notebook is sponsored by Frank Walker, one of Pittsburgh and West Virginia's most respected criminal defense and injury lawyers. Mr. Walker has offices in Pittsburgh and Morgantown and has been named one of Top 100 National Trial Lawyers and is rated a perfect 10.0 Superb by Avvo for ethics, experience and results. To reach Mr. Walker, you can call 412-532-6805 or go to his website frankwalkerlaw.com. For real talk, real experience and real results, contact Frank Walker Law.
Update (11:13 AM)-
G Bryce Lindsay will be taking a visit to South Carolina next week, his coach told @PghSportsNow

DePaul is supposed to be checking him out today. Iona was in recently. M. Brown has been recruiting him for Pitt.

"One of the best three-point shooters in the country," – @sfacoach

— George Michalowski (@MichalowskiCBB) January 14, 2022
Update (9:15 AM)-
Good luck to our guys this weekend in the PLAYOFFS 🔥😤🏈🏆 #H2P #PanthersInThePlayoffs pic.twitter.com/j1ILcwMmce

— Pat Narduzzi (@CoachDuzzPittFB) January 14, 2022
Update (7:47 AM)-
UVa QB Armstrong returning to play fifth season https://t.co/Y6IUeQiJfF

— Phil Steele (@philsteele042) January 14, 2022
Update (7:46 AM)-
If you're curious about what new #Pitt OC Frank Cignetti Jr. brings to the table, check out this Film Study I did last year about him and BC carving up the Pitt defense.https://t.co/weo24joQsa pic.twitter.com/fV9KXWvlSB

— Alan Saunders (@ASaunders_PGH) January 14, 2022
Update (7:24 AM)-
Breaking: Dan Bradley has been hired as the next head coach for the Ellwood City football program. Bradley's hiring was announced this evening by the school board. Last week Bradley resigned as the head coach for OLSH, where he spent the past six seasons. @timesscores pic.twitter.com/DVGV88vwXG

— Noah Hiles (@_NoahHiles) January 14, 2022
The #PIAA on Thursday denied an initial appeal from Aliquippa, which wants to avoid a promotion to Class 5A football next season. #WPIAL #HSSN https://t.co/MPYf3dObM6

— TribLive HSSN (@TribLiveHSSN) January 14, 2022

Update (7:05 AM)-
*A couple of players that were previously committed to Pitt before signing with other programs have entered the NCAA Transfer Portal.
2020 4-star RB Henry Parrish entered the transfer portal after rushing for 814 yards and 5 TD during his two seasons with Ole Miss @RebelGrove @rivalsmike https://t.co/W4pZA3Ydco

— NCAA Transfer Portal (@RivalsPortal) January 13, 2022
2021 LB Trevion Stevenson entered the transfer portal; did not see the field during his true freshman season at North Carolina @HeelIllustrated https://t.co/ljj7jEwks2

— NCAA Transfer Portal (@RivalsPortal) January 14, 2022
Around the Network
Steelers Now: JuJu Smith-Shuster Returns To Practice
Pittsburgh Hockey Now: Penguins in La La Land, Kings Bury Penguins 6-2
Pittsburgh Baseball Now: Is This the Year that Mitch Keller Puts it Together?
WVU Sports Now: West Virginia and TCU Reschedule Game For Later Date
Nittany Sports Now: Former PSU RB Noah Cain Transfers To LSU