The Frank Walker Law/PSN Daily Notebook- January 18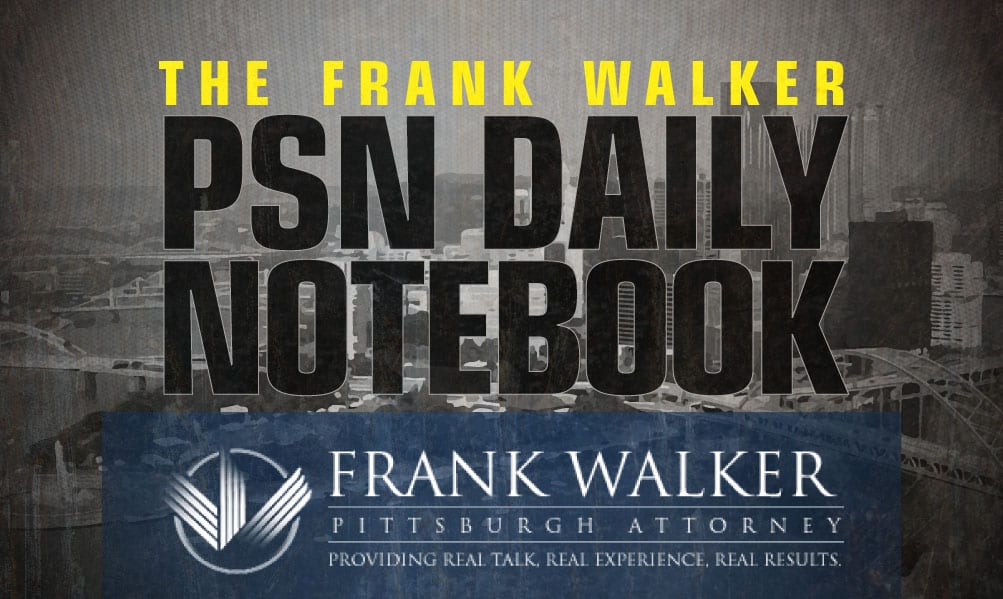 The PSN Daily Notebook is sponsored by Frank Walker, one of Pittsburgh and West Virginia's most respected criminal defense and injury lawyers. Mr. Walker has offices in Pittsburgh and Morgantown and has been named one of Top 100 National Trial Lawyers and is rated a perfect 10.0 Superb by Avvo for ethics, experience and results. To reach Mr. Walker, you can call 412-532-6805 or go to his website frankwalkerlaw.com. For real talk, real experience and real results, contact Frank Walker Law.
Around the Network
Steelers Now: Diontae Johnson Focused on Bounce Back After Up and Down Playoff Game
Pittsburgh Hockey Now: Penguins About Face, Score 5 Unanswered to Beat Vegas 5-3 
Pittsburgh Sports Now: Pitt Hosts Top 2023 OL Target 4-Star Offensive Tackle Jven Williams
WVU Sports Now: Taz Sherman Still Not 100 Percent According to Huggins  
Nittany Sports Now: Penn State Football Updates Roster; Seven Departures 
Pittsburgh Soccer Now: USL Championship, Riverhounds SC Release 2022 Schedule
Update (5:07 PM)-
**More offers today from Pitt to players in Florida. Cory Sanders and Pitt extend an offer to freshman wide receiver Santonyo Isaac from Tampa Bay Tech in Tampa, Florida. The 6'0″, 160 pound wide out also holds early offers from Indiana, Louisville, Penn State, Toledo, South Florida and West Virginia.
Santonyo Isaac, Tampa Bay Tech 2025 WR 6-0/160

Excellent speed.

Precise runner.

Special returner in special teams.@Tonyoisaac18

Watch List: https://t.co/qRPiIOCb04 pic.twitter.com/kEdjN61Ki4

— BCP SPORTS (@BigCountyPreps1) September 29, 2021
Update (3:57 PM)-
Cowboys Sign 13 Players To Futures Contracts Including QB Ben DiNucci https://t.co/TBLcoZ2IPD pic.twitter.com/dccsAW9MOV

— NFLTradeRumors.co (@nfltrade_rumors) January 17, 2022
Update (1:45 PM)-
**Offer No. 4 of the day from Cory Sanders goes to 2023 3-star cornerback Dijon Johnson (6'2″, 180) from Wharton High School in Tampa, Florida. Johnson has a nice list of offers from schools such as Florida, Boston College, Louisville, Miami, Ole Miss, Penn State, South Carolina, USC, Utah, Texas A&M, Michigan and Florida Atlantic.
Update (1:35 PM)-
**Cory Sanders remains busy today extending offers, the latest going to 2023 defensive end Isaiah Nixon from St. Petersburg, Florida. This is Nixon's first Power Five offer.
Check Out My Junior Season Highlights💯🙌- https://t.co/Ug0A9lPxMu

— Isaiah Nixon (@IsaiahN02653827) December 1, 2021
Update (1:12 PM)-
**This morning, Randy Bates and Pitt extend an offer to 2024 defensive end Elias Rudolph from Taft High School in Cincinnati, Ohio. Rudolph (6'5″, 220) also holds offers from Cincinnati, Bowling Green, Buffalo and Toledo.
https://t.co/JSGb73dRns check my brotha out🏋🏿‍♀️😳😳scary😶‍🌫️@keyander2022

— Elias Rudolph (@EliasRudolph6) November 23, 2021
Update (11:09 AM)-
**A second offer today from Pitt to a player from Clearwater Academy International in Clearwater, Florida. 2024 offensive lineman Jason Zandamela receives an offer today from Cory Sanders. Zandamela also holds offers from Florida State and Virginia Tech.
2021 Sophomore Season highlights‼️ Please check it out @CoachMeyerCAI @CoachJohnsonCAI @CoachJesse18 @CAIKnightsFB https://t.co/HcNXzCxKfz

— Jason Zandamela🇲🇿 (@JasonZandamela) December 10, 2021
Update (10:51 AM)-
**Pitt extends an offer this morning to 2023 3-star offensive tackle Lucas Simmons (6'7″, 300) from Clearwater, Florida. Simmons holds 30+ offers, including ones from Arizona State, Baylor, Boston College, Florida State, Georgia Tech, Kentucky, Louisville, Maryland, Miami, Michigan, Minnesota, Ole Miss, Mississippi State, Oklahoma, Oklahoma State, Penn State, South Carolina, Tennessee, Texas, Texas A&M, Central Florida, Virginia Tech and West Virginia. Simmons received the offer from Cory Sanders.
I'm very blessed to be committed to 2023 UA All-America Game! Thank you to @demetricdwarren, @CraigHaubert, @TheUCReport, & @UANextFootball. I also want to thank my family and @CAIKnightsFB for believing in me and helping me earn this opportunity. #WEWILL #TrenchMafia #Ohana pic.twitter.com/1fQKVDWlZa

— Lucas Simmons (@LucasSimmons55) November 2, 2021