The Frank Walker Law/PSN Daily Notebook: January 19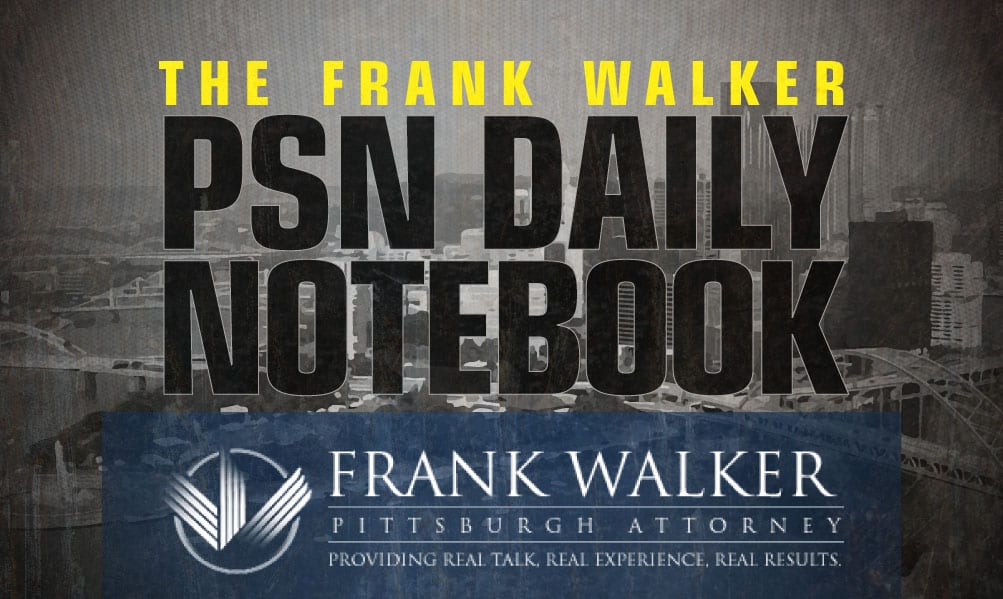 The PSN Daily Notebook is sponsored by Frank Walker, one of Pittsburgh and West Virginia's most respected criminal defense and injury lawyers. Mr. Walker has offices in Pittsburgh and Morgantown and has been named one of Top 100 National Trial Lawyers and is rated a perfect 10.0 Superb by Avvo for ethics, experience and results. To reach Mr. Walker, you can call 412-532-6805 or go to his website frankwalkerlaw.com. For real talk, real experience and real results, contact Frank Walker Law.
Update (2:32 PM)-
**Pitt extends an offer to 2024 defensive end Jordan Thomas (6'6″, 270) from Don Bosco Prep in Ramsey, New Jersey. This is the second D-1 offer for Ramsey, with his first coming from Syracuse. The offer for Thomas came from Tim Salem.
Update (1:49 PM)-
**Pitt extends an offer to 2023 defensive back Shadarian Harrison from Plant City High School in Polk County, Florida. Harrison received the offer from Cory Sanders. This is the first D-1 offer for Harrison.
🚨 2021 SEASON REVIEW 🚨

👤 Shadarian Harrison
🏈 CB/ATH
🎓 2023
📍 @KHS_Football
📹 https://t.co/8NZnNvwtX2

Coach: @coachkstrong @ShadarianHarri2#RecruitPolkFL #RecruitFlorida@KHSRedDevils @WTurner247 @H2_Recruiting @coachyoung99 @polk_way @st8upfam @fbscout_florida pic.twitter.com/Hr09swm9b1

— H2 Athletes (@H2Athletes) November 16, 2021
Update (11:48 AM)- 
**2023 3-star athlete Eugene Wilson III, from Tampa, Florida, receives an offer today from Cory Sanders and Pitt. Wilson (5'10", 170) also holds offers from Cincinnati, Louisville, UMass, Wake Forest, Florida International, Bowling Green, South Florida and Buffalo.
Junior Season Highlights❗️https://t.co/mzaoQ377oe

— Eugene Wilson III (@EugeneWilsonI15) November 29, 2021

Update (11:36 AM)- 
**Randy Bates and Pitt extend an offer to sophomore running back Jordan Marshall from Fairfield, Ohio. Marshall holds offers from Toledo, Louisville, Kentucky and Cincinnati.
⚠️22 TDS ⚠️ 166 Rushes
⚠️1155 Rushing Yards
⚠️427 Receiving
⚠️All GCL •‼️MUST WATCH‼️ https://t.co/TUKEI5Sj5I

— Jordan Marshall (@J_MARSH2024) December 3, 2021
Update (10:51 AM)-
**Second offer today to an athlete from Lake Gibson High School in Lakeland, Florida goes to 2023 offensive tackle Gernorris Wilson. Once again, it was Cory Sanders with the offer. Wilson (6'5″, 300 lbs.) also holds offers from Rhode Island, South Florida, Kentucky, Oregon and Florida Atlantic.
@WilsonGernorris football coaches be on notice he gonna be even more dangerous next season . Great leader and hard worker in the room . He has just started in this sport but I can't wait to see how this helps him on the field . @LakeGibsonFB @lgbraveswrstle pic.twitter.com/n27VWlNwGG

— Daniel Walker (coach) (@lgwrestlingwalk) December 20, 2021
Update (10:32 AM)-
**First offer of the day from Pitt goes to 2024 sophomore cornerback Brayshon Williams from Lake Gibson High School in Lakeland, Florida. The offer came from assistant Cory Sanders. Williams (6'0″, 175) also holds offers from Florida State, Kentucky, Miami, Oklahoma, Oregon, South Carolina, Central Florida, USC and South Florida.
Truly blessed 🙏🏽 @DemetricDWarren @coachNmoody @rkbarefield @Blake_Alderman @ChadSimmons_ @Andrew_Ivins @SWiltfong247 @MohrRecruiting @polk_way pic.twitter.com/CtzZYuZkIS

— Brayshon Williams (@Brayshon4) December 31, 2021
Update (9:34 AM)- 
**The latest Power 5 offer for Belle Vernon 2024 4-star LB Quinton Martin.
After being greatly informed by @BVAFootball i am beyond blessed to announce that i have received my 10th D1 offer from The University of Kentucky !!! @CoachBuffano ⚪️🔵 pic.twitter.com/WvqCXgpSjx

— Quinton Martin (@QuintonMartin25) January 19, 2022

Update (7:58 AM)-
**2023 3-star safety Bryce Thornton received an offer on Tuesday from Archie Collins and Pitt. Thornton (5'10", 185) is from Milton High School in Alpharetta, Georgia. At this point, Thornton holds offers from Georgia, Miami, Ole Miss, Michigan State, Oregon, Tennessee, Central Florida, Virginia and West Virginia.
https://t.co/NOdBZXWVzE
6 picks
54 solo tackles @ChadSimmons_ @coachclack23 @CoachNaldo @LonnieEstes @247recruiting @On3Recruits @CoachBenReaves @Keith247Sports

— BRYCE THORNTON (@brycethornton11) December 13, 2021
Update (7:32 AM)-
**On Tuesday, Archie Collins and Pitt extended an offer to 2023 defensive end Tyree Weathersby (6'4″, 250) from Douglasville, Georgia. This offer was extended by Archie Collins. This was Weathersby's first D-1 offer. Later in the day, he the received an offer from Georgia Tech. After watching his film, look for his recruitment to explode over the next few months.
Check out this highlight! https://t.co/zTHzJiJixx
Tyree Weathersby JR highlights
6'4/250lbs
DE/TE

— Tyree Weathersby🎭 (@tw29_) November 14, 2021
Around the Network
Steelers Now: Joe Haden Says "Door Isn't Closed" On Possible Extension With Steelers
Pittsburgh Hockey Now: Penguins Fans Push Jake Guentzel To All-Star Game As "Last Man In"
Pittsburgh Baseball Now: Pirates Sign 19 International Prospects
WVU Sports Now: No. 5 Baylor Rallies Past WVU, Avoiding Upset, 77-68
Nittany Sports Now: Penn State Hosts 2023 OT Samson Okunlola, One Of Top Juniors In The Country