The Frank Walker Law/PSN Daily Notebook- February 5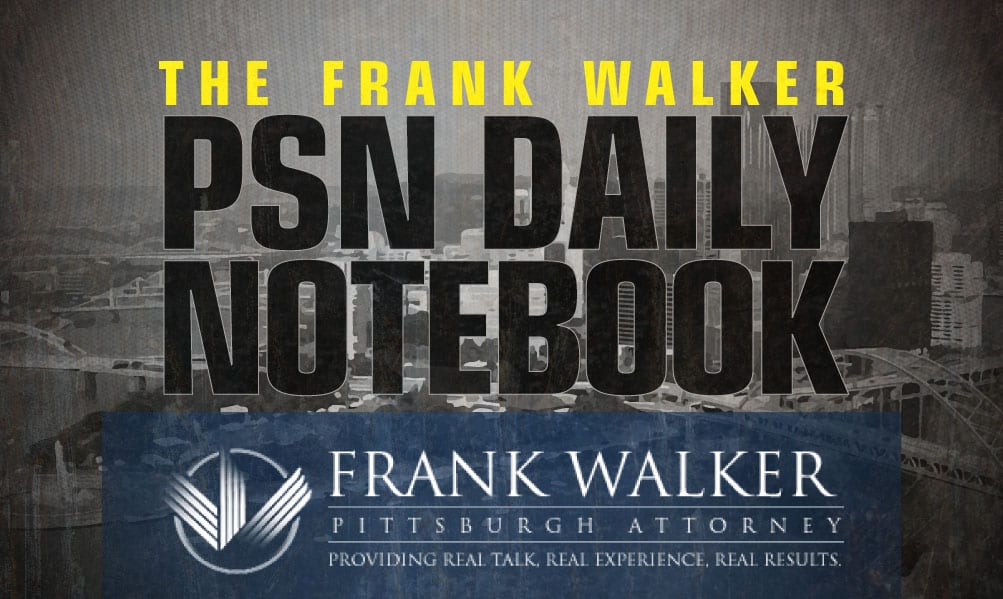 The PSN Daily Notebook is sponsored by Frank Walker, one of Pittsburgh and West Virginia's most respected criminal defense and injury lawyers. Mr. Walker has offices in Pittsburgh and Morgantown and has been named one of Top 100 National Trial Lawyers and is rated a perfect 10.0 Superb by Avvo for ethics, experience and results. To reach Mr. Walker, you can call 412-532-6805 or go to his website frankwalkerlaw.com. For real talk, real experience and real results, contact Frank Walker Law.
Update (9:54 PM)- 
**Frank Cignetti offers 2023 4-star quarterback Christopher Vizzina (6'4", 205) from Birmingham, Alabama. Vizzina is one of the top quarterbacks in the country and holds offers from Arkansas, Auburn, Clemson, Florida, Georgia Tech, Kentucky, LSU, Louisville, Michigan State, Mississippi State, Nebraska, Notre Dame, Oklahoma State, Penn State, Tennessee and West Virginia. Vizzina is rated as one of the Top 140 juniors in the country and is the 5th junior quarterback to receive an offer from Pitt today.
I am COMMITTED to the Adidas All American Bowl! @AABonNBC @ErikRichardsUSA @SWiltfong247 @BriarwoodFTBLL @GasCrew7v7 pic.twitter.com/GTirL6Tt9H

— Christopher Vizzina (@vizzina2) January 21, 2022

Update (9:31 PM)- 
**A fourth quarterback receives an offer today from Frank Cignetti and Pitt as this one goes to 2023 3-star quarterback Brock Glenn from Memphis, Tennessee. Glenn (6'2", 190) also holds offers from Cincinnati, Duke, Illinois, Indiana, Kentucky, Marshall, Memphis, Michigan State, Missouri and Vanderbilt.
Great getting back to work with @QBC_Memphis! Couple off platform throws! @_Langston10 pic.twitter.com/nmQid5vsCJ

— Brock Glenn (@Brock1Glenn) December 4, 2021

Update (3:44 PM)- 
**A big day for junior quarterback Hank Brown as he receives an offer from Frank Cignetti and Pitt. This is the first D-1 offer for Brown, who's from Nashville, Tennessee.
Check out my Junior Season – https://t.co/BAJKlw43FM

— Hank Brown (@Hankb_15) November 11, 2021

Update (3:09 PM)- 
**A second today from Pitt to a junior quarterback. 3-star Bo Edmundson, from Lake Travis High School in Austin, Texas, receives an offer from Pitt. Edmundson (6'2", 190) holds offers from Colorado, Houston, Kentucky, Michigan State, Oklahoma State, Penn State, Purdue, SMU, Tulsa and Utah. Lake Travis High School is the same school as Pitt freshman quarterback Nate Yarnell.
Updated 2021 Season Highlights @TommyMangino @CoachHankCarter @LT_FBRecruiting https://t.co/bmtgx4N7hQ

— Bo Edmundson (@BoEdmundson) December 7, 2021
Update (2:52 PM)- 
**Today, Frank Cignetti and Pitt extend an offer to 2023 4-star quarterback JJ Kohl from Ankeny, Iowa. Kohl (6'6", 225) is rated as one of the Top 200 juniors with offers from Boston College, Florida State, Indiana, Iowa, Iowa State, Minnesota, Missouri, Nebraska and Penn State.
Junior Season Highlights – @Hudl https://t.co/bW8m5m4pCx #hudl

— JJ Kohl (@JJKohl3) November 23, 2021

Update (12:51 PM)-
Pitt is It #H2P pic.twitter.com/v7gSTfXm1a

— Frank Cignetti Jr. (@FrankCignetti) February 5, 2022
Update (12:42 PM)-
Four-star OL prospect Jven Williams commits to Penn State. Read more here. https://t.co/P3POXtUf14 pic.twitter.com/KTlgyBmoei

— Nittany Sports Now (@NittanySN) February 5, 2022
Update (12:41 PM)-
Asked an NFL scout to power rank how the QBs did during team interviews at the Senior Bowl. His succinct response:

"Pickett. Gap. Everyone else."

— Dane Brugler (@dpbrugler) February 5, 2022