The Frank Walker Law/PSN Daily Notebook- March 6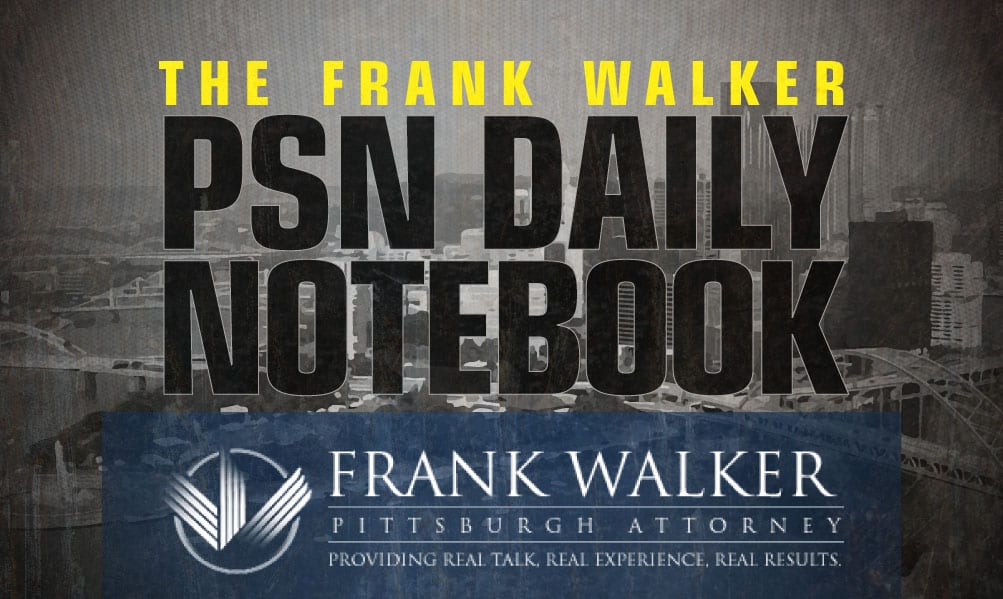 The PSN Daily Notebook is sponsored by Frank Walker, one of Pittsburgh and West Virginia's most respected criminal defense and injury lawyers. Mr. Walker has offices in Pittsburgh and Morgantown and has been named one of Top 100 National Trial Lawyers and is rated a perfect 10.0 Superb by Avvo for ethics, experience and results. To reach Mr. Walker, you can call 412-532-6805 or go to his website frankwalkerlaw.com. For real talk, real experience and real results, contact Frank Walker Law.
Update (7:20 PM)-
There's speed and then there's HOUNDz speed 4.39 🔥 Damarri Mathis!#H2P #Houndz pic.twitter.com/E5Pcv3wtcj

— Coach Collins (@ARCHIECOLLINS_) March 7, 2022
Update (5:51 PM)-
Damarri Mathis – Gauntlet Drill pic.twitter.com/xT2WcPOV7R

— Follow @FTB_VIDS (@FTB_VIDS) March 6, 2022
Update (5:37 PM)-
We are shocked and deeply saddened to learn of the passing of former @Pitt_VB and @Pitt_WBB student-athlete Monica Wignot.

Her family, loved ones and teammates are all on our hearts as we extend our deepest sympathies.https://t.co/hOAjI1mJem

— Pitt Panthers (@Pitt_ATHLETICS) March 6, 2022
Update (5:36 PM)-
🚨 DOWN GOES NO. 3 🚨@Pitt_SB defeats No. 3 Florida State, 7-5, and hands the Seminoles their first loss of the season!! #NCAASoftball pic.twitter.com/arbRv8LUlD

— NCAA Softball (@NCAASoftball) March 6, 2022

Update (8:45 AM)-
@Pitt_FB TE target @JacksonCarver11 picks up off from Iowa. https://t.co/UjI5wEnVPN

— Pittsburgh Sports Now (@PghSportsNow) March 6, 2022
Update (8:42 AM)-
Coach Narduzzi @CoachDuzzPittFB congratulates 2021 winner Jordan Addison @Espn_Jordan at the 2022 Biletnikoff Award banquet. @Pitt_FB @Pitt_ATHLETICS pic.twitter.com/mCO6N0QMJd

— Biletnikoff Award (@biletnikoffawrd) March 6, 2022
Update (8:25 AM)-
**Pitt will receive an unofficial visit on March 15 from 2023 athlete Desean Butler from Wellington High School in West Palm Beach, Florida. Butler holds offers from Pitt, West Virginia, Toledo, Old Dominion and Western Kentucky.
Here's my junior season, check it out! https://t.co/KZWskw2Auu @CoachTTrickett @WKURecruiting @CoachPartridge @BrennanMarion4 @CoachRyanBecker @RyanBartow @johnlhunter1 @CoachFrankPonce @CoachC_Collins @Mike_Stoops41 @CoachTee34 @ArmyFB_Recruit RB,special teams,defense etc.

— Desean Butler (@butler_desean) February 5, 2022