The Frank Walker Law/PSN Daily Notebook – April 12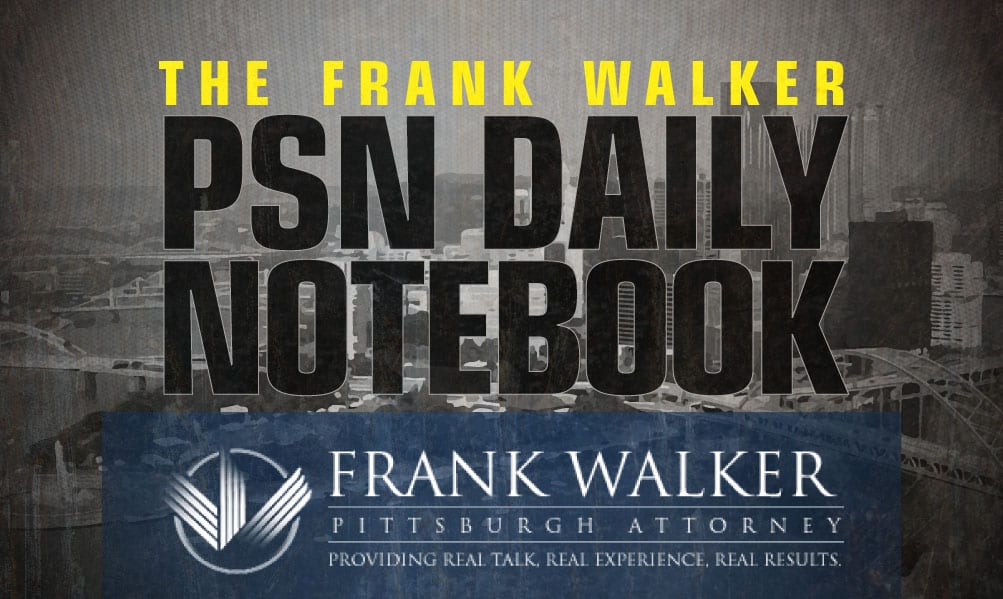 Update, 5:15 p.m: Four-star Laurel Highlands wide receiver Rodney Gallagher received his latest offer from Oklahoma State. The 6-foot, 170-pound receiver has nearly two dozen offers, including Pitt, Penn State and West Virginia.
Blessed to receive a offer from Oklahoma State University🙏🏼 #LLC💕 @CoachKolesar @LHMustangFB @210ths @Evolve2tenths @gridironjrj pic.twitter.com/GjS73gu03R

— Rodney Gallagher 3rd (LLC💕) (@Rodney_G3) April 12, 2022
Update, 11:30 a.m: Robert Morris has offered 2024 Central York Pa. forward Greg Guidinger. Guidinger is a 6-foot-6 wing. RMU is his second offer, following one from Toledo.
Blessed and honored to have received an offer from Robert Morris University. #GloryToGod pic.twitter.com/G69Hlf6o24

— Greg (@GregGuidinger) April 12, 2022
Update, 9:30 a.m: Pitt has extended an offer to Class of 2023 Detroit defensive end Kenneth Merrieweather, he announced on Tuesday.
Merrieweather is a 6-foot-4, 245-pound defensive end and tight end from Martin Luther King Jr. High School in Detroit. He has previous Power Five offers from Cincinnati, Indiana, Iowa, Kentucky, Oregon, Purdue and Syracuse.
#AGTG Honored and blessed to be offered by University of Pittsburgh🟡🔵 @ARCHIECOLLINS_ @AllenTrieu @DetKingFootball @Pitt_FB pic.twitter.com/XcqgspGa4m

— Kenneth Merrieweather.. (@KMerrieweather) April 11, 2022
Update, 8:30 a.m: Class of 2023 Aliquippa defensive back and wide receiver Donovan Walker will visit Cincinnati on Thursday, he announced via social media.
Walker is a 6-foot-1, 170-pound prospect with offers from Akron, Albany, Austin Peay, Central Michigan, Eastern Michigan, Fordham, Monmouth and Navy. The Big 12-bound Bearcats represent some of his highest-level interest so far.
i will be at Cincinatti Thursday ⚫️🔴 @CoachHitsch can't wait ‼️ pic.twitter.com/IgYaCOLG5S

— Donovan Walker (@DonovanWalkerr) April 11, 2022
Around the Network
Steelers Now: After the Dwayne Haskins Tweet, Adam Schefter Gives an Apology 
Pittsburgh Hockey Now: Malkin Draws Four-Game Suspension After Aggressive Crosscheck
WV Sports Now: JUCO Big Man Mohamed Wague Commits to West Virginia
Pittsburgh Baseball Now: Derek Shelton Has 4th-Best Odds to Be 1st MLB Manager Fired
Nittany Sports Now: 4-Star 2023 WR Karmello English Has Penn State in His Top Five
The Portal Report: Former Duquesne star Eric Williams Jr. still deciding on next stop