The Frank Walker Law/PSN Daily Notebook- August 21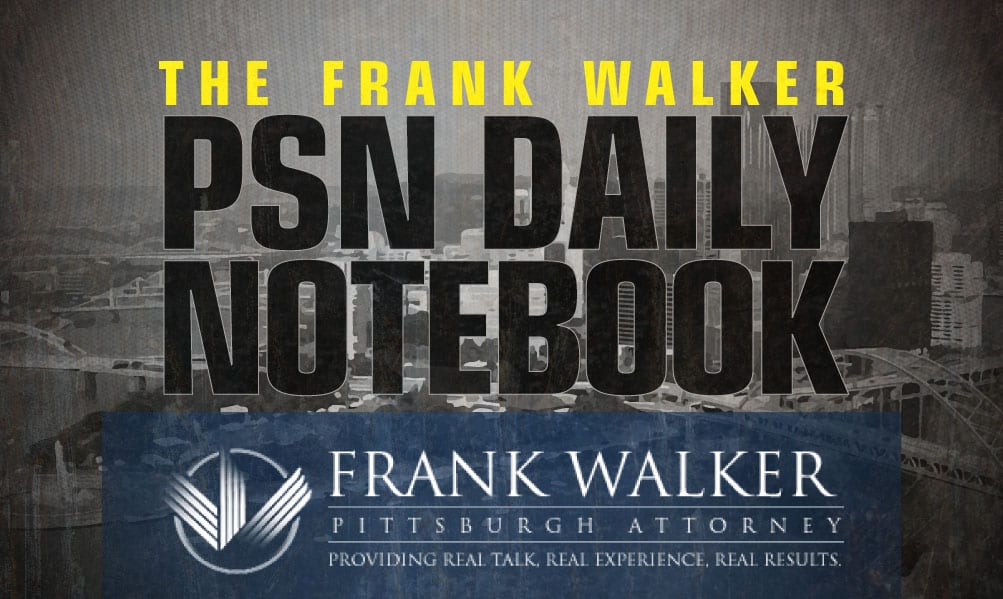 The PSN Daily Notebook is sponsored by Frank Walker, one of Pittsburgh and West Virginia's most respected criminal defense and injury lawyers. Mr. Walker has offices in Pittsburgh and Morgantown and has been named one of Top 100 National Trial Lawyers and is rated a perfect 10.0 Superb by Avvo for ethics, experience and results. To reach Mr. Walker, you can call 412-532-6805 or go to his website frankwalkerlaw.com. For real talk, real experience and real results, contact Frank Walker Law.
Update (6:55 PM)-
Colonials Down Saint Francis at Home | RMU starts 2-0 for first time since 2013 https://t.co/1YxWJ1Guxq

— RMU Women's Soccer (@RMUWSoccer) August 21, 2022
Update (5:32 PM)-
**Opening game highlights from Pitt 2023 commit DE Antonio Camon.
Flashback on Friday game😈😈@TBTFootball pic.twitter.com/UqoTi0LunH

— "CAMON!" (@AntonioCamon1) August 21, 2022
Update (12:03 PM)-
John Hugley hosts his first basketball camp at Brush https://t.co/TEwuNZlDiV

— News-Herald preps (@NHPreps) August 20, 2022
Update (11:58 AM)-
Kenny Pickett is READY TO PLAY NOW. He keeps winning over teammates with his production and competitiveness. After working out with him before the draft, I saw his dedication, ability to make every throw and an advanced football IQ. @steelers have a good problem at QB.

— Robert Griffin III (@RGIII) August 21, 2022

Update (9:24 AM)-
**Former Pitt star defensive end Rashad Weaver is opening eyes and earning playing time with the Tennessee Titans.
SaAaAaAcK @RashadWeaver 🤩

📺: Watch #TBvsTEN on @WKRN pic.twitter.com/VxBB9wLpwM

— Tennessee Titans (@Titans) August 20, 2022
Rashad Weaver has quietly been an ultra impressive player. Just got the sack despite being held. He sets the edge with authority against the run and rushes the passer really well. He needs to be in the rotation at OLB. #Titans

— TURRON DAVENPORT (@TDavenport_NFL) August 20, 2022
Update (9:19 AM)-  
Kenny Pickett looks like QB1..

— Bucky Brooks (@BuckyBrooks) August 21, 2022
Kept telling @ThePoniExpress that unless Kenny Pickett totally completely lights it up, I'd expect Mike Tomlin to start Mitch Trubisky.
Well… 19-22, 3 TDs (one a cool and collected game-winner, another against a first team D) is sure starting to read: lighting it up.

— Aditi Kinkhabwala (@AKinkhabwala) August 21, 2022
Not to overdue this only into second PS game but Steelers Kenny Pickett does not look like a rookie. Cool, calm, hitting receivers in stride. Getting rid of ball quickly. Good pocket awareness behind a poor line

— Ed Bouchette (@EdBouchette) August 21, 2022
Update (9:14 AM)-
Steelers should just start Kenny Pickett. Get on with it. Play the kid.

— Pete Prisco (@PriscoCBS) August 21, 2022
Update (9:12 AM)-
From the #Steelers Locker Room: Kenny Pickett on his 2-minute drill success:

"You always have to want the ball in your hands. I think the gamer in me comes out in those moments."https://t.co/TeTazJOfwy @ASaunders_PGH

— Steelers Now (@PghSteelersNow) August 21, 2022
Update (9:05 AM)-
.@MarkMaddenX — Kenny Pickett is the future. But that future must be managed sensibly and not rushed.@Steelershttps://t.co/kr3t1QJOeZ

— Tribune-ReviewSports (@TribSports) August 21, 2022