The Frank Walker Law/PSN Daily Notebook- September 13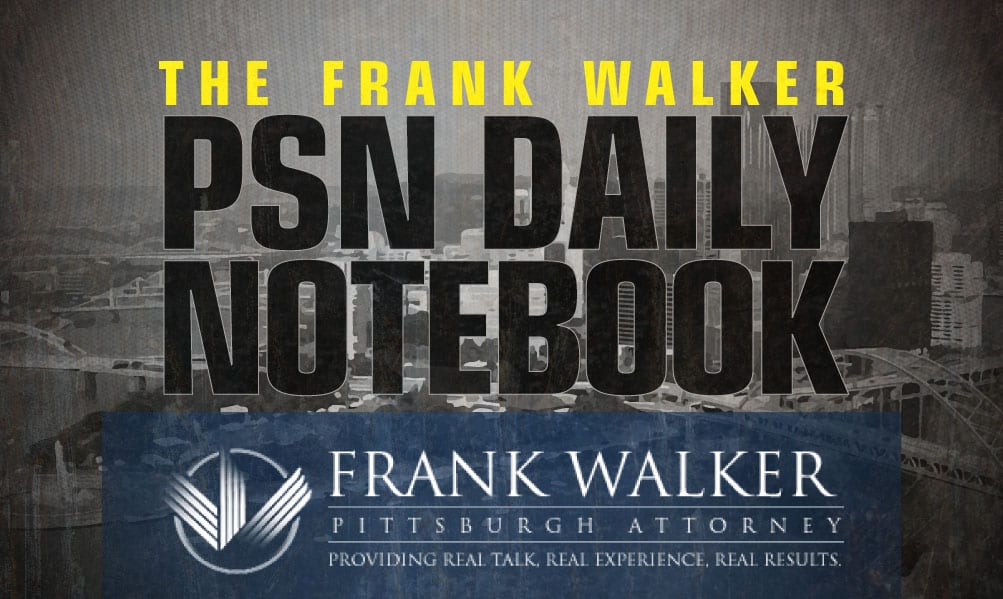 The PSN Daily Notebook is sponsored by Frank Walker, one of Pittsburgh and West Virginia's most respected criminal defense and injury lawyers. Mr. Walker has offices in Pittsburgh and Morgantown and has been named one of Top 100 National Trial Lawyers and is rated a perfect 10.0 Superb by Avvo for ethics, experience and results. To reach Mr. Walker, you can call 412-532-6805 or go to his website frankwalkerlaw.com. For real talk, real experience and real results, contact Frank Walker Law.
Update (3:42 PM)-
First of many awards for the freshman‼️

Congrats to Jackson Gilman on being named ACC Co-Defensive Player of the Week 🌟

✍️ https://t.co/J01UpzweA4#H2P pic.twitter.com/2j5q6dQj1E

— Pitt Men's Soccer (@Pitt_MSOC) September 13, 2022
Update (3:29 PM)-
Most watched games, Week 2:

Alabama-Texas (FOX): 10.6M
Tennessee-Pitt (ABC): 4.5M
Kentucky-Florida (ESPN): 4.3M
Wazzu-Wisc (FOX): 3.9M
Stanford-USC (ABC): 3.0M
Marshall-ND (NBC): 2.5M
Baylor-BYU (ESPN): 2.4M

— Stewart Mandel (@slmandel) September 13, 2022
Update (1:01 PM)-
🗓️ NEWS: Colonials Set 2022-23 Schedule

🖱️: https://t.co/cxvCiaawVa
📅: https://t.co/oEOsDDKj77
🎟️: https://t.co/eoAjb4PQF1
📱: https://t.co/oThk7VDdbV#RMUnite | 🔵🏀🔴 | #GRIT pic.twitter.com/tWu1xCJ4Iw

— RMU Basketball (@RMUMBasketball) September 13, 2022
Update (12:41 PM)-
Bryce Dortch (@BryceDortch4) has been offered by Virginia Tech.

Dortch is also receiving interest from Pittsburgh, Colorado, URI, Missouri, among others.

He holds a handful of offers.

— jake lieberman (@jakelieberman2) September 13, 2022
Update (11:03 AM)-
Schools scheduled to be at South Kent @SouthKentHoops 👀 today :
Univ of Virginia (HC)
Villanova (HC & Asst)
Texas (HC)
Pitt (HC)
Rutgers (HC)
Missouri (Assoc HC)
UNC – Charlotte (HC)
Boston Univ (HC)
UC-Irvine (Asst)
Indiana State (Asst)
Trinity College (HC)@_proinsight pic.twitter.com/FQk1Y6Bb5S

— 𝒜𝓃𝒹𝓇ℯ𝓌 𝒮𝓁𝒶𝓉ℯ𝓇 (@Andrew__Slater) September 13, 2022
Update (10:15 AM)- 
**An unfortunate injury to a local star. Brashear 2023 DE Kameron Cheatom will have surgery on his injured ankle and miss the rest of the season. Cheatom has already committed to Akron.
Jeremiah 29:11 🙏🏾 @210ths @Evolve2tenths @_Drew_55 pic.twitter.com/SYsAqmTQyu

— WOPP ② (@KameronCheatom_) September 12, 2022
Update (8:52 AM)-
Former Beaver Falls star Donovan Jeter has been signed to the Washington Commanders' 53-man roster. Jeter, who played college football at Michigan, was with the Steelers during training camp. #BCTsports #wpial pic.twitter.com/fAIvxCXM1h

— Mike Bires (@mikebires) September 12, 2022
Around The Network
Pittsburgh Hockey Now: Molinari: Why Hasn't Poulin Reached NHL Yet? Will He Ever? (+)
Steelers Now: T.J. Watt Doesn't Need Surgery, Could Return in October
Pittsburgh Baseball Now: Breakout Pitching Prospect Luis Ortiz to Make MLB Debut Tuesday
WVU Sports Now: 5 Takeaways: The Defense Let the Offense Down in Loss to Kansas
Nittany Sports Now: Penn State No. 22 in AP Poll, No. 23 in Coaches Poll / Can Penn State Get Back to Elite Status?