The Frank Walker Law/PSN Daily Notebook- September 19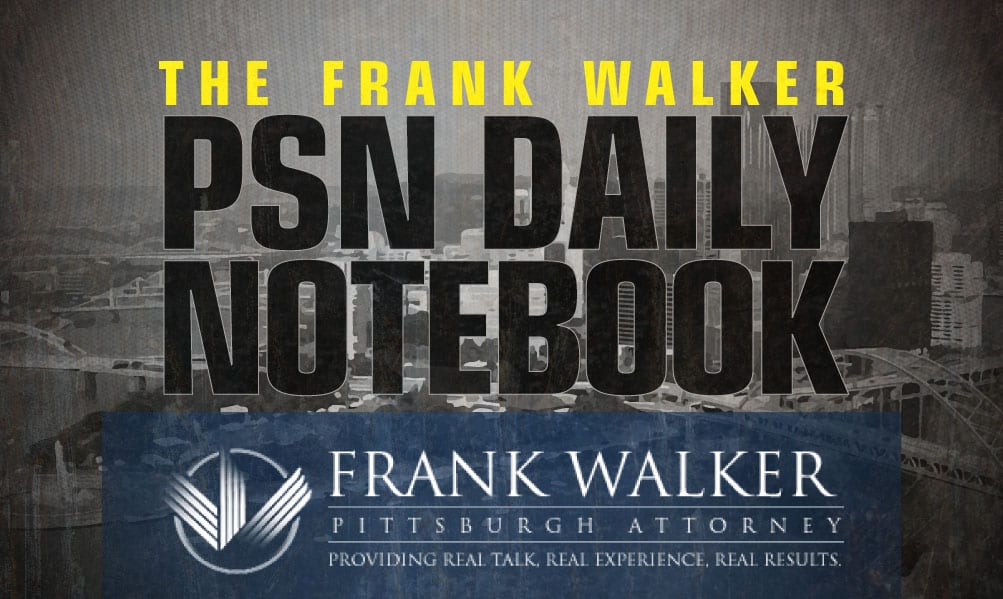 The PSN Daily Notebook is sponsored by Frank Walker, one of Pittsburgh and West Virginia's most respected criminal defense and injury lawyers. Mr. Walker has offices in Pittsburgh and Morgantown and has been named one of Top 100 National Trial Lawyers and is rated a perfect 10.0 Superb by Avvo for ethics, experience and results. To reach Mr. Walker, you can call 412-532-6805 or go to his website frankwalkerlaw.com. For real talk, real experience and real results, contact Frank Walker Law.
Update (11:18 PM)- No. 10 Pitt and No. 14 Akron played an exciting match that ended in a 3-3 draw at Ambrose Urbanic Field
Update (9:07 PM)-
Big thanks to @Ben_Howland for stopping by practice today 🤝#H2P | #TheFoundation pic.twitter.com/zBfKUGWx6n

— Pitt Basketball (@Pitt_MBB) September 19, 2022
Update (4:14 PM)- The graduate transfer right setter had a total of 29 kills and .391 hitting percentage in the wins over Tennessee and Ohio State
Congratulations to CBuzz for taking home #ACCVB Player of the Week!

🔗 https://t.co/MFdsUwE4cY#H2P pic.twitter.com/QijacNk2ML

— Pitt Volleyball (@Pitt_VB) September 19, 2022
Update (4:05 PM)- Pitt Volleyball moves up to No. 10 ranking after victories over Tennessee last Friday and previous No. 5 Ohio State on Sunday.
Top 10 again 😏#H2P pic.twitter.com/2ajbi3vyIe

— Pitt Volleyball (@Pitt_VB) September 19, 2022
Update (1:42 PM)-
🔥🔥 🔥 Power Rankings 🔥🔥🔥 pic.twitter.com/NtrJo7Oexw

— WPIAL Sportsmen (@wpialsportsnews) September 18, 2022
Update (1:00 PM)-
Report: James Conner avoided serious ankle injury. https://t.co/HY9cqVtWOn

— ProFootballTalk (@ProFootballTalk) September 19, 2022
Update (12:45 PM)-
No time set yet for Pitt's opening ACC game against Georgia Tech. The game is a six-day hold, so we won't know until Sunday.

— Amanda Godsey (@AmandaFGodsey) September 19, 2022
Update (11:14 AM)-
Get to know graduate student/guard @Tevin1123! #GoDukes pic.twitter.com/1hLZZ2B2rq

— Duquesne Basketball (@DuqMBB) September 19, 2022
Update (9:25 AM)-
Pitt's Deslin Alexandre is on the 2022 AFCA Allstate Good Works Team!

This prestigious honor recognizes football student-athletes dedicated to community service and making an impact on the lives of others.#H2P » #WeNotMe pic.twitter.com/PqMvo6SKNA

— Pitt Football (@Pitt_FB) September 19, 2022
Update (9:15 AM)-
🚨POWER RANKINGS!🚨 We've got some movement here. Should make for a fascinating weekend!

What y'all think??? pic.twitter.com/va7CBXOQ6h

— Eric Mac Lain (@EricMacLain) September 19, 2022
Update (9:09 AM)- 
100% accurate bowl projections are back! https://t.co/0NbRbN38uH

— Bill Bender (@BillBender92) September 19, 2022
An unprecedented week got even better for Sun Belt, which gets an additional bowl bid this season. That news plus my updated @ActionNetworkHQ bowl projections, including New Year's 6 bowl bound Tennessee, Clemson, OU, USC, Penn State & Appalachian Statehttps://t.co/cYyYkJmFVZ pic.twitter.com/MsH76IiZTv

— Brett McMurphy (@Brett_McMurphy) September 19, 2022
Update (8:03 AM)-
#Broncos HC Nathaniel Hackett said rookie CB Damarri Mathis stepped up after Patrick Surtain went out with an injury.

Said moment was not too big for him as a rookie.

— Cody Roark (@CodyRoarkNFL) September 18, 2022
Around the Network
The Walker Report: Nicholas Singleton Can Be the Difference Maker in the Big Ten Conference Race
Watch: SN's Alan Saunders on WPXI Final Word after Steelers Loss to Patriots
PHN Blog: Penguins Prospects Changing Identity, Bring the Rough Stuff
Emotions run high in Duquesne's A-10 opening 2-1 win vs Loyola (Ill)