The Frank Walker Law/PSN Daily Notebook- September 18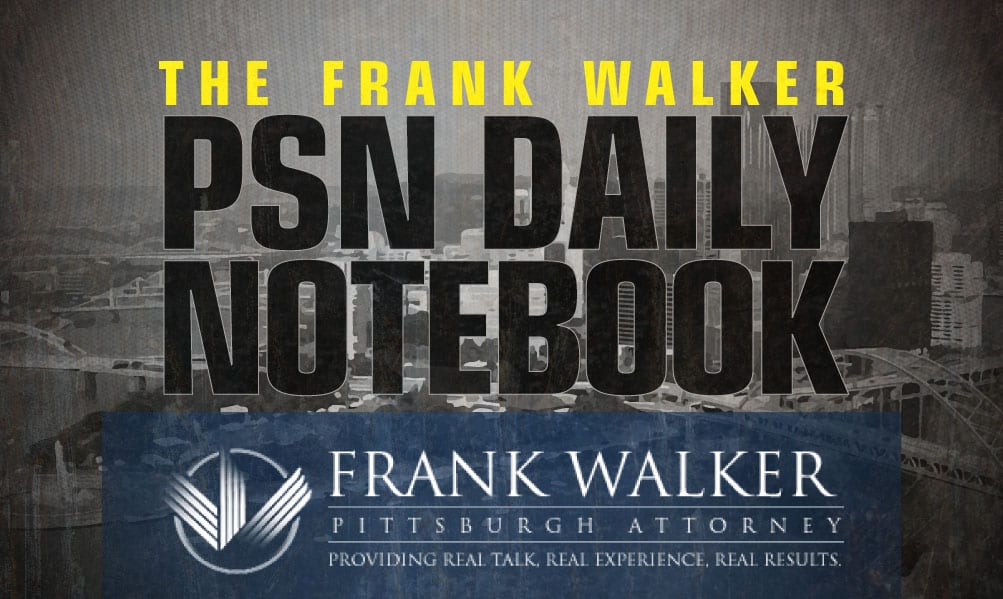 The PSN Daily Notebook is sponsored by Frank Walker, one of Pittsburgh and West Virginia's most respected criminal defense and injury lawyers. Mr. Walker has offices in Pittsburgh and Morgantown and has been named one of Top 100 National Trial Lawyers and is rated a perfect 10.0 Superb by Avvo for ethics, experience and results. To reach Mr. Walker, you can call 412-532-6805 or go to his website frankwalkerlaw.com. For real talk, real experience and real results, contact Frank Walker Law.
Update (12:16 PM)- 
**This morning, Andre Powell and Pitt extend an offer to 2025 athlete Jeff Exinor from McDonogh High School in Owings Mills, Maryland. Exinor (6'3", 205) holds offers from Penn State, Virginia Tech, Boston College and Marshall.
I am blessed and honored to announce that I have received an offer to play football at the University of Pittsburgh. Thank you @CoachAPowell 🙏🏿 pic.twitter.com/mXU4Uf6HAP

— Jeff Exinor (@JrExinor) September 18, 2022
Update (12:11 PM)- 
RBU put on a show in Kalamazoo 🎥

48 carries, 250 yards, 2 TD 📈@IAbanikanda @VeeDee_II @c_borius @KING__CARTER5 #H2P » #WeNotMe pic.twitter.com/gYkkzI4hch

— Pitt Football (@Pitt_FB) September 18, 2022
Landed in Pittsburgh 🛬

Enjoyed that road trip ✅#H2P » #WeNotMe pic.twitter.com/S9h8H9juku

— Pitt Football (@Pitt_FB) September 18, 2022
Update (12:10 PM)-
Highlights 🎥 Pitt 34, WMU 13#H2P » #WeNotMe pic.twitter.com/atkTPddaKX

— Pitt Football (@Pitt_FB) September 18, 2022
Update (9:42 AM)-
**Robert Morris men's basketball has extended an offer to 2023 3-star point guard Jayden Lemond from Blair Academy in New Jersey. Lemond holds offers from Auburn, Bryant, UConn, Florida, George Washington, Georgia Tech, Hofstra, Oklahoma State, Penn State, Providence, Seton Hall, St. John's, TCU, Vanderbilt and Wichita State.
6'4 Jayden Lemond '23
Kid is a gym rat, LOVES to play and is a Winner. Has put on 12 lbs of muscle since last year. He will make a college coach very happy. @Jayden_Lemond3 @CoachMantegna @CoachCaldera https://t.co/ezh9bnTiVg

— Coach DeJesus (@JDEJESUS33) September 2, 2022
Update (9:27 AM)-
**On Saturday, Norwin 2024 athlete Jackson Pons received an offer from Kent State while on an unofficial visit. The 6'1″, 185-pound athlete also holds offers from Mississippi State, Toledo and Bowling Green.
Week 2️⃣ film great team win this week
4 catches 96 yards 2TD – 111 total yards
5 tackles 2 pbu @NKnightsFBall @TristynTavares @coachwil_412 @WestmorelandSN @wpialsportsnews @PRZPAvic @Cover3_ATH @210ths @BillBeckner @FSQ_Sports pic.twitter.com/iUsMN2vzV4

— Jackson Pons (@jackson_pons) September 11, 2022
Around The Network
Pittsburgh Hockey Now: 'More a Man Now,' Legare Infuriates Bruins, Propels Prospects to 6-4 Win
Steelers Now: Dan Marino Talks about Almost Signing with Steelers in 2000
Pittsburgh Baseball Now: Pirates' Young Players Finding Footing With Experience, Second Chances (+)
WVU Sports Now: West Virginia Football Dominates Towson, Claiming first Win for Mountaineers
Nittany Sports Now: Singleton, Allen, Defense Shine in Penn State's Victory Over Auburn