The Frank Walker Law/PSN Daily Notebook- October 11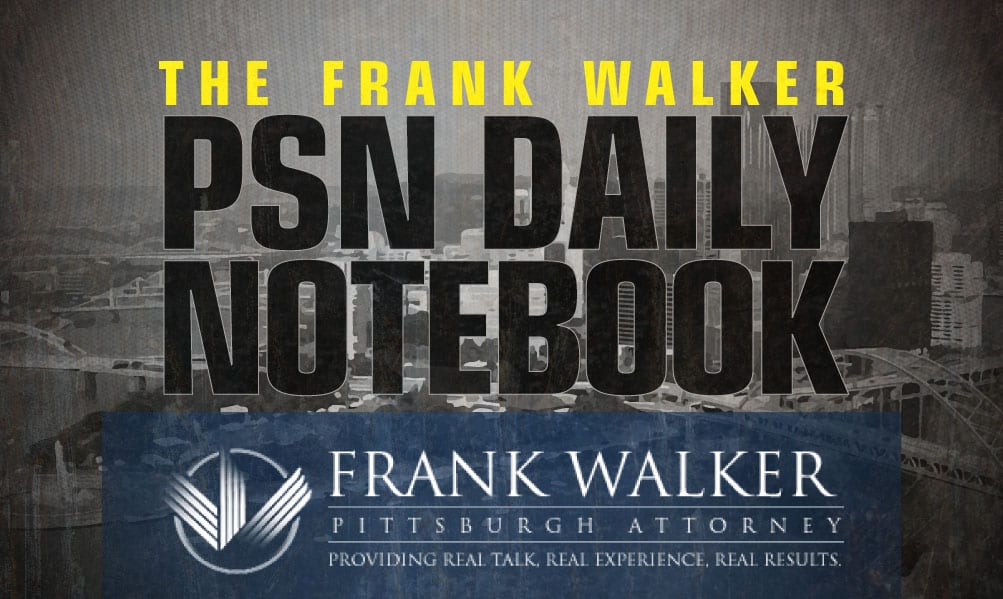 The PSN Daily Notebook is sponsored by Frank Walker, one of Pittsburgh and West Virginia's most respected criminal defense and injury lawyers. Mr. Walker has offices in Pittsburgh and Morgantown and has been named one of Top 100 National Trial Lawyers and is rated a perfect 10.0 Superb by Avvo for ethics, experience and results. To reach Mr. Walker, you can call 412-532-6805 or go to his website frankwalkerlaw.com. For real talk, real experience and real results, contact Frank Walker Law.
Update (5:50 PM)- 
**Pitt extends an offer today to 2024 3-star athlete Shamar McIntosh from St. John's High School in Washington DC. McIntosh (6'2", 200) got the news from Andre Powell and has other other offers from Boston College, Liberty, Marshall, Maryland, Toledo and West Virginia.
https://t.co/q9dGW0pBAl Go tune in to my mid season highlights ‼️ @MikeWard71 @patward71 @RashodGillespie @SJCGridiron

— therealshamarr (@ShamarMcintosh) October 9, 2022
Update (4:29 PM)- 
**Today, 2024 linebacker Davin Brewton received an offer from Tiquan Underwood and Pitt. The native of Red Bank, New Jersey has also received offers from Syracuse and West Virginia.
https://t.co/lp1p8STiQn check out first four game highlights 4-0! Just ring chasing with the boys! @CoachLangeRBC

— Davin Brewton (@dav_brewt) September 21, 2022
Update (2:03 PM)-
🏆 National RB of the Week 🏆

Israel Abanikanda » @IAbanikanda

The Doak Walker Award has recognized Abanikanda for his historic performance.#H2P » @DoakWalkerAward pic.twitter.com/GWfCR3uslZ

— Pitt Football (@Pitt_FB) October 11, 2022
Update (11:09 AM)-
Most all-purpose yards, Week 6:

1) Israel Abanikanda, Pitt: 1,117
2) Johnnie Lang, Ark. St: 1,044
3) Chase Brown, Illinois: 933
4) Devon Achane, Texas A&M: 912
5) Evan Hull, Northwestern: 895
6) Raheim Sanders, Arkansas: 880
7) Jahmyr Gibbs, 'Bama: 864
8) Brian Battie, USF: 862

— Cam Mellor (@CamMellor) October 11, 2022
Update (10:37 AM)-
**This past weekend, Lance White hosted 2026 freshman center Olivia Vukosa from Philadelphia. Vukosa holds offers from Texas, West Virginia, Maryland, DePaul, Harvard, Penn State, Boston College, Duke, Florida, Syracuse and Louisville.
I'm not sure I know too many HS or College coaches who did not ask Santa 🎅🧑‍🎄🤶for a 6-4 that runs the floor, plays facing & back to the basket , finishes at the rim, blocks shots, shoots the three ball and 💯% coachable kid @OVukosa pic.twitter.com/50ROBCP6a3

— NYGHoops (@NYGHoops) December 27, 2021
a little late but thank you for having me @GthingBBall i had a great time! @Ballislifegbb @Ballislife @NYGHoops @philly_rise @klhoops @overtime pic.twitter.com/KrNFtkdAfq

— Olivia Big"O" Vukosa (@OVukosa) September 13, 2022
Update (10:16 AM)-
Hey #70 @RyanBaer2003 HAPPY BIRTHDAY TO YOU!! pic.twitter.com/2OcAwcHc4T

— Heather (@Rouletaylor) October 11, 2022
Update (9:19 AM)- 
**2024 3-star cornerback Kevon Gray received an offer on Monday from Archie Collins and Pitt. Gray attends Creekside High School in Fairburn, Georgia. Along with Pitt, Gray (6'1", 170) has offers from Colorado, Louisville, Indiana and East Carolina.
Mid season highlights! #Swamp https://t.co/bssIDfDDCS

— Kevon Gray (@lockdownkev1) October 11, 2022
Update (8:50 AM)-
Giants Signed WR Robert Foster To Practice Squad https://t.co/Xuwv9Dea3C #Giants pic.twitter.com/fmHcxPFbsf

— NFLTradeRumors.co (@nfltrade_rumors) October 11, 2022
Update (8:30 AM)-
**Over the weekend, Lance White and the Pitt women's basketball program hosted Peters Township 2025 forward Nataile Wetzel on an unofficial visit. Wetzel also plays for the WPA Bruins AAU program. Wetzel currently holds an offer from Kent State.
Had a great visit @Pitt_WBB!! Thank you to all the coaches and players for making it such a fun day! @Pitt_CoachWhite @CoachTerri_Pitt @BriannaKiesel03 pic.twitter.com/2oT6viYU82

— Natalie Wetzel (@NatalieWetzel00) October 10, 2022
Update (8:20 AM)-
The Dolphins have signed DL Jaylen Twyman to their practice squad and cut DL Big Kat Bryant from their practice squad.

— Field Yates (@FieldYates) October 10, 2022
Update (8:10 AM)-
**Archie Collins and Pitt have extended an offer to 2025 defensive lineman London Merritt from Woodward Academy in Atlanta, Georgia. Merritt (6'3″, 230) previously received offers from Duke, LSU, Tennessee, Auburn, Boston College, Maryland, West Virginia and Coastal Carolina.
First few games of the season highlights!! – https://t.co/v8mS3jPSdC

— London Merritt (@merritt_london) September 13, 2022
Update (7:48 AM)–
**On Monday, Charlie Partridge and Pitt extended an offer to 2024 4-star cornerback Josh Philostin from Cardinal Newman High School in Fort Lauderdale, Florida. Philostin (5'11", 160) holds other offers from Penn State, Indiana and Ole Miss.
Highlights from first 3 games of the season. Making plays on all 3 phases of the game!! @JackDan55847282 @abeelam @JacobyFord12 @Andrew_Ivins @adamgorney @RWrightRivals @GHamilton_On3 @ErikRichardsUSA @SWiltfong247
https://t.co/X6gIEPd2PR

— Josh Philostin (@gocrazy_josh) September 16, 2022