The Frank Walker Law/PSN Daily Notebook- January 3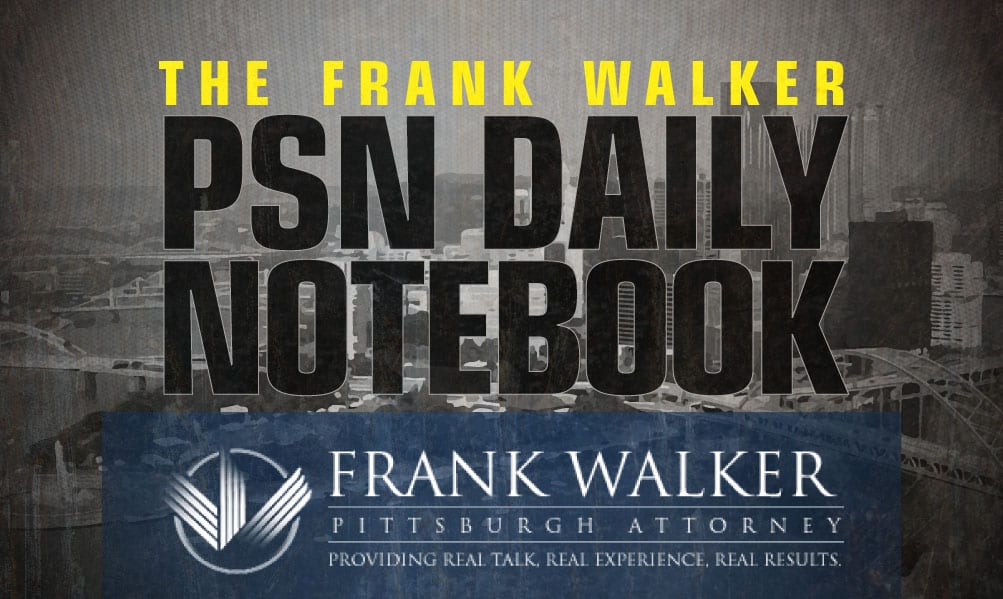 The PSN Daily Notebook is sponsored by Frank Walker, one of Pittsburgh and West Virginia's most respected criminal defense and injury lawyers. Mr. Walker has offices in Pittsburgh and Morgantown and has been named one of Top 100 National Trial Lawyers and is rated a perfect 10.0 Superb by Avvo for ethics, experience and results. To reach Mr. Walker, you can call 412-532-6805 or go to his website frankwalkerlaw.com. For real talk, real experience and real results, contact Frank Walker Law.
Update (7:44 PM)- 
Former Pitt defensive end Dewayne Hendrix worked out with the Atlanta Falcons.

Spent the last two seasons with the Toronto Argonauts in the CFL. He won the Grey Cup with them in 2022 https://t.co/pIvvy5zDqU

— Dominic Campbell (@DOMISMONEY) January 4, 2023
Update (1:20 PM)-
Great to see such support from everyone… pic.twitter.com/VgVcHDpVxz

— HailToPitt (@HailToPitt68) January 3, 2023
Update (12:55 PM)-
Klay Thompson opened up his postgame press conference by offering his condolences to Bills safety Damar Hamlin and his family 🙏 pic.twitter.com/PrnnF0l3C0

— Warriors on NBCS (@NBCSWarriors) January 3, 2023
Update (11:24 AM)-
With you every step of the way 3!! ❤️ @HamlinIsland https://t.co/V5ep99pvjT

— Kenny Pickett (@kennypickett10) January 3, 2023
Update (10:19 AM)-
Pitt has another chance to move the needle tonight at home against Virginia.

Panthers are on the verge of tangible momentum nationally. Have won 9 of 10.

The Pete should be on FIRE.

— Jon Rothstein (@JonRothstein) January 3, 2023
Update (9:06 AM)-
Damars parents wanted me to get this out there:

Beware of people requesting cash app donations and making GoFundMe's.

If you do want to support Damar's foundation, his initial toy drive campaign has turned into the central location for that. https://t.co/9jIDfD54zF

— Jordon Rooney (@jordonr) January 3, 2023
Update (8:26 AM)-
An image that will stick with me for a long time @WLWT pic.twitter.com/OBZnzIedTj

— Hannah Thomas (@HannahPThomas) January 3, 2023
Update (8:05 AM)-
**On Monday, Pitt extended an offer to freshman defensive lineman Preston Carey. The 6'5″, 280-pound defensive end/defensive tackle also holds offers from Georgia, LSU, Michigan, Penn State, Rutgers, Texas A&M and Temple. Carey received the news from Pat Narduzzi and Tim Salem.
𝟔'𝟓" 𝟐𝟖𝟎𝗟𝗕 𝗗𝗘/𝗗𝗟 𝗙𝗥𝗘𝗦𝗛𝗠𝗔𝗡 𝗩𝗔𝗥𝗦𝗜𝗧𝗬 𝗦𝗘𝗔𝗦𝗢𝗡 𝗛𝗜𝗚𝗛𝗟𝗜𝗚𝗛𝗧𝗦 ⬇️ https://t.co/uetctbUuRh
.
𝗔𝗔𝗔 𝗦𝗧𝗔𝗧𝗘 𝗖𝗛𝗔𝗠𝗣𝗜𝗢𝗡𝗦@JeremyO_Johnson @ChadSimmons_ @BrianDohn247 @MohrRecruiting @RivalsFriedman @samspiegs @SWiltfong247 @AWilliamsUSA pic.twitter.com/VDxnE8y77P

— 𝐏𝐫𝐞𝐬𝐭𝗼𝐧 𝐉. 𝐂𝐚𝐫𝐞𝐲 '𝗣𝗝' (@PrestonJCareyPJ) December 12, 2022
Update (7:58 AM)-
**This morning, Imani Christian Academy 2025 outside linebacker Dayshaun Burnett received an offer from Michigan State. Burnett (6'2″, 205) is one of the top sophomores in the WPIAL. Along with the Spartans, Burnett also holds offers from Pitt, Penn State, West Virginia, Rutgers, Toledo and Akron.