The Frank Walker Law/PSN Daily Notebook- January 19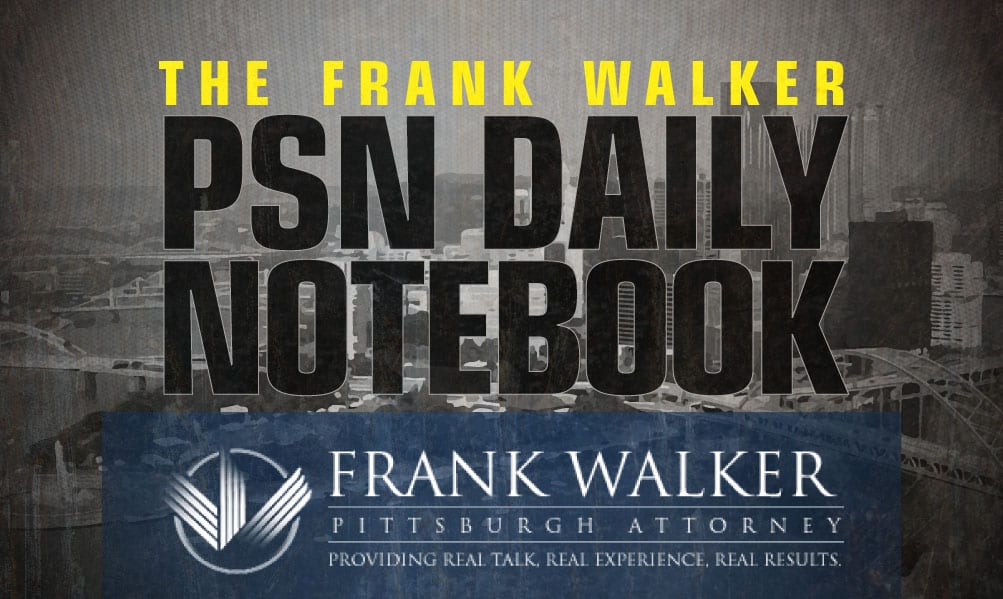 The PSN Daily Notebook is sponsored by Frank Walker, one of Pittsburgh and West Virginia's most respected criminal defense and injury lawyers. Mr. Walker has offices in Pittsburgh and Morgantown and has been named one of Top 100 National Trial Lawyers and is rated a perfect 10.0 Superb by Avvo for ethics, experience and results. To reach Mr. Walker, you can call 412-532-6805 or go to his website frankwalkerlaw.com. For real talk, real experience and real results, contact Frank Walker Law.
Update (12:38 PM)- 
**Pitt is throwing their hat in the ring for one of the top juniors in the country. Today, Tiquan Underwood extended an offer to 2024 4-star wide receiver Jeremiah Mcclellan from Christian Brothers College HS in Saint Louis, Missouri. 247 Sports rates Mcclellan as one of the Top 100 overall players in the Class of 2024. His long list of offers include Arkansas, Colorado, Miami, Michigan, Michigan State, Mississippi State, Nebraska, Notre Dame, Oklahoma, Ohio State, Oregon, Penn State, South Carolina, Tennessee, Texas and Texas A&M.
Check out my highlight –https://t.co/0yA1gFWqv1 14 games
61 catches 1,103 yards 18.2 yac
1,640 All purpose yards
18 touchdowns (13 rec TD)
14 tackles 4 sacks (6 games)
13 punts 433 yards 33.3 avg
7 KOR 29.3 avg
STATE CHAMP 💍

— Jeremiah Mcclellan (@jay_mac2481) December 5, 2022
Update (10:46 AM)-
Jaland Lowe is the ultimate point guard for the Fort Bend Marshall Buffs. Not only does he get his teammates involved, but in crunch time he can be counted on to make a key bucket. @jalandlowe is committed to @Pitt_MBB and is our Week 22 @ParkerUniv Bobblehead recipient. #ihss pic.twitter.com/0wzScmUDam

— Houston Inside High School Sports (@ihss_houston) January 17, 2023
Update (10:20 AM)- 
Greg Elliott goes for a season high 23 points in the Panthers' 75-54 win over Louisville!@Pitt_MBB | #ACCMBB pic.twitter.com/hvMwIi3wiJ

— ACC Digital Network (@theACCDN) January 19, 2023
🎥: Highlights from the 75-54 victory over Louisville for our 4th ACC road win

📝: https://t.co/57HJaYt2cf
🎟️: https://t.co/GGbAssEQCz pic.twitter.com/FpWky60FPJ

— Pitt Basketball (@Pitt_MBB) January 19, 2023

Update (10:07 AM)-
**This morning, Andre Powell and Pitt offer elite sophomore running back Alvin Henderson from Elba, Alabama. Henderson already holds an impressive list of 30+ offer including Alabama, Arkansas, Auburn, Florida State, Georgia, Miami, North Carolina, Notre Dame, Penn State, Ole Miss, Tennessee, Texas, Texas A&M, Baylor, Iowa, TCU, Oklahoma State, Texas Tech, Utah and Washington State. This past season, Henderson had 195 carries for 2,636 yards and 49 touchdowns.
— "𝐀" 𝐓𝐑𝐀𝐈𝐍 2️⃣ 𝐇𝐄𝐍𝐃𝐄𝐑𝐒𝐎𝐍 (@AlHenderson_1) November 6, 2022
Update (10:02 AM)-
Pitt Basketball is 13-6 (6-2 ACC).

5-2 on the road. 0-2 neutral court. 8-2 at home.

3-2 Vs. Quad 1.
2-4 Vs. Quad 2.
1-0 Vs. Quad 3.
7-0 Vs. Quad 4.https://t.co/cDTYSRvcTy: No. 60
NET: No. 52 pic.twitter.com/AdkiQRIWYl

— George Michalowski (@MichalowskiCBB) January 19, 2023
Update (9:25 AM)-
**Three more offers from the Pitt football staff:
–2025 athlete Julian Mendez (6'1″, 190-pounds) from Western High School in Davies, Florida. This is his first D-1 offer and received it from Charlie Partridge.
–2023 running back Edward Robinson III from Maple Heights, Ohio. Robinson received this PWO opportunity from Archie Collins.
–2024 edge rusher Xavier Gilliam from Columbia, Maryland. Gilliam also holds offers from Boston College, Duke, Liberty, Ole Miss, Virginia Tech and Wake Forest.
🎓: 2024
🏈: DE/OLB
📏: 6'3" 245 lbs ✅
📲:@FTRreport
🎞: Junior Highlights ⚠️https://t.co/WGQpKsOaD3

🏫: Wilde Lake High School (MD) pic.twitter.com/JiPf779dOG

— Xavier Gilliam (@XavierGilliam_) December 4, 2022
Update (9:07 AM)-
**Another offer from Charlie Partridge to a young prospect in Florida, as this one goes to 2024 offensive and defensive lineman Jimmy Williams from American Heritage School Plantation in Miami Gardens, Florida. Williams (6'5″, 270-pounds) also holds offers from Central Florida, Duke, Syracuse and Akron.
Looking to get back to state. 1 yr left to go. American Heritage (Plantation) RT/LT 6'5 280 3.4 gpa. Hometown-Miami Gardens, FL. @larryblustein @JerryRecruiting @TheCribSouthFLA @247Sports @DP214EVER @Spiva55 @Rivals @On3Recruits @305Sportss @SunSentinel https://t.co/GArSTxfb5U

— Jimmy Williams III (@3timesJw) December 21, 2022
Update (8:37 AM)-
**On Wednesday, Charlie Partridge and Pitt extended an offer to 2025 edge rusher Jacob Joseph from Western High School in Davie, Florida. This becomes the first D-1 offer for Joseph (6'1″, 220-pounds).
https://t.co/OzNrSfZuTS @CoachRack75 @TheCribSouthFLA @JerryRecruiting @larryblustein @BenjaminRivals @chop_ortega

— Jacob Joseph (@JacobJoseph07) November 20, 2022