The Frank Walker Law/PSN Daily Notebook- October 5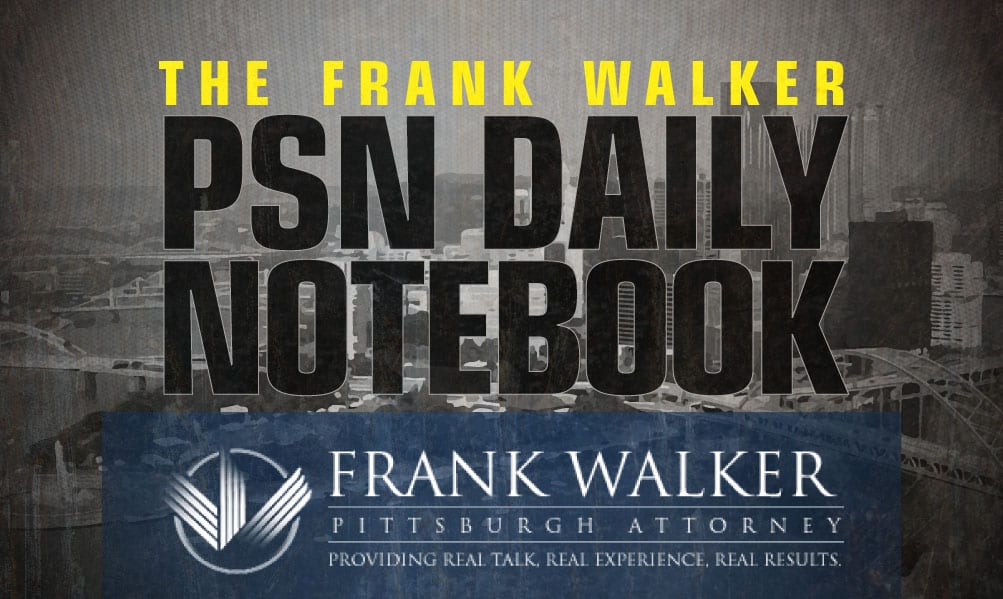 The PSN Daily Notebook is sponsored by Frank Walker, one of Pittsburgh and West Virginia's most respected criminal defense and injury lawyers. Mr. Walker has offices in Pittsburgh and Morgantown and has been named one of Top 100 National Trial Lawyers and is rated a perfect 10.0 Superb by Avvo for ethics, experience and results. To reach Mr. Walker, you can call 412-532-6805 or go to his website frankwalkerlaw.com. For real talk, real experience and real results, contact Frank Walker Law.
Update (1:40 PM)-
#Steelers Won't Modify Game Plan Because of Kenny Pickett Injuryhttps://t.co/vuet5D4D9N pic.twitter.com/is89ue2SdY

— Steelers Now (@PghSteelersNow) October 5, 2023
Update (1:20 PM)-
**Power Five offer No. 4 for Fort Cherry 2026 athlete Matt Sieg. Syracuse joins previous offers from Pitt, Penn State and Nebraska.
I am beyond excited to say I have received an offer from Syracuse University🍊@DL_theHUNT @TannerGarry3 @FortCherryFB @210ths pic.twitter.com/D9CMfmrxx8

— Matt Sieg (@matt_sieg) October 5, 2023
Update (12:48 PM)-
Huge news from NCAA: Tez Walker is eligible for the Tar Heels this year. NCAA: "Staff determined the new information qualifies Walker for a transfer waiver. The information had not been made available by UNC previously, despite the school's multiple chances to do so."

— Pete Thamel (@PeteThamel) October 5, 2023
Update (12:04 PM)-
Experience March Madness in Pittsburgh! 🏀

Don't miss this presale opportunity to purchase tickets before the general public. Use promo code NCAA24DUQ to get your tickets TODAY!
🎟️: https://t.co/Cug0xO0syA

Presale ends Friday, October 6 at 11:59pm EST. pic.twitter.com/tRRDRVuVuD

— Duquesne Athletics (@GoDuquesne) October 5, 2023
Update (10:42 AM)-
**Pitt football extends an offer to 2025 offensive lineman Joshua Williams from The Haverford School in Haverford, Pennsylvania. Williams (6'5″, 300-pounds) plays both offensive tackle and offensive guard. Williams holds other offers from Stanford, Duke, West Virginia, California, Penn State, Virginia, Nebraska and Boston College.
Have you ever seen a Big Man roll? The Haverford School @JoshWilliams468 shows off some speed in the 100m dash clocking 12.8 seconds.

Go Fords pic.twitter.com/Probd4KBP4

— Haverford Track (@FordsTrack) April 21, 2023
Update (10:11 AM)-
Heart , Soul, Passion ,Strength. #shoresportsnetwork #H2P pic.twitter.com/UW1KO6CpHT

— Davin Brewton (@dav_brewt) October 5, 2023
Update (9:56 AM)- 
**Congrats to McKeesport freshman running back/safety Kemon Jones for picking up an offer today from Marshall. Jones also holds offers from Pitt and UNLV.
#AGTG Marshall Offered #Goherds @street_ralph @HerdFB @McKTigersFB @210ths @PA_TodaySports @MohrRecruiting @EdOBrienCFB @RivalsFriedman pic.twitter.com/qMUUUkGXWP

— Kemon Jones (@KemonJones9) October 5, 2023

Update (9:53 AM)-
Inexplicable things so far in college football.

1.LSU defense
2.Pitt
3.Alex Grinch earning a paycheck
4.Washington State and Oregon State unwanted.
5.Clemson's regression

— Mike Farrell (@mfarrellsports) October 5, 2023
Update (9:45 AM)- 
**Latrobe 2025 athlete Alex Tatsch remains on a recruiting tear as he picks up his 4th Power 5 offer. Along with Cincinnati, Tatsch holds offers from Virginia Tech, West Virginia and Boston College.
Check out this highlight! https://t.co/pQ2jf7F0Ps

— Alex Tatsch (@AlexTatsch5) September 5, 2023
Very blessed to receive an offer from the University of Cincinnati‼️⚪️⚫️@CortBraswell @CoachJBrandon @GoBearcatsFB @GLCATATHLETICS pic.twitter.com/HrjgopTe3M

— Alex Tatsch (@AlexTatsch5) October 5, 2023