The Frank Walker Law/PSN Daily Notebook- October 6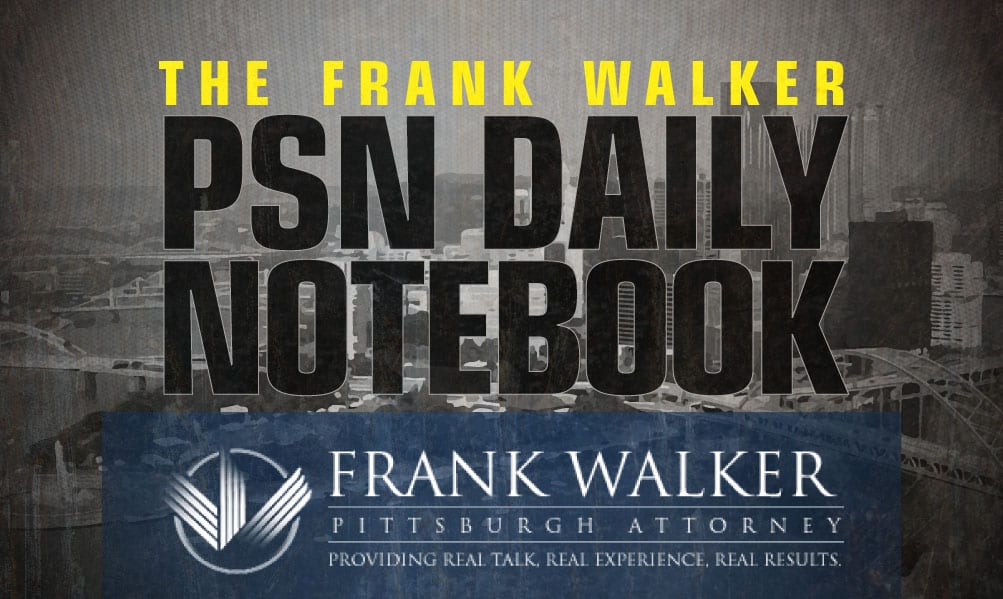 The PSN Daily Notebook is sponsored by Frank Walker, one of Pittsburgh and West Virginia's most respected criminal defense and injury lawyers. Mr. Walker has offices in Pittsburgh and Morgantown and has been named one of Top 100 National Trial Lawyers and is rated a perfect 10.0 Superb by Avvo for ethics, experience and results. To reach Mr. Walker, you can call 412-532-6805 or go to his website frankwalkerlaw.com. For real talk, real experience and real results, contact Frank Walker Law.
Update (3:14 PM)-
A little birdie 🐥 has informed me that while out on their Bye Week, the Pitt Football coaches will be in attendance at the following games:

– Central Catholic vs Pine Richland
– Penn Hills vs Fox Chapel
– Aliquippa vs Blackhawk

Be sure to play your best 👀

— WPIAL Insider (@WPIAL_Insider) October 6, 2023
Update (2:44 PM)- 
**Pitt football extends an offer to 2025 athlete Darian Blachewicz from Millville, New Jersey. This is his first D-1 offer, which he received from Tiquan Underwood.
Blessed and Honored to receive an offer from the University of Pittsburgh@CoachDuzzPittFB @TiUnderwood @Pitt_FB @TheVilleBolts @TBoltAthletics pic.twitter.com/Gz8jgJxfF4

— Darian Blachewicz (@DarianB_1) October 6, 2023
Update (12:30 PM)-
Dick Butkus became legendary as one of the fiercest linebackers in NFL history, but folks around the #WPIAL might remember him as "Coach" Butkus. https://t.co/AnLpM385fj

— Chris Harlan (@CHarlan_Trib) October 6, 2023

Update (8:42 AM)-
Friday night lights! Excited to get out and see some great players and coaches today!!! #BAM #WeNotMe #H2P pic.twitter.com/Q9ikdC5RKt

— Pat Narduzzi (@CoachDuzzPittFB) October 6, 2023
Update (8:32 AM)-
**The second Power Five offer is in for Central Valley 2026 OL/DT Brendan Alexander, as he receives one from NC State. Offer No. 1 came from James Franklin and Penn State.
Mid season 10 minutes🔥🔥
6"4 270!!!@210ths @wpialsportsnews @PA_TodaySports @CoachTerryPSU @7Twice @AdamCalt @coachcsanders @JonesVTFB @Spotlight39_Pod https://t.co/qo0xbuFb5m

— Brendan Alexander (@BrendanAlex50) September 26, 2023
Update (8:24 AM)-
**Power Five offer No. 5 for Fort Cherry 2026 athlete Matt Sieg. West Viriginia joins previous offers from Pitt, Penn State, Syracuse and Nebraska.
After a great conversation with @CoachWright37 I am excited to announce that I have received an offer from WEST VIRGINIA UNIVERSITY🔵🟡@TannerGarry3 @FortCherryFB @210ths pic.twitter.com/kyOgt254XM

— Matt Sieg (@matt_sieg) October 6, 2023