Weed Man/PSN Recruiting Notebook: July 16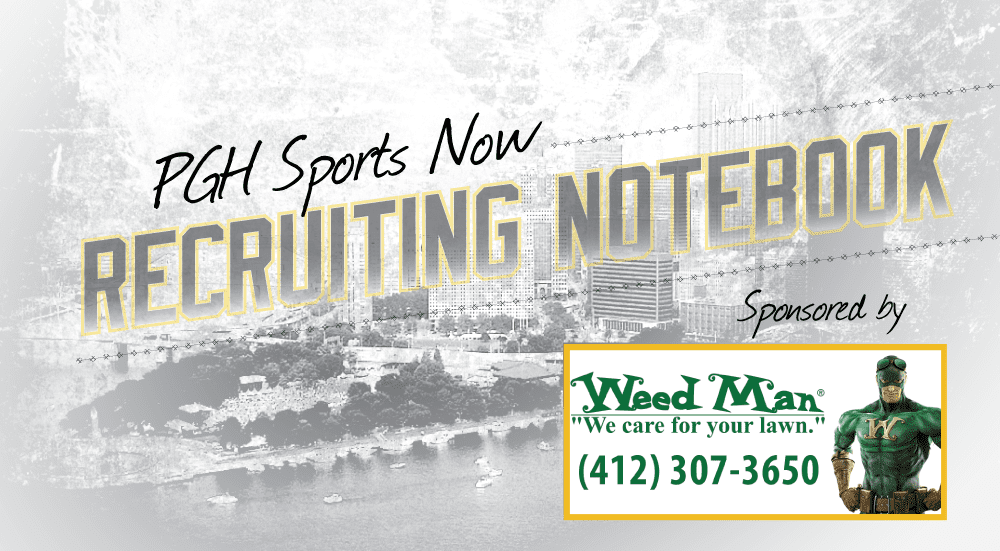 The PSN Recruiting Notebook, your home for updated recruiting news on Pitt, Duquesne, Robert Morris and the WPIAL, is sponsored by Weed Man USA Lawn Care. For more than 45 years, the team at Weed Man Lawn Care have safely and effectively cared for your lawn, so you and your family can experience it at its best. Contact them for a free online quote for any of your lawn issues. Weed Man Lawn Care will transform your lawn from a burden into a paradise.
UPDATE (9:52 PM)-
https://twitter.com/brycenelms58/status/1019038014738239488?s=21
Pitt showing love @CoachTimSalem #H2p pic.twitter.com/UMti9hndGl

— iceman koontz (@koontz101) July 17, 2018
UPDATE (7:36 PM)-
#H2P 🐾💯 Who else wants to be a part of something legendary?? pic.twitter.com/Y9mLLtcGJ2

— Davis Beville (@DBthaQB11) July 16, 2018
Get you A Copy 🐾💙💛
COMING SOON🤫 pic.twitter.com/SfIsw5O8Je

— Brandon Hill (@brandonhill_6) July 16, 2018
#H2P 🐾🔑 pic.twitter.com/CIt8WJeMTz

— ⚡️Kyi Wright‼️ (@Kyi_Dorian3) July 16, 2018
UPDATE (7:23 PM)-
My School Showing Major Love #H2P🔑 pic.twitter.com/ESp539ed4r

— 🧸²³ (@Hvmble23) July 16, 2018
UPDATE (5:44 PM)-
"How do you figure out how to beat someone? That's what we have to learn to do, every day."@jeffcapel #ZooEra pic.twitter.com/Y4eaU4lq5i

— Pitt Basketball (@Pitt_MBB) July 16, 2018
UPDATE (4:35 PM)-
'19 C Olanrewaju Olamuyiwa of Team St8ment has received an offer from Robert Morris, per a source

— Adam Ayalew (@AyalewAdam) July 16, 2018
UPDATE (4:17 PM)-
**After an impressive AAU performance this weekend, Jeff Capel has extended an offer to 2019 point guard North Carolina guard Caleb Mills. The 6-3 guard also received offers today from from Xavier, Florida State, Mississippi State and Providence. Previously, Mills had offers from  Clemson, Cincinnati, Houston and VCU.
UPDATE (3:46 PM)-
https://twitter.com/savagejuice_4/status/1018602452562726912?s=21
UPDATE (10:47 AM)-
I've been told by an excellent source that Oscar Tshiebwe informed Pitt that he is no longer interested in them. That's why Pitt wasn't watching him this weekend. Was also told there was nothing Capel could do. It's been agreed to for awhile now that he'll end up at WVU.

— Chris Dokish (@ChrisDokish) July 16, 2018
UPDATE (10:40 AM)-
Southmoreland's Maggie Moore commits to Naval Academy https://t.co/6QQRsWhqAe #WPIAL #TribHSSN @SHSAthletics4U pic.twitter.com/1qAbSsHwzG

— TribLive HSSN (@TribLiveHSSN) July 16, 2018
UPDATE (10:35 AM)-
*Over the weekend, Kennedy Catholic 2019 4-star center Oscar Tshiebwe received an offer from Baylor.