The Frank Walker Law/PSN Daily Notebook: October 5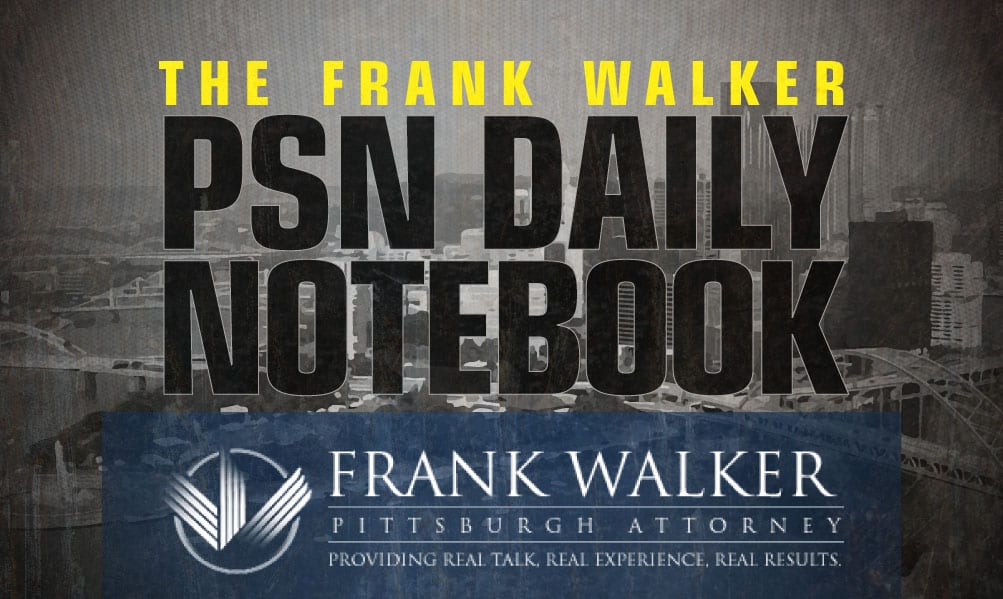 The PSN Daily Notebook is sponsored by Frank Walker, one of Pittsburgh and West Virginia's most respected criminal defense and injury lawyers. Mr. Walker has offices in Pittsburgh and Morgantown and has been named one of Top 100 National Trial Lawyers and is rated a perfect 10.0 Superb by Avvo for ethics, experience and results. To reach Mr. Walker, you can call 412-532-6805 or go to his website frankwalkerlaw.com. For real talk, real experience and real results, contact Frank Walker Law.
Update (8:29 PM)-
Sources: The Basketball Oversight Committees likely to recommend the D-1 Council vote next week on winter sports getting additional year.

Source: "It should pass based on precedence with fall sports."

— Jeff Goodman (@GoodmanHoops) October 6, 2020
Update (7:39 PM)-
Stay up young fella! We will keep fighting with you! ✊🏽🙏🏽🤞🏽 #H2P pic.twitter.com/TfWVX49GM2

— Jeff Capel (@jeffcapel) October 5, 2020
Update (5:00 PM)-
LeSean McCoy week-to-week with ankle injury https://t.co/ps2siymQYg

— ProFootballTalk (@ProFootballTalk) October 5, 2020
Update (4:52 PM)-
Source: Nebraska's Trey McGowens has received a waiver from the NCAA and is eligible for the 20-21 season.

Transfer from Pitt.

— Jon Rothstein (@JonRothstein) October 5, 2020
Update (3:50 PM)-
2 WPIAL teams earn national recognition from High School Football America https://t.co/lE5fOQXCpY #HSSN

— TribLive HSSN (@TribLiveHSSN) October 5, 2020
Update (2:57 PM)-
Nebraska offers in-state TE James Carnie, who has a commitment coming up in a week. https://t.co/dNlIN9SgwO https://t.co/FpJDRwAoEM

— Allen Trieu (@AllenTrieu) October 5, 2020
Update (1:16 PM)- 
**Kiski Area DE/TE Jack Dilts verbally commits this afternoon to the Duquesne Dukes.
Highlights vs Connellsville https://t.co/ojBOx1hpY8

— Jack Dilts (@jack_dilts) September 24, 2020
Committed! @CoachGribbin @CoachColemanDL @DuqFB @kiskifootball pic.twitter.com/1DWtg9EJvu

— Jack Dilts (@jack_dilts) October 5, 2020

Update (12:54 PM)-
CORRECTION:
Waldrum has taken the job with Nigerian National team, but he has just confirmed with me that he is NOT leaving Pitt!
Those tweets were incorrect where the reports were originally emanating. https://t.co/g4MjCfwJoG

— John Krysinsky (@JohnKrysinsky) October 5, 2020
Update (12:43 PM)-
The big Penn-Trafford at Gateway football game that was postponed for this Friday because of COVID-19 cases at Gateway, has been rescheduled for this Sunday at 7 p.m. at Gateway's Antimarino Stadium.

— Mike White (@mwhiteburgh) October 5, 2020

Update (11:40 AM)-
Week 6 Bowl Projections are 100 percent accurate in every way — even in 2020. https://t.co/YYa4aku7rO

— Bill Bender (@BillBender92) October 5, 2020
Update (10:39 AM)-
Congratulations to our male Student-Athlete of the Month for October, Domenic Nascimben of @DuqMSoccer. 🏆

Read more: https://t.co/FA3SyfKV7K#GoDukes pic.twitter.com/r0CFrdrWI8

— Duquesne Athletics (@GoDuquesne) October 5, 2020
Update (9:32 AM)- 
**Robert Morris football extends an offer to 2021 wide receiver/defensive back Shamilyn Joppy from Central Dauphin.
Very excited to have an opportunity to play D1 football at Robert Morris university thank you @CoachGHardin for the opportunity! pic.twitter.com/9F5DY32Kl5

— shamilyn joppy (@Joppy3x) October 3, 2020

Update (9:27 AM)-
🚨Here are my week 5 #ACC POWER RANKINGS! Not a ton of movement, things starting to take shape. Keep winning and you move up! Who is too high? Who is too low? #LetsGo!🚨 pic.twitter.com/5ABxbZumVz

— Eric Mac Lain (@EricMacLain) October 5, 2020
Update (7:36 AM)-
Working on the weekend like usual with my guy Jaylen Twyman. (@_jt55 )
I'm telling you whatever NFL team drafts him is getting a future All-Pro!!
Sack Sensei said it#thesacksensei #passrush #Dline #Dll #defensivelinetraining #Defensiveline #Sports #Football #Nfl #Nfldraft pic.twitter.com/uH7UPdt7oF

— Javon Gopie (@TheSackSensei) October 3, 2020
Thanks to @TheSackSensei for training me this weekend pic.twitter.com/24od1Mrq1N

— JT (@JaylenTwyman) October 4, 2020
Update (7:23 AM)-
Hahaha much love cam! https://t.co/B3ERIOqHe3

— JT (@JaylenTwyman) October 4, 2020
Bully squad https://t.co/bqaz4bHvpa

— Evolve (@Evolve2tenths) October 4, 2020