The Frank Walker Law/PSN Daily Notebook: May 7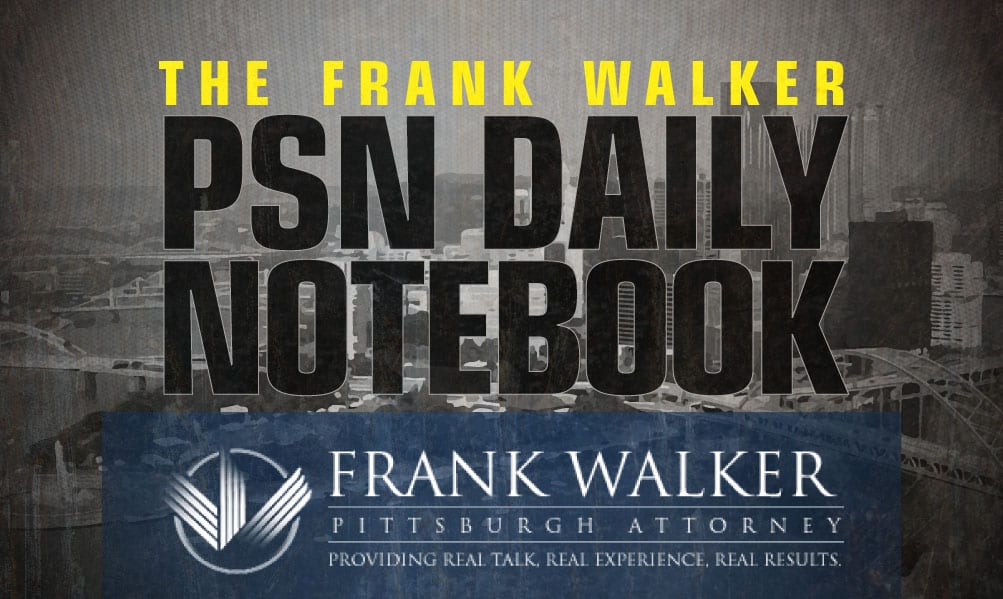 The PSN Daily Notebook is sponsored by Frank Walker, one of Pittsburgh and West Virginia's most respected criminal defense and injury lawyers. Mr. Walker has offices in Pittsburgh and Morgantown and has been named one of Top 100 National Trial Lawyers and is rated a perfect 10.0 Superb by Avvo for ethics, experience and results. To reach Mr. Walker, you can call 412-532-6805 or go to his website frankwalkerlaw.com. For real talk, real experience and real results, contact Frank Walker Law.
Update (6:08 PM)-
📅 MARK YOUR CALENDARS! 📅

The Colonials will find out who we face in the 2021 NCAA Tournament during the Women's Lacrosse Selection Show this Sunday at 9:00 p.m. on @ESPNU ! #RMUnite | 🔴🥍🔵 pic.twitter.com/eqwJPXFrLo

— RMU Lacrosse (@RMUWLacrosse) May 7, 2021
Update (4:06 PM)-
**Tim Salem and Pitt extend an offer to freshman defensive back Ellis Robinson IV from New Haven, Connecticut. Robinson (6'1″, 170) plays for Iona Prep and also holds offers from Ole Miss, West Virginia, Rutgers, Tennessee, Syracuse, Penn State and Utah State.
Update (4:01 PM)-
2022 Jalen Hood-Schifino received an offer from Tennessee #PhemomHoops https://t.co/xH44BOk3CS pic.twitter.com/hNmhlHUBXB

— Phenom_Exposure (@PhenomExposure) May 7, 2021
Update (3:46 PM)-
Lehigh transfer DB Divine Buckrham has committed to Robert Morris #FCS https://t.co/5EhHnI26dC

— NCAA Transfer Portal (@RivalsPortal) May 7, 2021

Update (3:17 PM)-
10 years ago (5/7/11): Ashton Gibbs returns for senior year at #Pitt. #H2P pic.twitter.com/99HJtowpFt

— PGH Sports History (@PGH_Sports_Date) May 7, 2021
Update (3:03 PM)-
ACC Coach of the Year, Jay Vidovich, joined #PackerAndDurham this morning!

Part one ⬇️#H2P pic.twitter.com/l9aYT5Lo5O

— Pitt Men's Soccer (@Pitt_MSOC) May 7, 2021
Update (1:55 PM)-
I'll say this, @Tipton_05 surely wants to help his team win on the football field but this is a student athlete that's winning at life. 'It's not where you start, its where you finish'. He can help so many people moving forward. An asset to the Panther family & others. 🙏🏼 pic.twitter.com/689ojuM9zO

— Harry G. Psaros (@PittGuru) May 7, 2021
Around the Network
Pittsburgh Soccer Now: The unstoppable juggernaut that is Pitt men's soccer rolls on to the Elite 8 for the first time in program history.
Nittany Sports Now: A look at how the Nittany Lions have fared recruiting the best players in Pennsylvania.
WV Sports Now: Neal Brown and the Mountaineers seem to be taking the Pitt approach when it comes to where they're recruiting.
Steelers Now: How the Steelers addressed their needs in the 2021 NFL Draft.
Pittsburgh Hockey Now: Pens torch Youngstown native and Pittsburgh area youth hockey player Michael Houser and the Sabres.