The Frank Walker Law/PSN Daily Notebook: May 14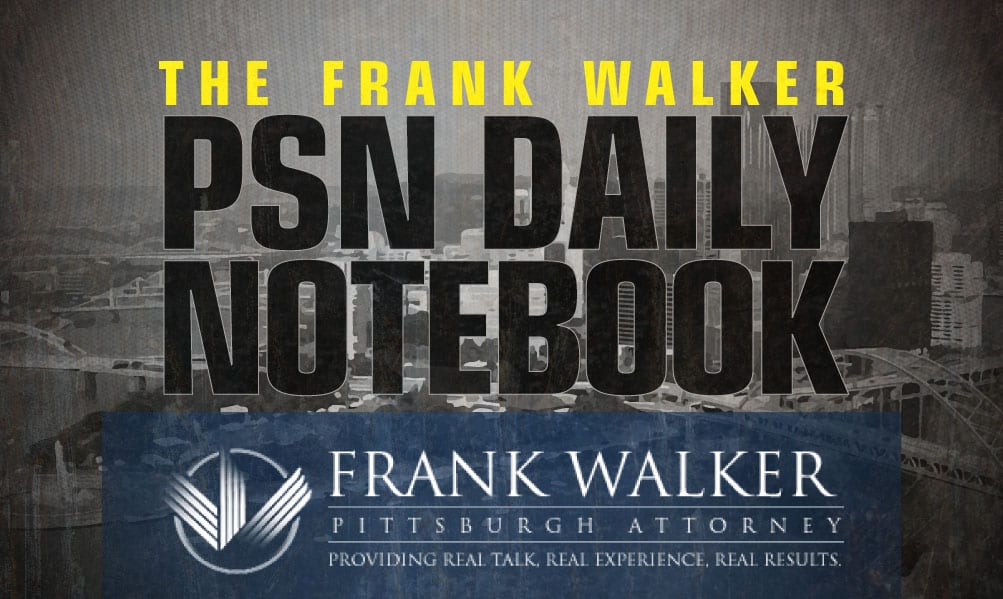 The PSN Daily Notebook is sponsored by Frank Walker, one of Pittsburgh and West Virginia's most respected criminal defense and injury lawyers. Mr. Walker has offices in Pittsburgh and Morgantown and has been named one of Top 100 National Trial Lawyers and is rated a perfect 10.0 Superb by Avvo for ethics, experience and results. To reach Mr. Walker, you can call 412-532-6805 or go to his website frankwalkerlaw.com. For real talk, real experience and real results, contact Frank Walker Law.
Update (7:52 PM)- 
**Pitt extends an offer today to 2023 4-star TE Lucky Lawson from Norcross, Georgia. Lawson (6'3", 225) holds other offers from Arkansas, Georgia, Florida State, Georgia Tech and South Carolina.
Check out my Sophomore Season highlights https://t.co/8j0t09Pph1 @CoHosch @CoachSanders14 @CoachRaw_ @ATLRecruits @TEwracademy

— luck (@lawson_luckie) December 21, 2020

Update (2:35 PM)-
The College Cup is here, and our head coaches have a message for Coach Vidovich and @Pitt_MSOC‼️#H2P pic.twitter.com/NzeLSvvHdz

— Pitt Athletics (@Pitt_ATHLETICS) May 14, 2021
Update (11:05 AM)-
Congratulations to Duquesne offensive tackle Jake Dixon, who earned @WeAreAFCA Second Team All-America Honors‼️ 🏆

📰: https://t.co/CyuY68fDeT #GoDukes pic.twitter.com/HsJBBv9H7c

— Duquesne Football (@DuqFB) May 14, 2021
Update (11:02 AM)-
Couldn't be prouder of this team.

Way to work in the classroom! 📚

NOTE: @kaylund9 earned a 4️⃣.0️⃣ for her first semester of grad school!#H2P pic.twitter.com/wOZdqkT6Jh

— Pitt Volleyball (@Pitt_VB) May 14, 2021
Update (10:51 AM)-
Senior #Pitt long jumper Kollin Smith earned first-team All-ACC honors and finished third in the ACC championship with a 24-foot, 6.5 inch jump.

Smith was once a walk-on DB for the Pitt football team.

— Alan Saunders (@ASaunders_PGH) May 14, 2021
Update (8:29 AM)-
It's @NCAASoccer #CollegeCup Semifinal Match Night!

Going all the way back to the hiring of Jay Vidovich, our team has been there every step of the way covering @Pitt_MSOC

You can find extensive coverage on Pitt men's soccer page. #H2Phttps://t.co/ycQZoOOfKw pic.twitter.com/CwjL4nCaWl

— Pittsburgh Soccer Now (@pghsoccernow) May 14, 2021
2️⃣ Panthers were named @UnitedCoaches ALL AMERICANS! 🏅

First Team: Valentin Noel (@Vlnt_Noel)
Second Team: Jasper Löeffelsend

✍️: https://t.co/wdbuUIsUvK#H2P pic.twitter.com/7TqKEJu4gI

— Pitt Men's Soccer (@Pitt_MSOC) May 13, 2021
Update (8:10 AM)-
**Two talented, major WPIAL girls basketball recruits picked up new D-1 offers on Thursday as 2022 Peters Township forward Journey Thompson received an offer from James Madison, while Moon 2022 guard/forward Emma Theodorsson received one from Miami, Ohio.
Check out my highlight – https://t.co/YTxUfrZPBF

— Emma Theodorsson (@emmatheodorsson) March 12, 2021
My junior year highlights! https://t.co/xgFFp93Bzf

— Journey Thompson (@JourneyT_2) March 23, 2021
Update (7:57 AM)-
**On Thursday, Cory Sanders and Pitt extend an offer to 2023 inside linebacker Phil Picciotti from Pennridge Upper Senior High School in Perkasie, Pennsylvania. Picciotti (6'3″, 225) also holds offers from Northwestern, Virginia, Purdue and West Virginia.
#33| Phil Picciotti, Soph. | RB/LB
ATHLETE
Class of 2023
Ht: 6'3" Wt: 225lbs
Pennridge HS(PA)
GPA:3.4
💎First Team All-League💎
⭐️Second Team All-State⭐️
Twitter Handle: @PhilPicciotti
Hudl: https://t.co/XtIvuKOodf

— Phil Picciotti (@PhilPicciotti) February 24, 2021
Update (7:51 AM)-
So very proud of and happy for this young man! Has grown up a lot over the past five months. He did an AMAZING job finishing strong academically. It's during difficult times when you find out who REALLY HAS YOUR BACK! @thejohnhugley now you KNOW! Time to go to work! #H2P pic.twitter.com/JuaXlmGmvX

— Jeff Capel (@jeffcapel) May 13, 2021
Update (7:33 AM)-
**Despite only being a freshman, Central Catholic 2024 middle linebacker Anthony Speca continues to draw major Power 5 interest. On Thursday, Speca received an offer from Purdue, his fourth Power Five offer. Speca also holds offers from Pitt, Penn State and Notre Dame.
FRESHMAN SEASON HIGHLIGHTShttps://t.co/ScntI234db@flem021 @7twice @headcoachnike7 @wpialsportsnews

— Anthony Speca ¹⁶ (@aspeca6) November 19, 2020