The Frank Walker Law/PSN Daily Notebook: May 24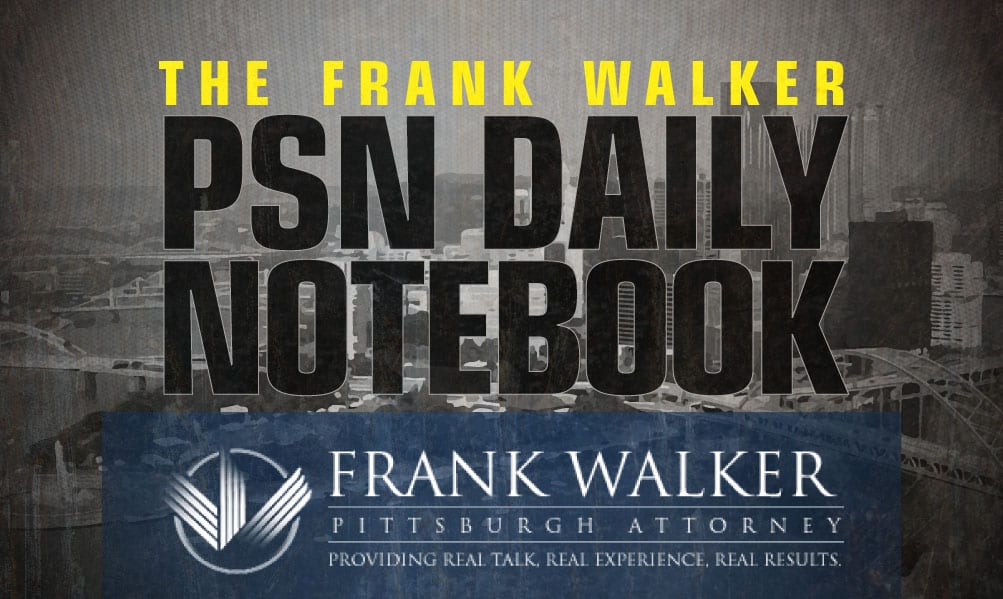 The PSN Daily Notebook is sponsored by Frank Walker, one of Pittsburgh and West Virginia's most respected criminal defense and injury lawyers. Mr. Walker has offices in Pittsburgh and Morgantown and has been named one of Top 100 National Trial Lawyers and is rated a perfect 10.0 Superb by Avvo for ethics, experience and results. To reach Mr. Walker, you can call 412-532-6805 or go to his website frankwalkerlaw.com. For real talk, real experience and real results, contact Frank Walker Law.
Update (8:59 PM)- 
**Congrats to North Hills 2022 athlete Robert Dickerson on receiving an offer today from New Hampshire.
Junior Year Highlights ❗️❕https://t.co/iFnbn4fSyg pic.twitter.com/dBDuLD0Ns8

— 𝑅𝑂𝐵𝐸𝑅𝑇 𝐷𝐼𝐶𝐾𝐸𝑅𝑆𝑂𝑁 🖖🏽 (@RobDickerson16) October 28, 2020

Update (6:41 PM)- 
**Tonight, Pine-Richland 2022 LB Jeremiah Hasley picks up another D-1 offer.
After a great conversation with @davidweeks34, I'm blessed and excited to receive an offer from Fordham University!!@CoachKasper @PRRamsFootball @FORDHAMFOOTBALL pic.twitter.com/xGGALQTXCb

— Jeremiah Hasley (@jeremiahasley) May 24, 2021
❗️Junior SZN Highlights ❗️ First Team All-Conference LB✅ PIAA State Champ✅ https://t.co/bpz7tGHdox pic.twitter.com/EcLYE3QI4y

— Jeremiah Hasley (@jeremiahasley) December 3, 2020

Update (2:46 PM)- 
**Richmond is the latest D-1 offer for Penn-Trafford 2022 athlete Cade Yacamelli. The 6-foot, 200 pound running back/defensive back also holds offers from programs such as Penn, Harvard, Columbia, Brown, Army, Navy, Lehigh, Air Force, Dartmouth, Youngstown State, Fordham, Yale, New Hampshire, and Maine.
Cade Yacamelli making explosive depth push-ups look easy 💪🔥📈 @cyacamelli #TorsoExplosiveness #OuterLimitsTraining pic.twitter.com/z0T9BubdsH

— OuterLimitsTraining✦ (@outerlim) May 14, 2021
After a great conversation with @CoachTCaso , I am beyond honored and excited to have received an offer from the University of Richmond 🔴🔵 pic.twitter.com/ez7mG8SZri

— Cade Yacamelli (@cyacamelli) May 24, 2021
🚨Junior Year🚨

1st Team All Conference✅https://t.co/Y36nZMjGfa

— Cade Yacamelli (@cyacamelli) November 29, 2020

Update (2:33 PM)- 
**2023 athlete Joey Lis (Ramsey, New Jersey) plans on attending a prospect camp next month at Pitt.
June camp schedule:

June 2 – Rutgers @RFootball
June 6 – @Temple_FB
June 11 – NC State @PackFootball
June 12 – @DukeFootball
June 13 – Wake Forest @WakeFB
June 19 – @Pitt_FB

— joeylis (@joeylis1) May 24, 2021

Update (12:57 PM)-
Proud papa of 2 graduates! @mia_dorsett and @MadisonDorsett3 you both have bright futures ahead! Hook 'em and Go Frogs!@PrestonwoodPCA @TexasLonghorns @TCUFineArts pic.twitter.com/HVEZZBoF9a

— Tony Dorsett (@Tony_Dorsett) May 24, 2021
Update (11:50 AM)- 
**Brashear 2022 athlete Daquan Griffin will attend a Pitt prospects camp on June 18.
Pitt June 18th🟡🐾🔵 #unoffical @Kzovko @RivalsFriedman @Evolve2tenths @Brashear_Fball @210ths @210ths

— DAQUAN GRIFFIN (@DaquanGriffin_1) May 23, 2021
Update (10:15 AM)-
**Sto-Rox 2023 athlete Zay Davis plans on attending a Pitt football prospect camp on June 6, as well as a number of other places in June.
Camps I'll Be Attending !
June 1 – WVU
June 5 – Penn State
June 6 – Pitt
June 10 – Duquesne
June 14 – Youngstown St
June 15 – Ohio State
June 18 – Temple (overnight)
June 20 – Miami Of Ohio

— ℤ𝕒𝕪 𝔻𝕒𝕧𝕚𝕤 🎯 (@1Way_Zay) May 23, 2021
Update (9:11 AM)-
**West Allegheny 2023 WR/DB Nodin Tracy had a productive weekend with Evolve 2/10 7-on-7 action.
2 WAY THREAT🤝 @210ths @Evolve2tenths @Pylon7on7 pic.twitter.com/7OHvfLtxmq

— Nodin Tracy 🃏 (@nodin_tracy) May 24, 2021