Pitt Commit Judah Mintz Leads Team Durant With 19 Points in EYBL Victory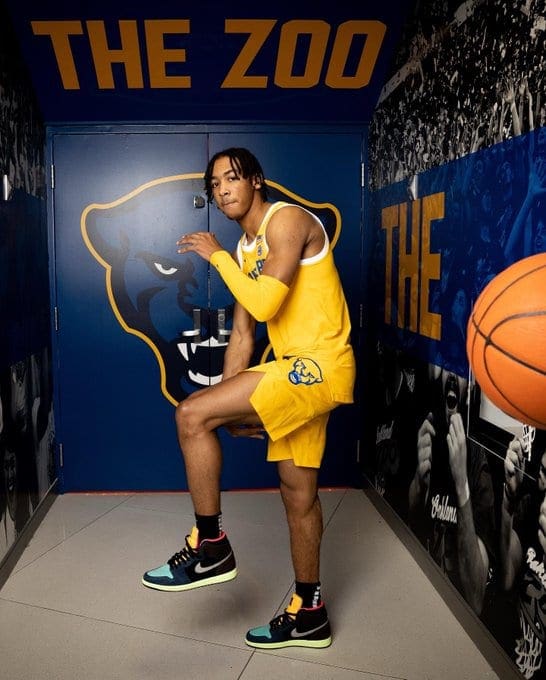 On Wednesday evening, Pitt commit Judah Mintz led Team Durant to an emphatic victory over Team Thad, another loaded EYBL team that features Jalen Hood-Schifino and multiple other top prospects, in North Augusta, South Carolina.
After quickly spoiling a ten-point halftime lead, Team Durant came back furiously for the victory in the second frame, with Mintz finishing with a team-high 19 points, six rebounds, and five assists.
Judah Mintz (@Jmintz10) with 17 points. Capped off a strong performance with a breakaway dunk. @teamdurant_AAU takes down Team Thad.

I was really impressed with Mintz' ball-handling, especially in the paint. Found his way to the rack and used the pump fake well. pic.twitter.com/Q7CruehU8X

— George Michalowski (@MichalowskiCBB) July 15, 2021
Mintz showcased a complete skill set, playing with and without the ball on offense and locking up his opposition on the defensive end. The combo guard played scrappy defense, sliding his feet with his opponent and fighting through screens, and getting his hand on a few passes. His ball-handling was some of the best among all of the players on the court. He looked comfortable dribbling through traffic and played smart, pulling the ball out to run down the clock while his team had the lead.
Mintz did not force shots and played through his team, which features other highly ranked players including Dariq Whitehead (No. 6 prospect in the nation according to 247 Sports Composite) and Rodney Rice (No. 57). He also showed poise down the stretch, hitting his two free throws after grabbing an offensive rebound and getting fouled. He finished off his 19-point effort with a slam in transition, giving Team Durant a commanding lead and securing the victory.
2022 Team Durant (MD) G Judah Mintz (@Jmintz10): 19 PTS, 6 REB, 5 AST in a win over Team Thad #2021EYBL @teamdurant_AAU @CircuitScouting https://t.co/usJscU0rV0

— The Circuit (@TheCircuit) July 15, 2021
In addition to his impressive ball-handling and timely scoring, Mintz flexed a mixed bag of tricks en route to the 71-61 victory. He seems to love the up-and-under move when in the paint, and has a fantastic feel for his athleticism when it comes to getting his defender in the air prior to a floater or jump shot.